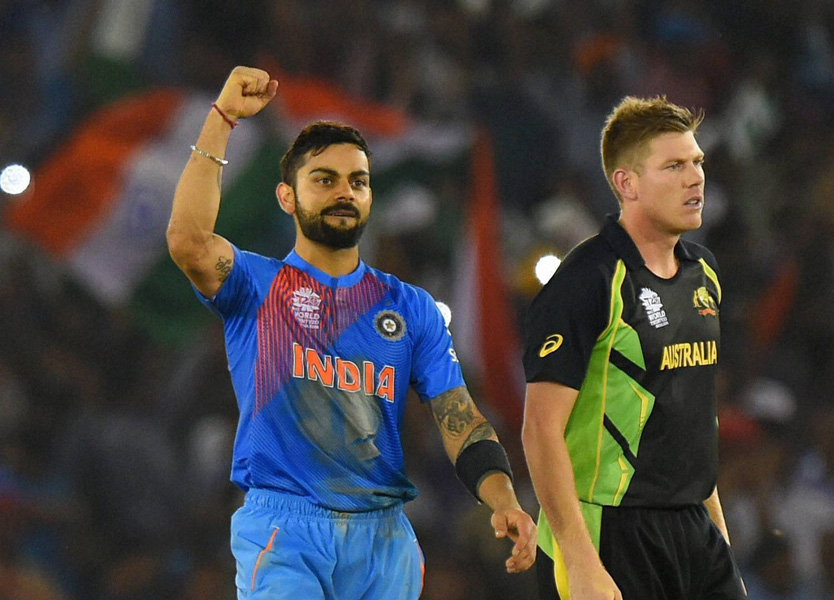 The knock
Virat Kohli scored an unbeaten 82 off 51 balls to take India to the semi-finals of the ICC World T20
He soaked up the extreme pressure, ran hard between the wickets and picked the gaps brilliantly
The comparisons
The knock has elicited many comparisons with Sachin Tendulkar\'s famous Desert Storm innings in 1998
However, in the opinion of this writer, Kohli has moved on from the comparisons and become his own man
More in the story
From brash youth to a cherished cricketer - the transformation of Kohli
What Sir Vivian Richards said about India\'s best batsman
The fickle - and frequent - nature of Twenty20 cricket makes it a challenge for fans to remember a great deal for a long time. Like surf leaving new patterns every time waves caress a beach, this format gives fans new memories to cling on to, but only till a new one comes along.
Virat Kohli's unbeaten 82 against Australia in the ICC World Twenty20 Super 10 game in Mohali did not have the savagery of a Chris Gayle tempest. Nor did it boast of the creativity of an AB de Villiers storm. Yet, the knock will take some forgetting, for, his innings included elements that pitchforked it among the greatest batting efforts in Twenty20 cricket.
As soon as MS Dhoni hit the winning boundary and Kohli sank to his knees on Sunday, India celebrated the knock with fireworks and a tremendous outpouring of joy. But the man himself would have been quick to remind everyone that there is a semi-final looming on the horizon. Yes, Kohli and India have a task on hand. Sunday's knock is best left in the scorebooks and the labyrinth of memory.
Kohli's 82 against Australia in Mohali was among the greatest batting efforts in Twenty20 history
But as the Indian team flies to Mumbai for its semi-final date with the dangerous West Indies, we can allow ourselves time to soak in the beauty of Kohli's knock.
Picking the gaps
As fans of Indian cricket nervously chewed their fingernails, Kohli looked completely effortless. Gaps in the field were exploited, the slightest of errors in line punished clinically.
The 18th over by James Faulkner and the 19th by Nathan Coulter-Nile were game-changers. Kohli showed that he was a master at picking the right moment; a hawk patiently circling the sky before swooping down to make a powerful strike.
Also read: #INDvsAUS | It's the Virat show! Kohli puts India in semi-final
His calm demeanour concealed any emotions churning within. Kohli did not betray any signs of being a man in a hurry, even when striking a series of boundaries off Faulkner. It was just genius at work - picking the smallest possible gap between fielders.
It was only when he skipped down the track and lofted the left-arm seamer over long-off for a six that he visibly let off some steam.
Running hard between wickets
But even before the final assault, this knock was turning into a classic. And the reason was Kohli's running between the wickets.
Till Yuvraj Singh was hobbling around on his injured foot, Kohli kept his calm and jogged singles. But as soon as Dhoni came to the crease, it was sprinting time.
Josh Hazlewood's final over, the 16th of the innings, saw Kohli pinch four twos with Dhoni. And they kept winning challenges against excellent fielders like David Warner and Glenn Maxwell.
Clearly, the hard work that he turns in at the gym, developing explosive strength, paid off.
Key signposts in his evolution
Sometime in the future, when we look back at Kohli's evolution, we may bookmark his match-winning half-centuries against Pakistan and Australia in this tournament as key signposts in a chapter that may well be titled 'Virat Kohli and the Art of Making Friends with Pressure'.
Also read: Ind vs Aus: Virat Kohli sets Twitter on fire with his match-winning knock
Of course, more than a year ago, Sir Vivian Richards declared Kohli a modern legend, though the young man had plenty of cricket left in him. And in the time since then, the mainstay of Indian batting has more than justified Sir Viv's words; Sunday's effort only adding to his growing stature.
Surely, it was not the first time that he was playing like that. Nor will it be his last.
Has any Indian batted with as much authority in limited-over cricket since Sachin Tendulkar's Desert Storm against Australia in 1998? It is easy to let the surge of emotions make one falter, but how can anyone forget Yuvraj Singh's 89 against Australia in the 2000 ICC Champions Trophy in Nairobi, or Dhoni's violent 79 not out against Pakistan in Lahore in 2006, just to cite two?
Some time ago, Viv Richards declared Kohli a modern legend. He has more than justified his words
But have we seen anything as authoritative and elegant under such pressure as Kohli faced on Sunday? It will be a travesty if we overlook Mohammad Kaif's knock that helped India beat England in a dramatic chase in the NatWest Trophy final at Lord's in 2002. Or, Tendulkar's 98 against Pakistan at Centurion in that memorable run chase in the ICC Cricket World Cup 2003.
Instead of indulging in comparisons, it may be better if we focus on Kohli's evolution. He seems to get better with time, constantly raising the bar for himself and always willing to learn. It is a good wager that tracking his evolution will be quite exciting, what with the burden of Test captaincy resting lightly on his shoulders. He is not someone who will stand still.
It is this journey from being a brash youth to a mature leader of men that makes Kohli's evolution so fascinating to watch. He hurt when he was unable to build on a start against New Zealand in the team's opening game of the tournament, but his resolve only became stronger. He played a big part in the win against Pakistan in Kolkata, and a bigger part in the conquest of Australia in Mohali.
Also read: World T20: Steve Smith salutes Virat Kohli's 'unbelievable' knock
More significantly, he has learnt to recognise and applaud little contributions by others, notably Yuvraj Singh. Contrasted with his disappointed, even frustrated reaction, after the ICC World Twenty20 2014 final defeat to Sri Lanka in Mirpur, his fairly glowing recognition of Yuvraj's effort is a clear indication of how far Kohli has come as a leader of men.
He endeared himself to everyone who watched his gesture of bowing to Tendulkar at the Eden Gardens upon reaching the half-century against Pakistan. But to my mind, it also allowed Kohli to create his own niche, rather than have to step into the great man's shoes.
In Mohali, he took another step towards firming up his own indelible legacy, giving fans something to cherish.
Edited by Shreyas Sharma
Also read: World T20: 5 Australians who can trump India in winner-takes-all affair