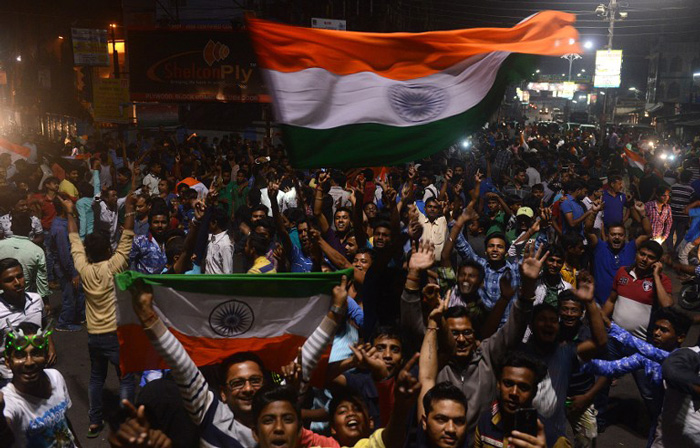 It was a quiet Saturday morning in Kolkata, with rain ensuring that fans would have to wait to find out if THE match would take place or not. By around 8pm, when it was announced that India and Pakistan would play an 18-over affair, the 70,000-strong Eden Gardens crowd erupted with joy.
Let's face it, Kolkata got lucky. This game was supposed to be played in BCCI secretary Anurag Thakur's backyard, Dharamsala, but some politics and some genuine security concerns ensured a last-minute shift to the oldest ground outside Australia and England.
Also read - India beat Pak again. Feels great. But what happens when Kohli doesn't score?
Just a few hours before the toss, people flocked to the stadium in the pouring rain, ever hopeful that when the time for the match came around, even the gods wouldn't be able to resist letting the game go ahead. It was, after all, the mother of all cricketing battles - India versus Pakistan at the ICC World Twenty20.
Inside the stadium, there was a bustling atmosphere. It all went a little surreal when the times lined up for the national anthems, and Shafqat Amanat Ali and the legendary Amitabh Bachchan took up the microphones to sing the national anthems.
(Of course, Bachchan's largely off-beat and plodding rendition was hardly the stuff of dreams. But this was Jana Gana Mana, in Rabindranath Tagore's own land. Nothing could put a cap on the excitement.)
Building up to a crescendo
My friend and I were lucky that we were sitting right behind the bowler's arm at the pavilion end - it's the best place to be inside a stadium, and that too at the Mecca of Indian cricket. I had flown out especially for this game, and being a cricket nut, it was nothing less than a Hajj for me to be experiencing all this live.
The roar was deafening, the chants (though pretty hackneyed) were fun to be a part of, and the newly-discovered passion for switching on cellphone torch lights around the ground was, well, interesting.
Due to the way India-Pakistan relations work, the last-minute switch from the north of the country to the east, and the BCCI's indifference, very few Pakistani fans actually got to see the match inside the stadium, and that became apparent very quickly. Every Pakistani run was greeted with a silence and each boundary or six got barely a few claps.
We sat right behind the bowler's arm - the best place to be inside the Mecca of Indian cricket
It was in the eighth over of the match, after a tepid start by the Pakistani openers, when a stunning catch by Hardik Pandya, diving and almost landing on his face, woke up the crowd. In walked captain Shahid Afridi, and a roar went up - he is right, the Indian fans do adore him.
The fact that Pakistan's finishing kick never truly arrived made the fans quite happy. Just 118/5 in 18 overs? Surely India couldn't muck it up again like they had against New Zealand in Nagpur?
Rohit Sharma and Shikhar Dhawan walked out to anticipation, and their first few runs were greeted by loud roars of 'Jeetega bhai jeetega, India jeetega' and 'haarega bhai haarega, Pakistan haarega'. Some in the crowd tried to get a mexican wave going; others stuck to their cellphone torch light trick. Even the fall of Rohit wasn't enough to hush us up, for it was India's new favourite son, Virat Kohli, who walked in to bat.
Also read - Water, water, everywhere. And incessant queries about tickets for #IndVsPak
From hush to hurrah
How do you make 61,337 people fall silent in the space of six balls? Ask Mohammad Sami. The fifth over of the Indian innings saw a boundary first up, and then a no-ball. The crowd roared its approval.
Then, things went pear-shaped. The free hit was a dot ball, and then, Dhawan and Suresh Raina inside-edged two successive pacey deliveries on to their stumps. Sami missed his hat-trick, but suddenly, it was deja vu. India were 23/3 in five overs.
On days like these, Kohli must feel like Sachin Tendulkar from the 1990s - Atlas holding up the team on his shoulders. The pitch was playing tricks, but Pakistan had missed one by including just one specialist spinner, captain Afridi.
With every run and boundary India hit, the stadium literally shook as people chanted Kohli's name
It called for some brainy, not brawny batting, and in Yuvraj Singh, Kohli found an ally who had seen it all before.
We bit our nails and hoped for a partnership. With every run and every boundary the pair hit, India took another step towards victory, and the crowd cheered louder and louder. The stadium literally shook as people chanted Kohli's name in perfect unison.
And soon, the moment arrived. Kohli took India to the doorstep with his brilliantly measured knock, and Mahendra Singh Dhoni did what he does best - hit a six and took a single to make it 11 victories (okay, 10 plus a tie and a Bowl-Out victory) out of 11 for India against Pakistan at World Cups. I had only heard of being delirious with joy; on Saturday, I not only saw it, I felt it too.
Thank you, Virat Kohli and Team India. Thank you Eden Gardens and the people assembled to witness history. You made my pilgrimage worthwhile.
More in Catch - Who will blink? It's India's streak vs Pakistan's perfect record at Eden
India vs Pak: Impressive records, gripping history & other T20Is statistics
ICC World T20: Top 5 cricketers and their quirky superstitions