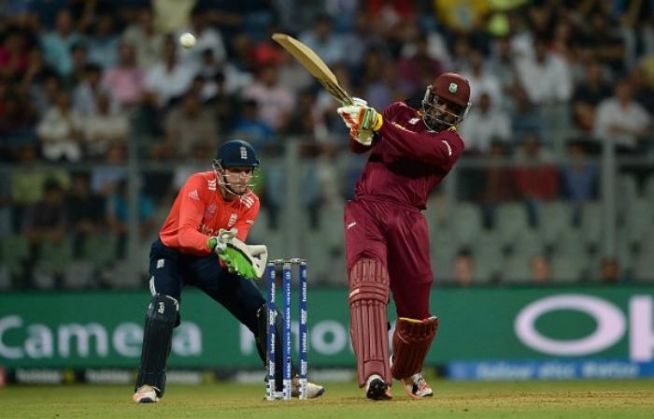 There are some innings that are so out of the ordinary, so unique that one just has to sit back and admire them, even if you belong to the opposition. It is safe to say that England's fielders and bowlers would have been feeling exactly that way while being on the receiving end of a gale storm from Chris Gayle.
Here was a batsman who made a target of 183 look paltry. Here was a batsman, who put fear into England's bowlers - who would have had every reason to be confident defending a target of 183 - from the very first ball.
In the 18th over of the match, and with the score reading 173 - 4, Chris Gayle reached his century with a single, in just 47 balls, registering the third fastest T20 international 100 in history.
With one ball to go in the 18th over, Gayle took strike, with West Indies needing just one run to win. And perhaps the most disappointing moment of his innings was that he merely decided to block the ball - quite an anti climax some would say.
Just to give you an idea of the damage that Gayle inflicted on the English bowlers, here are their stats from the match:

Just a look at those economy rates - most of them in double figures - is enough to give someone an idea of just how destructive Gayle was during his innings. The highlight was no doubt that three consecutive sixes he hit off the bowling of Moeen Ali, who had only conceded 16 runs from his three overs prior to the start of the fourth over.
It didn't matter if Johnson Charles was out for a duck on the second ball, and it didn't matter that Marlon Samuels and two other West Indian batsmen lost their wickets - Chris Gayle didn't let it matter.
"Thanks nick. Honestly, it's just good skills. It's worked for me today, it was a good wicket to bat on. The due played a part as well. I didn't lose my composure, and just worked on which bowler to take on and which one to not. I was focused, and I was pumped before the game. Suliemann Benn said to me before I went to bat, 'Chris, you got to entertain me man' and that worked for me as well. He's my drinking partner so we're gonna have a few beers later for sure."
The match surely sends out a warning signal to the rest of the teams in the tournament, as loud and clear as it gets: Don't write off the West Indies, and don't write off Chris Gayle, as West Indies cruised to the target with 11 balls remaining.