What's going on in tennis: what we really know so far about matchfixing allegations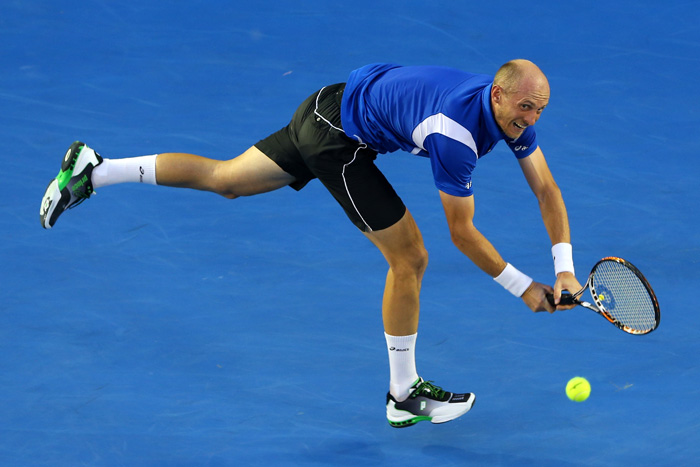 The words match fixing have always conjured up one image: a cricket pitch.
No longer.
Ahead of the opening matches at the Australian Open, the first grand slam of the year, Buzzfeed News and the BBC published details from secret files exposing widespread match-fixing by players at the top echelons of tennis.
Read: Match fixing allegations rock tennis world as Australian Open begins
The sport's governing bodies have, over the years, been warned about a core group of 16 players - all of whom have, at some point, ranked within the top 50 tennis players in the world and including Grand Slam winners - but none of whom have ever faced sanctions.
Eight of those, or 50%, are taking part in the Australian Open that began this Monday, 18 January.
A @BBC/@BuzzFeed reportAlleges match-fixing in sport -A big #tennisracket That's making a packet.The ball's in the ATP's court.

- Mick Twister (@twitmericks) January 18, 2016
Tennis authorities, comprising the men's ATP Tour, women's WTA tour and the international ITF "absolutely reject any suggestion that evidence of match fixing has been suppressed for any reason," says a statement on the Australian Open website.
Here's a quick primer to bring you up to speed:
What happened and how did it all begin?
Here's how BuzzFeed UK investigations editor Heidi Blake broke it down to ABC News 24:
It started when John Templon of BuzzFeed News began to analyse betting data on approx. 26,000 matches that dates back seven years.
He was just interested in seeing the patterns that emerged on the gambling market.
He noticed an unusual pattern: lopsided heavy betting actually shifted the odds dramatically in certain matches involving a certain roster of players.
That in itself is a classic warning sign of match-fixing in any sport.
After digging into the data, the Buzzfeed team (which went on to include Investigations editor Heidi Blake) found that tennis authorities had been sitting on evidence of widespread match-fixing for years.
Back in 2008, tennis authorities were warned of this by investigators they had themselves hired. In that case, the investigators were tracking a particular match - between Russian Nikolay Davydenko and Argentine Martin Vassallo Arguello at Sopot, Poland - that attracted millions of pounds worth of highly suspicious betting, triggered mostly by accounts in Moscow.
Those investigators found disturbing evidence. Among it, the names of 28 players they thought might be connected to various gambling syndicates in Italy and Russia, who in turn were orchestrating widespread corruption across the game.
These syndicates bet on scores of matches, including many at the French Open and Wimbledon.
The investigators handed over the Fixing Files - 5 folders full of evidence - to World Tennis. They expected that those players would eventually be pulled into disciplinary hearings.
Investigators said the evidence they found was "as strong as any evidence we've had" but the authorities had done "absolutely nothing".
Also read- End Game: why saying goodbye to obnoxious, racist Hewitt is still so hard
From the BuzzFeed and BBC report, here's what was revealed in the Fixing Files:
Among the core group of 16 players, there were winners of singles and doubles titles at Grand Slams. Some of these players have been repeatedly reported.
One of the players currently in the top-50 and playing in the Australian Open is suspected of fixing his first set.
Hotel rooms have bcome the target for bookmakers during major tournaments. Some have been reportedly been offered $50,000 or more per fixed.
More than 70 players' names appear on nine leaked lists of suspected fixers. These fixers have been flagged by tennis authorities multiple times over the past decade.
Chris Kermode, chief executive of the Association of Tennis Professionals, strongly rejected these claims that the evidence was suppressed or inadequately investigated. He added that they would investigate any new information. "A year-long investigation into the Solpot match in 2007 found insufficient evidence. As the BuzzFeed report states itself, the investigators hit a brick wall and it just wasn't possible to determine who the guilty party was in relation to this match".
In 2009, tennis introduced a new anti-corruption code. After taking legal advice, authorities were told that they couldn't pursue previous corruption offences.
In 2011, world tennis issued its first ever life ban against a player. The player was Austrian Daniel Kollerer. He was banned for taking money to fix matches. Here's him admitting to the BBC about being offered money in Moscow, Chennai and Paris.
Novak Djokovic, Roger Federer & Serena Williams.
Three of the leading tennis players over the past decade, Serbian and current men's number one, Novak Djokovic, Swiss and multiple Grand Slam winner, Roger Federer and women's world number one Serena Williams spoke to the media about the scandal.
Read more- Before Serena, there was Althea Gibson: tennis' first black champion
Djokovic said that he did not believe that match-fixing was a widespread problem in the world of tennis. He spoke about an incident in 2007 where it was alleged that he was offered $20,000 to throw away a first round match at the St Petersburg Open. That was a tournament he eventually didn't attend.
"I was not approached directly," he said. "Well . I was approached through people that were working with me at that time, that were with my team. Of course, we threw it away right away. It didn't even get to me, the guy that was trying to talk to me, he didn't even get to me directly. There was nothing out of it.
"When I'm playing, I can only answer for me. I play very hard, and every player I play seems to play hard," Williams told reporters following her opening-round victory against Camila Giorgi. She hadn't played a competitive match since losing at the US Open last year to Roberta Vinci.
"As an athlete, I do everything I can to be not only great, but historic. If that [match-fixing] is going on, I don't know about it. I'm kind of sometimes in a little bit of a bubble."
In his post-match interview after defeating Nikoloz Basilashvili, 6-2 6-1 6-2, Federer was asked about the match-fixing scandal.
"I don't know exactly how much new things came out, to be quite honest. I heard old names being dropped. That story was checked out. Clearly you got to take it super serious, you know, like they did back in the day. Since we have the Integrity Unit, it puts more pressure on them that a story like this broke again."
He went on to talk about betting in the sport. "Betting happens all across the world in all the sports. The players just need to know, we need to make sure the integrity of the game is always maintained because without that, I always would say, why do you come and watch this match tonight or any match, because you just don't know the outcome. As long as we don't know the outcome, the players, fans, it's going to be exciting. The moment that gets taken away, there's no point anymore to be in the stadium."
Read: Why we don't need Roger Federer to win another Grand Slam title
When asked about whether it was surprising that some of the players involved were Grand Slam singles and doubles players and even a Grand Slam champion, Federer had this to say,
"I would like to hear the name. I would love to hear names. Then at least it's concrete stuff and you can actually debate about it. Was it the player? Was it the support team? Who was it? Was it before? Was it a doubles player, a singles player? Which slam? It's so all over the place. It's nonsense to answer something that is pure speculation."
Over the course of the next few months, more details are bound to be told to the media either directly or leaked. Eventually, when more information comes out, it'll be even harder for the authorities to cover-up any such scandal. The onus is on the tennis authorities to take action and to do it soon.
Buzzfeed also explained its methodology:
Data acquisition: After collecting the opening and closing odds on 26,000 matches occurring between 2009 and mid-September 2015, analysis began. The odds of Association of Tennis Professionals (ATP) and Grand Slam matches were taken from seven large, independent bookmakers.
Preparation: BuzzFeed News went ahead and prepared a dataset. They used the odds to calculate the implied chances of each player winning. Simple: opponent odds / (opponent odds + player odds) - also taking into account the bookies cut.
Also read: Move over McEnroe, tennis has a new bad boy - Nick Kyrgios
Match selection: Two types of matches were excluded. A) Where opening odds had probabilities more than 10 percentage points higher or lower than the median of all bookmakers' opening odds. B) cancelled or walkover matches. The number was withled down to 25,993 matches.
Odd-Movement calculation: Taking into account the difference in chance of a player wining from the opening odds to the final odds.
Player selection: Only those matches were selected in which the odds moved more than 10 percentage points. That meant that 11% of the matches remained. Then, those players, who lose more than 10 of these matches, were chosen. Finally, 39 players remained.
Simulation: A series of simulations were done by BuzzFeed. As BuzzFeed says, "Each simulation used the player's implied chance of winning - based on each match's opening odds - to generate a set of outcomes for each string of matches. BuzzFeed News ran the simulation 1 million times per player. The result: The estimated chance that the player would have lost as many (or more) high-movement matches as the player did, if the chances implied by the opening odds were correct."
Significance check: "BuzzFeed News then tested each player's results for statistical significance. Because 39 players were tested - and the more players you test, the more likely you are to encounter false positives - BuzzFeed News applied a Bonferroni correction to the results. Four players' simulation results achieved Bonferroni significance at the 95% confidence level. For another 11 players, the results were not significant at the Bonferroni level, but would still have been expected to occur less than 5% of the time."
More in Catch: