Straight women, gay guys, 9 reasons you can't miss EuroCup 2016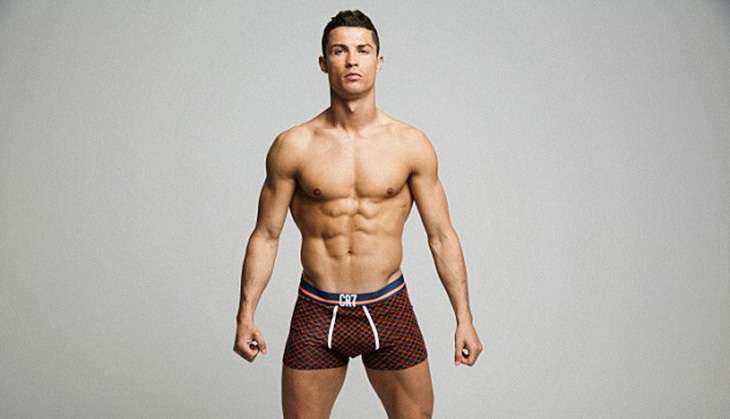 Though we don't believe in objectification of either women or men, we can safely bet that, this football season, you won't mind if we break the rules just a little. The 2016 Euro Cup tournament kicked off a few days ago between 24 countries and it's raining men - sorry - football. These attractive athletes are not only great at their game but are also drool-worthy. There are a few obvious choices but we dug deeper and came up with these 9 names - because choosing a handful of football's most attractive men is challenging work.
Also read -Russia almost disqualified, heavily fined for Euro 2016 fan violence
There are just so many of them.
Here's our list of the hottest footballers at the Euro Cup 2016:
1. Cristiano Ronaldo:
If a greek god played football, he'd look like Cristiano Ronaldo. To find a flaw in his game is a challenge in itself.
At the age of 31 Ronaldo, the gorgeous Portugal captain has just completed a season scoring 51 goals in 48 Real Madrid appearances. The current European Championships could be the perfect opportunity for him to conquer the international game. Whether or not that happens we cannot get enough of this man on the field. Think shirt exchanges at the end of the match!?
2. Sergio Ramos:
The Spanish team captain is referred to as the bad boy of the sport. The footballer may have won the Champions League, three La Liga titles, two European Championships and the World Cup and but he finds himself in the headlines for all the wrong reasons quite often.
The Spaniard has earned himself a red card 21 times during his Real Madrid career. Do we care? NO!
After all we love bad boys, don't we?
3. Oliver Giroud:
Olivier Giroud scored the first goal in France's 2-1 win over Romania on Saturday silencing hiscritics who claimed he wasn't good enough for international football. The ridiculously good-looking Frenchman who plays for Arsenal is someone we can't take our eyes off, on or off the field.
Giroud has been named the 'Sexiest Footballer Alive' two years in a row by Glamour magazine and 'Hottest player in the Premier League' multiple times and it's more than clear why.
4. Graziano Pelle:
We love beautiful people. Add extraordinary talent and one of the outcomes is Graziano Pelle. The Italian player capped a masterful display with a goal against Belgium as Italy got off to the perfect start at Euro 2016. And the striker's girlfriend Viktoria Vargas was only too pleased to provide her own personal tribute. The Hungarian model carried a blow-up doll of her man to the Euro 2016 match (intense much?!) The Italian heartthrob has made it to every 'hot footballers' list in the world since he stepped on the field. And now you know why.
5. Mats Hummels:
Mats Hummels is a breathtaking display of muscle and rugged good looks. The German defender stands tall and hot at an impressive 6'4" and sports just the right amount of scruffiness. The 27- year-old has made it to the cover of every sports magazine (no surprises there) and is also considered one of Germany's best international players. Hummels has been sidelined with a muscle injury since May but is set to make a comeback against Poland on Friday and we can't wait to see him back in action.
6. Denys Boyko:
The hunky Ukrainian goalkeeper is all good looks and talent. And he's a keeper. The 6'4" tattooed athlete is definitely one of the sexiest people on the field. The team however faced a crushing loss against Germany on Monday night. We will definitely keep an eye out for him during the tournament.
7. Emre Can:
The German defender remained on the bench as Germany began their Euro 2016 campaign with a 2-0 win over Ukraine on Monday night. Emre Can's versatility can be a key factor for the German side in this tournament. His aggressive temperament on the field makes it interesting to watch him play. His good looks don't hurt either. We are waiting for Emre Can to get back on the field.
8: Fabian Schar:
The Swiss footballer's early header against Albania ensured a victory for Switzerland in their first match of the Euro Cup on Saturday. This young man, only 24, is turning heads, not only for his fancy feet. Schar left his job at a bank once he realized there was something more exciting out there. And we are so glad he did.
9. Gerard Pique:
The super-attractive Spanish footballer just scored the winning goal in their first match against Czech Republic on Monday night ensuring he is one of the players to watch out for this tournament. The Barcelona defender is not only a hunky heartthrob himself but is also in a relationship with the beautiful Latina pop star Shakira and has two beautiful boys with her. He is a family man and constantly updates us with pictures with his kids. And we love him for it.
More in Catch - How much is Euro 2016 worth?
Euro 2016: Here's all you need to know about the marquee football event