SC vs BCCI: To put a silly point on a gully cricket match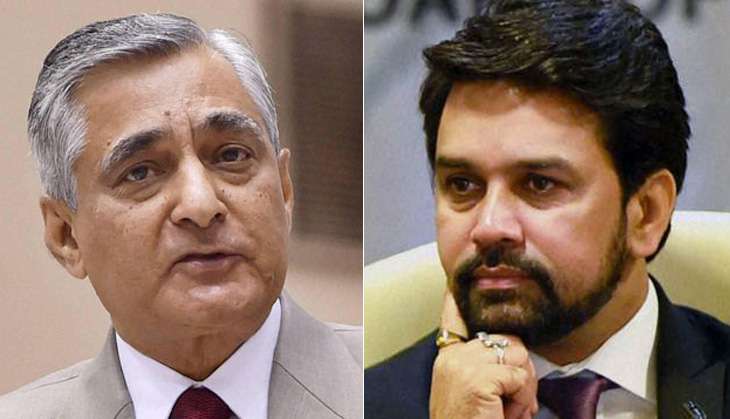 "We're ALL cricketers here!"
Oh so true, Your Honour. We indeed are.
Who hasn't been a cricketer in India? Who can forget those hoary days, when you, Guddu, Bobby, Lalli, that fellow called Sid and the presswallah's son, Santosh, would come charging down the narrow lane that was home and send a tennis ball of indeterminate hue hurtling at each other.
The swish of a cross-batted hoick, the thwack of connecting, the crunch as the ball hits Mrs Chopra's dandelion pot on the second-floor ledge.
The interminable silence as the damn thing comes tumbling down in slow motion; the crash; more silence. The heavy breathing as you ran like crazy.
Yes siree, we are all cricketers!
Not just that, we were all captains too, sometime in our lives. This, of course, depended on a few factors.
Who the bat belonged to was always the first consideration. Then followed, whose brother was the big guy around; whose drive was the next pitch (since Mrs Chopra's curfew). Whose father was chief minister...
Oh you didn't know? Then let's cut to big time cricket (enough of Guddu and Santosh).
The big boys
We are now talking of top-level cricket - where even the Chief Justice of India, TS Thakur has to chip in with anecdotes of a time when he too was captain. Of the Supreme Court team, no less.
Sarcasm aside, what Justice Thakur essentially meant was that just being captain of any ragtag side doesn't make Anurag Thakur, or anyone of his ilk, good enough to administer cricket as Board of Control for Cricket in India (BCCI) boss, or anything akin.
Which is a fair point, but it still doesn't tell the whole story.
Anurag Thakur did skipper a first-class team, a Ranji side actually, but how he got there is an interesting story too. This story was passed on by an old friend on the website of his newspaper.
Anurag Thakur became president of the Himachal Pradesh Cricket Association (HPCA) in the year 2000, at the age of 25.
At that time, his father Prem Kumar Dhumal was the chief minister of Himachal Pradesh. Just a coincidence, I guess?
But being a state association president can be a pretty limited option as far as career moves are concerned, unless you can break out and get somewhere on the BCCI pecking order.
So, according to our reporter friend, there was a need to make young Anurag a member of the BCCI's junior selection committee - a lucrative doorway to greater things.
But to be a selector, one needed to be a first-class player first. So, as per reports, Anurag chose, one fine November morning, to walk into the Himachal Ranji dressing room and declared himself captain for the match with Jammu and Kashmir.
Smart choice. Much better than taking on Delhi, or Haryana, or Punjab.
Anyhow. Young Anurag was now a first-class player and therefore eligible to become a selector. The rest, as they say, is history.
The TS Thakur googly
Which brings us to the rather dismissive rejoinder which came from Justice TS Thakur when he asked Kapil Sibal, representing BCCI before the Supreme Court, as to what were the office-bearers' credentials to be office-bearers.
Thakur (the other one that is) was a Ranji player. Hence the judicial rejoinder.
One thing you need to admire about the BCCI is that these guys do not just not give up. The only thing that has been filtering down through generations of BCCI office-bearers is the ability to ignore authority, the law, the lawmakers and general consensus and bash on regardless.
This is a talent which has come down from Raj Singh Dungarpur to Jagmohan Dalmiya, Madhavrao Scindia, N Srinivasan, Lalit Modi, and Shashank Manohar to Anurag Thakur.
But as things look now, that long list of defiance is coming to a grinding halt.
...till the last ball
Even now, BCCI is not ready to accept the Lodha Committee direction to not disburse funds to the state associations. They made a huge hue and cry about how the ongoing New Zealand series was under threat.
They will do everything in their power not to accept the directions. Irrespective of what censures the Supreme Court threatens, one gets a feeling that the fight isn't quite over.
There is one big weapon that BCCI has and like our geographical neighbours, they like to rattle it once in a while. But just like our neighbours, they won't actually ever use it.
But when they do rattle it, it does make quite a racket.
That is the threat that cricket engagements will be affected. Not the ongoing one, but the ones to come.
There is England, and can you imagine the stink the Brits would raise if the tour was threatened? It could like the same hullabaloo being made about the surgical strikes across the LOC.
And then, there is Australia to follow.
Make no mistake, BCCI will not just give in. They have been in way too many fights to just pack up and leave.
As for the Thakurs, I guess they are quite like the Bollywood variants. One has right on his side (and undeniable authority). The other is a politician.
This battle still has life in it.
Edited by Jhinuk Sen
Also read: BCCI has gone mad, this is the highest court's judgment: Kirti Azad on BCCI's threat to call India-NZ series off
Also read: The time for mucking about is over: SC gives BCCI six months to clean up
Also read: Lodha Report: great ways to clean the BCCI. And why one can't count on it
Also read:BCCI to cancel India-New Zealand Test series as Lodha Committee freezes its accounts
Also read: BCCI a 'punching bag'? Anurag Thakur's business is divorced from his politics