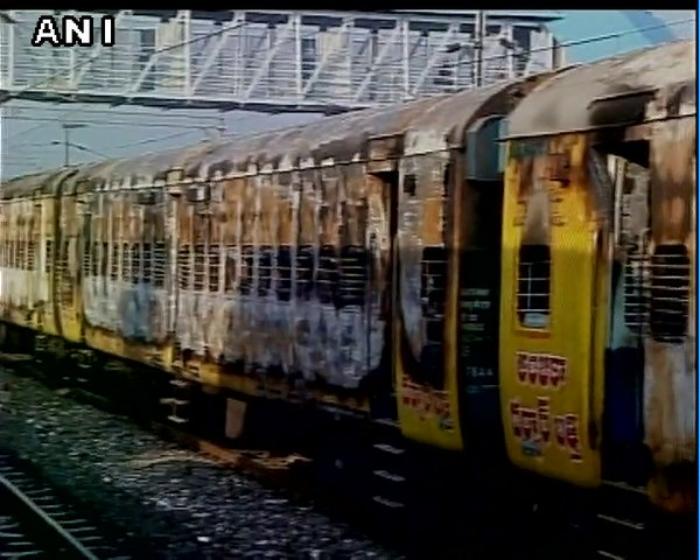 Members of the Kapu community in Andhra Pradesh set the Ratnachal Express on fire during a demonstration on Sunday in Tuni in East Godavari district to demand reservations in the Backward Class category, reports The Indian Express. The community, comprising 23.4 per cent of Andhra Pradesh's coastal population, claimed it had been de-reserved as a Backward Class in 1960, and demanded the return of its quota benefits.
The Kapus have threatened an indefinite 'rasta roko' if its demands are not met by Monday evening.
On Sunday, thousands of Kapus from all over the state, led by former minister Mudragadda Padmanabham, marched to Tuni. They blocked the Chennai-Kolkata National Highway and Tuni railway station, set the Ratnachal Express on fire, and also set a police station and several police vehicles ablaze.
The protest was supported by the YSR Congress Party.
"They attacked the Ratnachal Express, which was the first train to arrive there, close to the Tuni railway station. Passengers jumped out as the protesters started throwing stones. They set fire to four coaches, which soon spread and gutted the entire train. Then they attacked an office at the Tuni railway station, and later targeted the Tuni Rural police station," said a police officer.
While condemning the incident, Andhra Pradesh Chief Minister N Chandrababu Naidu said: ".Today, six AP Police officials and six Railway Police officials were beaten up by the protesters. One Circle Inspector and one constable are in serious condition. The train was pelted with stones and set on fire. You have a right to protest and hold meetings, but why instigate violence?"
Naidu added: "I am assuring Kapus that we are working on giving them reservations. We have promised it and we will do it. There is no need for this kind of violence. I appeal to all communities to maintain peace."
The Kapus had given Naidu's Telugu Desam Party their support in the 2014 Lok Sabha elections in return for a promise that Naidu would include them in the Backward Class category. But the government only appointed a judicial commission to look into the issue last month.