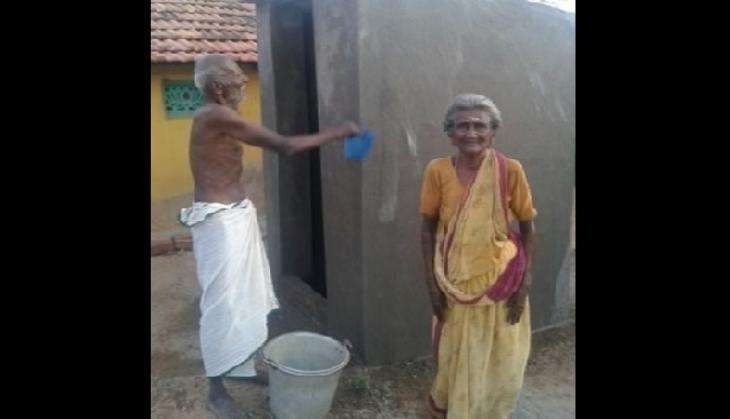 A 90-year-old couple has become an inspiration to the fellow residents in Achampatti village near Madurai, Tamil Nadu. The duo, with their efforts, has not only changed their lives but brought about a sanitation revolution to their village.
About a week ago, Alagu Ambalam and his wife Angammal went viral on social media, when Swacch Bharat Mission tweeted a picture where the couple can be seen constructing a toilet for themselves. The elderly couple took it upon themselves to build a toilet for their home under the Mahatma Gandhi National Rural Employment Guarantee Scheme.
The tweet said - "A 90-year-old couple from Achampatti constructed a toilet in their home and inspired the entire village."
"Initially, nobody wanted to construct a toilet, because they don't know any better. They have been living like this for years. The couple volunteered to construct the first toilet for which they dug up two pits. His wife assisted and took care of the curing after construction," Tamilarasi, a local leader in the village, told the News Minute.
Angammal believed that it was extremely unsafe for women to go out in the night and relieved themselves.
Thanks to Ambalam and Angammal's efforts, 141 of the 145 identified homes have toilets fitted with solar lamps provided by Madurai-based Devaki Hospital.
As per the News Minute, there are four houses in the Achampatti that have no toilets but members use a public toilet instead, making the village a 'zero open defecation' village.
Achampatti is also reportedly the first among eight panchayats in Alanganallur panchayat union to contribute to Swachch Bharat mission by putting an end to open defecation.