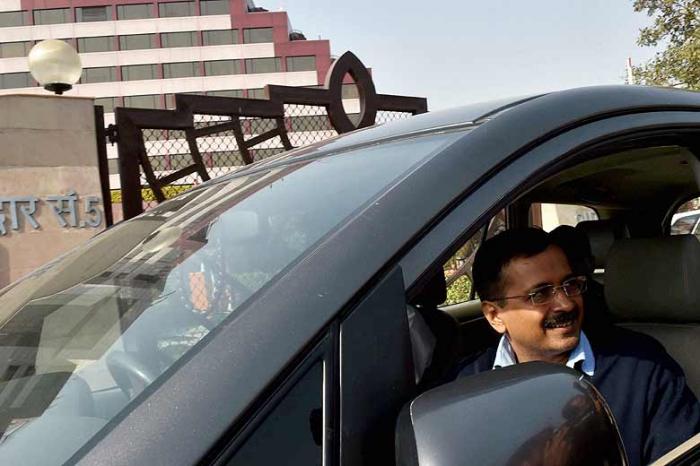 Announcing the details of the Capital's odd-even vehicle formula, Delhi Chief Minister Arvind Kejriwal said that the scheme will be implemented on an experimental basis from 1 January, 2016 to 15 January.
The policy will apply to NCR cars and those with other states' registration numbers as well. According to Kejriwal, a fine of Rs 2,000 will be imposed for those violating the rules in those 15 days. The odd-even rule will be implemented from 8am to 8pm, except on Sundays.
Kejriwal also said that VIPs ("except the CM of Delhi"), essential services vehicles like the police or fire brigade, CNG and hybrid cars and only-women cars will be exempted from the measure to check vehicular congestion and emission.
According to report published in the Indian Express, vehicles exempted from the odd-even formula will include:
All two-wheelers.
CNG vehicles, but they will have to display the certificate
Electric and hybrid vehicles.
Women and women drivers with a male child up to the age of 12
Vehicles of the President, Vice President, Prime Minister, Speaker of the Lok Sabha, Deputy Chairman of the Rajya Sabha, Deputy Speaker of the Lok Sabha, Governors of states/ Lt Governor, Chief Justice of India, Union Ministers, Leaders of Opposition in Rajya Sabha and Lok Sabha, Chief Ministers of states except Delhi, judges of Supreme Court and High Court, Lokayukta.
Emergency vehicles, ambulance, fire, hospital, prison, hearse, enforcement vehicles.
Vehicles of paramilitary forces, Ministry of Defence, pilot and escort
Vehicles of SPG protectees.
Vehicles bearing diplomatic corps registration numbers
Those on the way to hospitals for a medical emergency should carry proof
Vehicles of the physically challenged
The AAP government plans to run 6,000 more buses to accommodate the potential spurt in passengers who can't drive their cars on a particular day, as well.