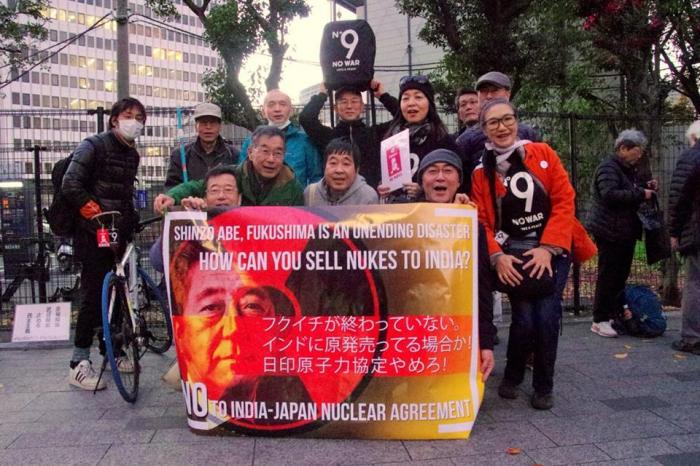 On 12 December, over a 100 people gathered in front of Japanese Prime Minister Shinzo Abe on Saturday to protest the country's nuclear pact with India.
The crowd, which included civic groups and survivors of the Hiroshima and Nagasaki atom bomb attack, said the move may encourage the production of nuclear weapons.
Indian anti-nuclear activist and convener of the People's Movement Against Nuclear Energy, SP Udayakumar, joined the protest via Skype.
According to media reports, around 150 protestors held demonstrations with banners reading: "We cannot create peace with nuclear" and "We oppose the Japan-India nuclear deal."
'The deal is controversial'
The deal according to the protestors is controversial as India, a nuclear-weapon nation which conducted its first nuclear test in 1974, has not joined the Nuclear Non-Proliferation Treaty. The NPT only recognises Britain, China, France, Russia and the United States as nuclear powers.
According to Japan Today, Kanna Mitsuta, a member of an environmental group called Friends of the Earth Japan, said the agreement is not line with the nonproliferation efforts made by Japan.
SP Udayakumar strongly condemned the deal. He demanded to know how Japan could promote nuclear power even after bearing the brunt of the devastating atomic bombs during World War II and the 2011 Fukushima Daiichi nuclear power plant disaster.
Udayakumar also said that although the Asian country needs electricity, nuclear power was not the right way to go.