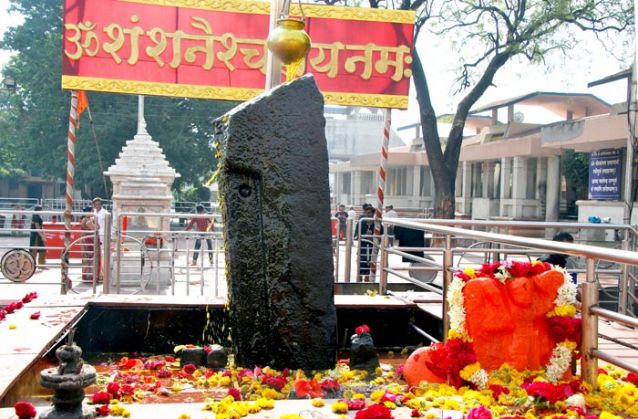 Women activists at Shani Shingnapur Temple were stopped by the police from entering the core area on Thursday, despite the Bombay High Court's order of 30 March that "women cannot be prevented from entering a place of worship".
More than 100 policemen blocked the entrance to the temple's core area and asked the 40 women activists who had arrived there to show copies of the high court's observations, or else move away from the area.
Though the police did not stop the activists of the Bhumata Mahila Brigade from heading to the temple, they stopped them at the entrance, escorted them to the platform where women are banned from worship, but then blocked them from climbing the platform, according to The Indian Express.
"The police did not allow us to climb the platform. When we told them that the Bombay High Court has ruled yesterday that women cannot be prevented from entering the places of worship, the police asked us to produce the copy of the court observation or asked us to stay away from the core shrine area. Since we did not have the copy of the court observation, we tried to tell them that newspapers and TV channels have reported the court observation. However, the police wouldn't listen," said Durga Shukre, president of the Bhumata Mahila Brigade.
Shukre acknowledged that the police did allow them to pray, but took their offering of a garland to Lord Shani and placed it on the idol themselves. "We were not allowed to place garland at the feet of Lord Shani. Instead, the police took it from us and place it before the idol.We could stay inside the temple premises only for 10-15 minutes. They virtually shooed us away from the temple under heavy police escort," she said.
However, the women were told to come back on Friday, after the final court ruling on the matter. "The police told us that since the state government has been asked by the court to file an affidavit mentioning whether women should be allowed to appear in court or not, we should come again on Friday when they will allow us to climb the platform," said Shukre.
Added Priyanka Jagtap, another member of the Brigade: "They asked us to wait for a day or two.they said they will not stop us once they receive the copy of the court's final ruling in the matter."
Assistant police inspector Prashant Mandela said: "We did not allow them to climb the platform as there are no steps to climb. The steps have been dismantled apparently over a month back. The temple management have replaced the steps with padukas." Mandela denied that they demanded a copy of the court's observations. "Who are we to seek a court's copy?" he asked.