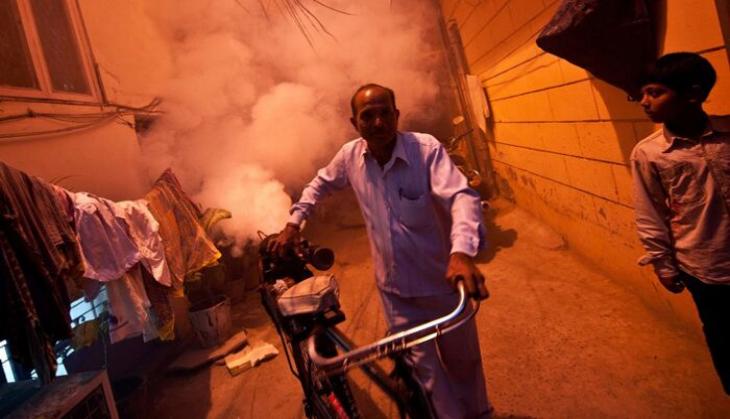 Fearing a rise in larval growth and dengue cases in the city, the Union Health Ministry has written to embassies in the National Capital to allow anti-mosquito squads into their premises. Earlier, cited security reasons prevented squads from entering embassies and Union ministries.
As per the Mail Today, there were around 20 cases where diplomats from Germany, US, UK, Canada, Pakistan, Australia, Italy, and Palestine and their family members fell ill due to the disease in embassies in Delhi. Now, the New Delhi Municipal Council (NDMC) has reportedly written to the authorities of these embassies to cooperate with their staff in carrying out checks.
NDMC is responsible for annual inspection of all buildings under its area to check for mosquito breeding. If mosquito breeding is found, then notices are issued to these defaulters and they are expected to reply within a week, mentioning the measures they have put in place to stop breeding. If breeding is still found within their premises, NDMC then issues challans.
However, foreign diplomatic missions are exempted from this law and NDMC does not have the authority to issue challans or notices to them.
Heavy breeding
NDMC is now planning to approach embassies and foreign missions with a request to grant their staff the permission to inspect their premises.
As per news reports, in 2015, NDMC had found heavy mosquito breeding in at least 12 embassies including those of Ghana, Singapore, Malaysia, Ethiopia, and the Czech Republic.
Problems are reportedly faced by the NDMC when even government offices deny them entry in their premises.
"Last year, when NDMC inspectors walked into the Home Ministry building to check if there was mosquito breeding, they faced resistance from officials. Later, when they somehow managed to enter the premises, heavy breeding of mosquitoes was found," a the health ministry official told Mail Today.