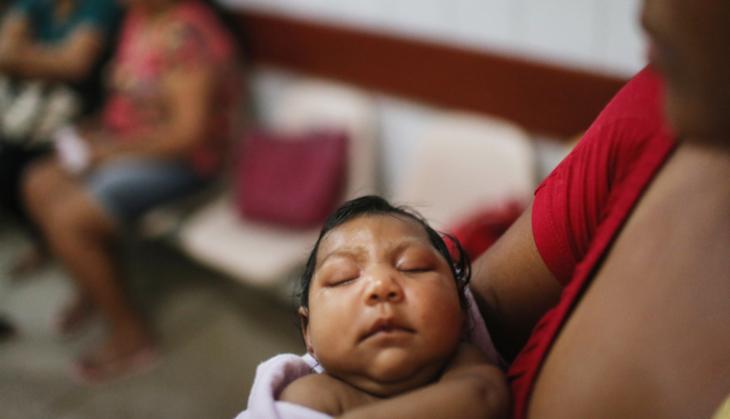 A baby suffering from severe microcephaly, the birth defect caused by the Zika virus, was reportedly born in New Jersey.
The premature baby girl was delivered through a Cesarean section at Hackensack University Medical Centre in Hackensack, New Jersey, by a woman who was reportedly visiting from Honduras and was infected with the virus during the early stages of her pregnancy.
The unidentified newborn also suffers from intestinal and visual issues, Manny Alvarez, chief of obstetrics and gynecology at Hackensack, told NorthJersey.com. "You could see the pain in her heart," Alvarez said of the mother, the website reported. Hospital officials were not available for comment.
The 31-year-old mother was reportedly staying with relatives after she arrived in the United States more than a month ago from Honduras, where she was bitten by a mosquito carrying the Zika virus.
The health officials in US have concluded that Zika infections in pregnant women can lead to microcephaly in the newborns.
The World Health Organisation (WHO) has said there is a strong scientific consensus that Zika can also cause Guillain-Barre, a rare neurological syndrome that causes temporary paralysis in adults. The connection between Zika and microcephaly first came to light last fall in Brazil, which has now confirmed more than 1,300 cases of microcephaly that it considers to be related to Zika infections in the mothers.
In January, the US Centre for Disease Control and Prevention said that a US woman who had lived in Brazil gave birth to a microcephalic baby in Hawaii. The Zika outbreak is affecting large parts of Latin America and the Caribbean, with Brazil being the hardest hit.
Honduras is the central American country with the highest number of Zika cases, with 19,000 infections, and at least 238 pregnant women infected. It has also detected at least 78 Guillain-Barre cases.
-With agency inputs