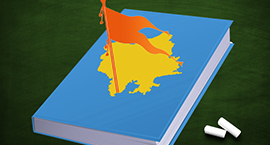 Despite the fact that the earlier Congress government had introduced a new school syllabus two years ago, the BJP-led Rajasthan government is spending Rs 37 crore on new textbooks for classes 1 to 8, reports the Hindustan Times.
The new textbooks will primarily be in the social sciences section, and will include figures like Maharaja Surajmal, Hemu Kalani and Govind Guru, question the greatness of Mughal emperor Akbar, and extol the virtues of Maharana Pratap. This new agenda has been criticised and called saffronisation. The 36 new texts will be introduced for the academic year 2016-17 at a cost of about Rs 37 crore. The textbooks introduced by the Congress government in 2012-13 will be scrapped and auctioned off. New textbooks will also be printed for classes 9 and 11, to fit the new agenda.
Some time ago, the Rajasthan (primary and secondary) education minister, Vasudev Devnani, had planned to introduce the Surya Namaskar asana and the Saraswati Vandana in government schools.