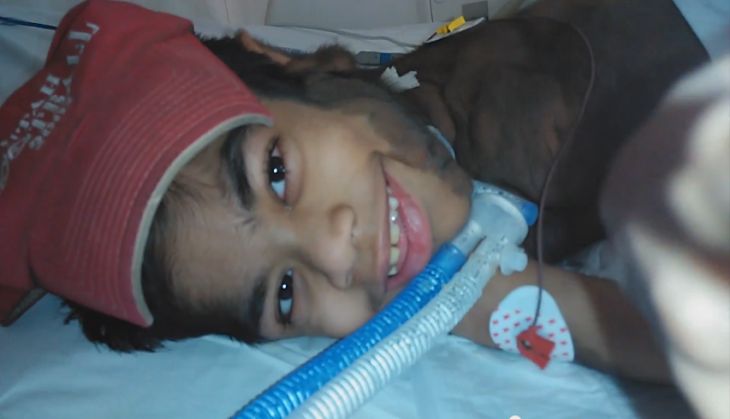 Eight-year-old Mihir is never alone. He has been under the watchful eye of 40 nurses who have been looking after him for two years now at the paediatric intensive care unit at Hyderabad's KIMS Hospital.
Mihir, the son of Sainikpuri-based Kargil war veteran Manoj Kumar Sikdar, is terminally ill and is battling a rare genetic disorder called Neurofibromatosis type-1. He is attended to by 40 nurses, who work in shifts to take care of the boy, who is dependent on a ventilator. He has currently been in their care for 16,560 nursing hours non-stop since he was admitted to the hospital on 9 June, 2014 - 28 days before he turned two-years-old.
"Efficiency is taught in nursing schools, but the quality that is not taught but is essential to learn in order for one to succeed in the nursing profession is patience, love and compassion as it helps patients to recuperate faster. And all the 40 nurses who look after Mihir by turns display these qualities," Debra Joseph, deputy general manger (nursing), KIMS Hospital, told the Times of India.
Mihir is unable to walk due to his spine deformity, but the doctors are now trying to ensure at least he can sit.
Dr Nanda Kishore, Pediatric Intensivist, says that Mihir has changed her attitude towards life. The hospital staff say that despite battling multiple complications like Moyamoya syndrome (constricted blood vessels in brain) and Kyphoscoliosis (spine disorder), Mihir is full of life and enjoys every moment.
Mihir's mother Geeta Sikdar says that he has become very active after he was brought under the care of the nurses. She says he has also begun to learn Telugu after conversing with a few nurses.
"He sometimes tells me to go home as the nurses are always around to take care of him," his mother told the TOI.