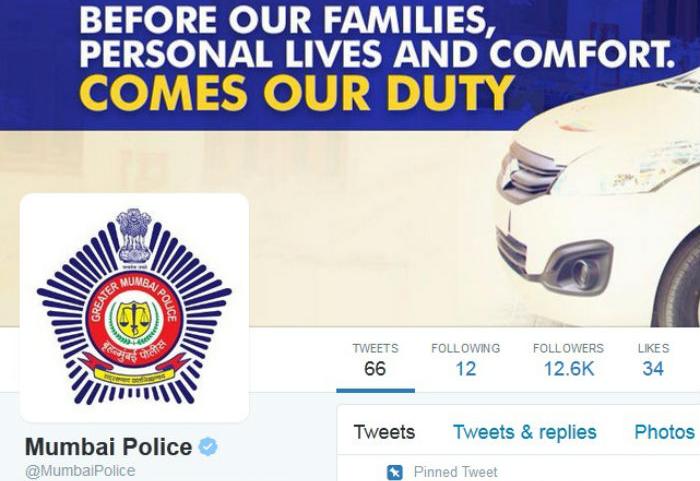 Mumbai Police is basking in the success of garnering more followers on Twitter than the Delhi Police in a war or sorts. It is has been less than a month that Mumbai Police made their Twitter debut and they can already boast of more than 20,000 followers.
Currently, Delhi Police which debuted on Twitter two years ago has a little more than 6,800 followers. However, gaining as many followers as the Bengaluru Police is a big target. The Bengaluru Police Twitter account has more than 1,00,000 followers.
It is not the number of followers that Mumbai Police has gained that is drawing this level of attention, but the way they are playing the best cop on the micro-blogging platform.
If you happen to visit @MumbaiPolice on Twitter, you will notice the genius way cops are spreading awareness.
Mumbai Police is definitely trying to be the #CoolPolice in India. Don't believe us? Have a look:
#NotCool
Waist belt for your pants, seat belt for your life. Still not wearing it? #NotCool #TrafficAwarenessWeek pic.twitter.com/9TFxXphJLm

- Mumbai Police (@MumbaiPolice) January 13, 2016
#TrafficAwarenessWeek
Alcobooths to be installed near bars for the people to check on their own if they can drive. #TrafficAwarenessWeek

- Mumbai Police (@MumbaiPolice) January 12, 2016
Speed cameras being installed in the city. Now, if you over-speed an automatic E-Challan will be generated. #TrafficAwarenessWeek

- Mumbai Police (@MumbaiPolice) January 12, 2016
Don't be the speed breaker of your life. #TrafficAwarenessWeek

- Mumbai Police (@MumbaiPolice) January 12, 2016
We know traffic leads to stress, but is honking a therapy? #TrafficAwarenessWeek

- CP Mumbai Police (@CPMumbaiPolice) January 12, 2016
Don't cross the line. On the roads or otherwise. #NotCool#TrafficAwarenessWeek pic.twitter.com/ugZlHKQgLs

- Mumbai Police (@MumbaiPolice) January 12, 2016
It is always better to say 'I am fine' rather than 'I am FINED'. #TrafficAwarenessWeek

- Mumbai Police (@MumbaiPolice) January 11, 2016
Hashtag without 'tag' can be really dangerous. #AvoidDrugs

- Mumbai Police (@MumbaiPolice) January 10, 2016
Don't let someone else add filters to your profile picture. #ReportCyberCrime

- Mumbai Police (@MumbaiPolice) January 9, 2016
Don't let your driving be the reason that drives us crazy. #FollowTrafficRules

- CP Mumbai Police (@CPMumbaiPolice) January 9, 2016