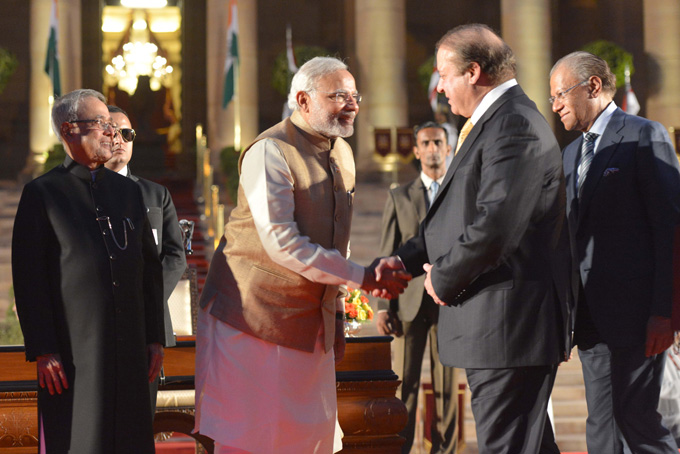 Prime Minister Narendra Modi just announced that he will visit Lahore, Pakistan to meet his counterpart Nawaz Sharif on his birthday. Modi is returning from Afghanistan today and has decided to stopover in Pakistan.
He made the announcement of his surprise stop-off in Pakistan via a tweet:
Looking forward to meeting PM Nawaz Sharif in Lahore today afternoon, where I will drop by on my way back to Delhi.

- Narendra Modi (@narendramodi) December 25, 2015
This is Modi's first visit ever to Pakistan. Ironically, before the tweet, he launched a veiled attack on Pakistan saying that "Afghanistan will only succeed if terror stops flowing across the border."
Many rejoiced at this surprise announcement, while other took a dig at him for the impromptu plan. Netizens took to Twitter to praise as well as bash Narendra Modi on his surprise visit to Pakistan on the way back from Kabul.
Faking News took it to another level:
A FAKING NEWS EXCLUSIVE: How the Lahore meeting was fixed between Modi and Sharif pic.twitter.com/YB6HteJmuD

- Faking News (@fakingnews) December 25, 2015
Here's what people said in support of Modi's visit:
Mehr Tarar and PPP also tweeted in support:
Welcome, Prime Minister Narendra Modi in Lahore...This unexpected visit is a very positive step towards breaking the icy status quo

- Mehr Tarar (@MehrTarar) December 25, 2015
Naysayers rant,but there's no way to look at PM Modi's visit in any other but positive light. Not big-small States;it's about moving forward

- Mehr Tarar (@MehrTarar) December 25, 2015
@narendramodi great great ! Welcome to Lahore !

- PPPLahore (@PPPSupport) December 25, 2015
Rahul Kanwal tweeted:
Famous Punjabi saying slightly modified. Breakfast in Kabul, lunch in Lahore, dinner in Delhi. @Pmoindia springs big Christmas surprise.

- Rahul Kanwal (@rahulkanwal) December 25, 2015
Sonu Nigam and Mahesh Bhatt supported PM's gesture:
I am so Proud of our Prime Minister @narendramodi ..His endeavour to extend a hand of friendship to Pakistan, is truly appreciable. Jai Hind

- Sonu Nigam (@sonunigam) December 25, 2015
Every major leap in human thought has erupted from the audacity of hope ! It's brave of PM Modi to pay a visit to Nawaz. Sharif !

- Mahesh Bhatt (@MaheshNBhatt) December 25, 2015
Here's what others say:
PM Modi's Lahore Surprise: A Stopover to Greet 'Birthday Boy' Nawaz Sharif - wonderful gesture of @narendramodi https://t.co/QC4btwNG23

- Kiran Mazumdar Shaw (@kiranshaw) December 25, 2015
Modi's previously unannounced arrival in Lahore kills all the media drama -- ek teer teen shikar #PureGenius

- Tufail Ahmad (@tufailelif) December 25, 2015
PM @narendramodi has given best b'day gift to #AtalBihariVajpayee ji by continuing his #IndoPak peace mission. Al the best, Modi ji! #Lahore

- Sudheendra Kulkarni (@SudheenKulkarni) December 25, 2015
Many others went after Modi for this surprise visit. They tweeted:
Barkha's reaction after PM Modi's surprise stopover @ Lahore pic.twitter.com/64397zh0RP

- ROFLin Gandhi (@RahulDumbGandhi) December 25, 2015
One thing's for sure. No one saw this coming and are either stunned or pleasantly surprised at this development. #modi #Lahore

- Geetha (@ghk2015) December 25, 2015
Modi Ji visit to Lahore(Pak).Is a perfect googly for whole opposition,Prestitute Media and Liberals Who will sulk for days now. #ModiInPak

- Karan Kapoor (@karannkapoor18) December 25, 2015
Has anyone informed Arnab Goswami about this #Lahore visit ??Please break the news gently to him please...

- Atul Khatri (@one_by_two) December 25, 2015
PM's misadventure to Lahore is worst manifestation of Spectecalisation of Diplomacy Last time Vajpayee went to Lahore Kargil!this time what?

- Manish Tewari (@ManishTewari) December 25, 2015
but what when the neighbour stabs us in the back? Atal Behari Vajpayee went to Lahore on a bus, as Pak did Kargil https://t.co/0HSHfLFE6s

- GAURAV C SAWANT (@gauravcsawant) December 25, 2015
Narendra Modi called Nawaz Sharif and asked if he can meet for Lunch at Lahore. Common Funda when u don't want to go home and need to do TP

- Joy (@Joydas) December 25, 2015