Touted as 'India's first social media Prime Minister', Narendra Modi has struck all the right chords when it comes to social media. He is, without a doubt, one of the most connected politicians in the world. Recently, Facebook said that Modi is the second most 'liked' world leader. He is second only to US President Barack Obama and is followed by Turkish President Recep Tayyip Erdogan.
Soon after his party won the General Elections in May 2014, he tweeted, "India has won! Good days are coming".
Modi's follower base has grown 400%, from four million followers to 20 million, since he was sworn in as the Prime Minister two years ago.
He commands a huge follower base on Facebook, Twitter, and LinkedIn and is even present on Chinese social media platform - Weibo. Recently, he crossed 20 million followers on Twitter. He has been tapping new social media platforms to improve the outreach of his government and be connected with the public.
Modi and his social media team have done a fantastic job so far and he stands unmatched to any other politician in the world. Modi's team has used social media in an innovative way to maximise their reach amongst the youth of the country.
Not just him, Modi has also mandated his ministers to maximise the use of social media platforms and connect with the citizens of India. Railway Minister Suresh Prabhu, HRD Minister Smriti Irani and External Affairs Minister Sushma Swaraj are a few names who have kept their social media game up.
It is evident that Modi prefers social media over TV, print, and news conferences. What better way to connect to the people of the country?
He has built a unique image of himself on social media by using the platform for building diplomatic eyes.
On Twitter, the 65-year-old Prime Minister engages in a myriad of activities. He has given a glimpse of his light-hearted side when he tweeted an animated video of himself with a broom in hand, sweeping a street to promote his Swachh Bharat campaign.
He tweeted aerial view pictures of Seychelles while returning from a political visit. He often tweets selfies with world leaders and Bollywood stars. His family, too, finds a place in his tweets.
Beautiful Seychelles …a picture taken by me. The affection of the people of Seychelles has been phenomenal! pic.twitter.com/a2qQmuOk7P

— Narendra Modi (@narendramodi) March 11, 2015
Modi has scored major points for using Twitter as a tool for promotions. Modi effectively promotes his flagship campaigns like #MakeInIndia, #MannKiBaat, #SwachhBharat, #SelfieWithDaughter, #MyCleanIndia, and #TransformingIndia to connect with Indian and global audiences.
Not just Twitter, Modi has a huge fanbase on Facebook as well. The presence of Indian ministries on Twitter and ministers on Facebook has risen from 2014 to 2016.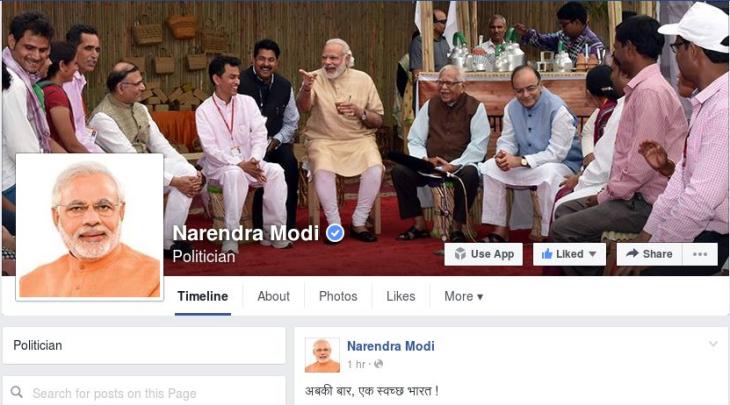 Modi's digital presence has paved way to revolutionise 'digital governance' and 'digital diplomacy' in India.
The most retweeted tweet remains his victory tweet when he won the Lok Sabha election two years ago. He recently shared some photos with his mother visiting his residence in Delhi for the first time. The tweet with the photos is the fifth most shared on the platform.
Modi's Facebook post on 15 May - a picture with his mother at his official residence at Delhi's Race Course Road remains on top with 1.6 million likes, 1.2 lakh shares, and 34,000 comments.
"My mother returns to Gujarat. Spent quality time with her after a long time & that too on her 1st visit to RCR," he had written in the post which was accompanied by three photographs of the mother-son duo.
Out of a total of 50 cabinet ministers along with ministers with independent charge, 47 of them have verified Facebook presence.
During the last one year, the top performing ministers on Facebook include Home Minister Rajnath Singh, HRD minister Smriti Zubin Irani, Finance Minister Arun Jaitley and Food processing minister Harsimrat Kaur Badal.
A report by social media behemoth Facebook says that Modi makes an average of 2.8 posts per day.
Modi's social media policy is clearly moving in the right direction, going by the records he has been setting records across social media.