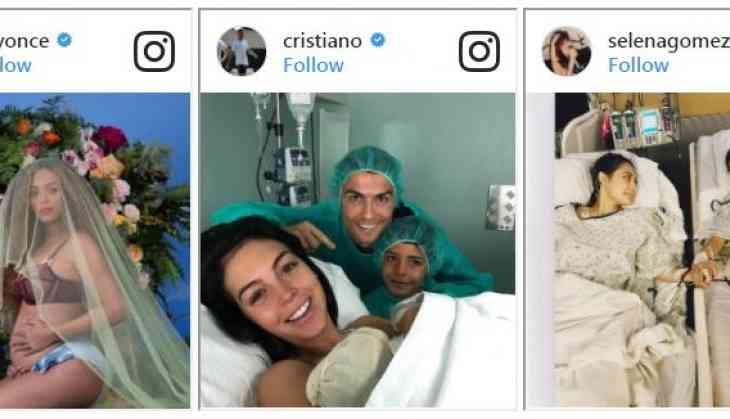 Instagram's Top 10 pictures of 2017 (The Move)
Instagram, one of the top social media platforms for user engagement, witnessed a significant rise in its popularity in the year 2017. The social media giant's active users count reached as high as 800 million in September 2017 from 600 million till December 2016.
The year 2017 witnessed some interesting trends on Instagram where top 10 pictures came from just 3 people. What was even more surprising is the fact that most of these top 10 pictures were related to family, pregnancy and baby announcements.
10. Selena Gomez in Blonde look
This was the consecutive 3rd post of Selena Gomez that made it to top 10 Instagram posts in the year 2017. The post shows Selena Gomez in a surprisingly new hair color. The post was liked over 7.7 million times.
9. Gomez and The Weeknd hand-in-hand
This was another post of Gomez in May 2017, showing her selfie with singer Weeknd hand-in-hand. The post was liked by around 7.8 million users.
8. Gomez's selfie with The Weeknd
After Beyonce and Ronaldo, it was Selena Gomez who repeated her presence in top 10 with a post in April 2017, showing her selfie with Weeknd. The post attracted around 8.1 million likes. Gomez and Weeknd have parted ways now.
7. Fifth Ballon d'Or of Cristiano Ronaldo
After posting the second most popular photo in November 2017, Ronaldo posted his picture with prestigious Ballon d'Or award, that he won for the fifth time. The post reads, "Another dream come true. Unbelievable feeling. Thanks to my family, friends, teammates, coaches, and everyone that stood by my side throughout the years." The post was liked slightly less than 8.3 million times.
6. Twins Announcement by Ronaldo
And yet again! Another twin announcement made it to top 10. The post shows Cristiano Ronaldo with his newborn twins. In his one line post, Cristiano writes - "So happy to be able to hold the two new loves of my life." The post was liked 8.3 million times on Instagram.
5. Pregnancy Announcement by Khloe Kardashian
This was yet another pregnancy announcement post that made it to top 10 on Instagram. The post was from Khloe Kardashian, a popular American television personality. Kardashian's post reads, "My greatest dream realized! We are having a baby! I had been waiting and wondering but God had a plan all along. He knew what He was doing. I simply had to trust in Him and be patient. I still at times can't believe that our love created life!" He post was liked over 8.7 million times making it the 5th most liked post on Instagram in the year 2017.
4. Twins Announcement by Beyonce
After one of her posts being on the top, another from Beyonce made it to top 10 (4th spot). While the earlier post was published in February, the latest was in July in which she posted a picture of her with her twins. In a single line post she wrote - "Sir Carter and Rumi 1 month today." This post from Beyonce gained huge traction with around 10.3 million likes.
3. Kidney transplant of Selena Gomez
The 3rd most popular Instagram post of the year was Selena Gomez's kidney transplant picture. While informing about her transplant to her fans, she wrote in the post, "I'm very aware some of my fans had noticed I was laying low for part of the summer and questioning why I wasn't promoting my new music, which I was extremely proud of. So I found out I needed to get a kidney transplant due to my Lupus and was recovering. It was what I needed to do for my overall health."
2. Cristiano Ronaldo's Baby Announcement
Surprisingly, the 2nd top post of the year was also a baby announcement but this time from an entirely different domain – the well-known football star Cristiano Ronaldo. Through this post, Cristiano announced the birth of his baby Cristiano Alana Martina. The post attracted slightly less than 11.2 million likes.
1. Beyonce's Pregnancy Announcement
The most liked Instagram post of the year 2017 was the pregnancy announcement post by Beyonce – the highly popular American singer, songwriter, dancer, and actress. Her post attracted over 11.2 million likes and as many as 5.47 lakh comments.