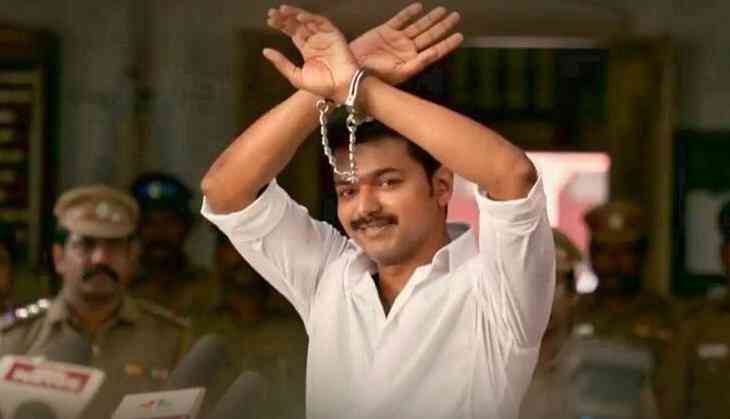 Pic: Thalapathy Vijay in Mersal
After the GST controversy, Thalapathy Vijay's Mersal has once again landed in wrong news, but this time due to the statements of few filmmakers.
It's known that the Tamil superstar's Diwali release has emerged as the second biggest blockbuster of the year after Baahubali 2 at the Box Office. The Thalapathy starrer has so far minted a whopping Rs. 250 crore at the Box Office worldwide.
However, it seems like a few section of filmmakers are frustrated with the record breaking success of Mersal.
Actor and propaganda secretary of the BJP, S Ve Shekher stated that Mersal suffered a loss of Rs 60 crore.
"I have heard that Mersal has suffered a loss of Rs 60 crore. All the issues are over. The actor has received money. The director, who received Rs 3 crore in the last film has now got Rs 13 crore. If a director gets Rs 3 crore, he should get Rs 5 crore in the next film. How did he get Rs 13 crore? There should be some reason for the expenses spent on a film."
According to actor-director Praveen Gandhi, Mersal is a loss venture.
"These people are saying Mersal got Rs 100-150 crore collection and inflating their salaries. The truth is the producer has not come out in the open about his problems." He further explained that there was a loss of Rs 20 crore as there was no control over the budget while making the film".
However, national award winning writer and producer Dhananjay Govind has come up with the fitting reply to all the allegations against the Box Office success of Mersal.
Dhananjay Govind tweeted:
"Shocked to read such exaggerated statements that #Mersal incurred huge loss. Looks like a motivated campaign. When the Producer is not talking about it, how come others are quoting such figures? On what basis? My calculation is it's a profitable film. Truth may be out soon. My view is #Mersal has earned the biggest share to all distributors, exhibitors, theatre owners, vendors & everyone involved. So, it can't be a loss to the Producer. Let the Producer declare the numbers. Others should stop speculating & quote illogical numbers as loss".