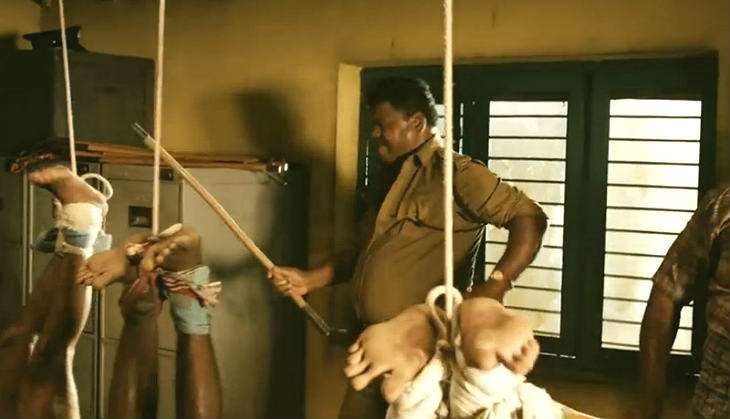 22 September has been a historical day for the entire Tamil film fraternity as Dhanush's first release of 2016 as producer, Visaranai, has been selected as the official entry to the Oscars 2017 in the Foreign Language Film Category. This is the first time a Tamil film has been selected for this category, showcasing the strength of Tamil films in world cinema.
The 89th Academy Awards are scheduled to­ be held in February 2017 at Los Angeles.
Visaranai is based on the real-life incidents of an auto driver named Chandrakumar from Coimbatore. Chandrakumar penned down these events in a book titled Lock­up which gained national recognition and caught the attention of director Vetriman who decided to make a film on the same.
Here are five reasons why Visaranai deserves to ­be India's official entry to Oscar 2017.
1) Visaranai is one ­of those rare films that can make a big impact on the audience and stays with you even days after you have watched it.
2) Indian cinema tends to showcase policemen as the heroes of our society. But Visaranai has been a bold attempt to portray the other side of Indian police. It has chronicled police brutality which is the bitter truth of India.
3) Some may call Visaranai a violent film as the thriller is filled with gory scenes. But all it has attempted is to show the reality of police brutality.
4) Before its theatrical release, Visaranai had already received international accolades, including a standing ovation at the 72nd Venice Film Festival.
5) Visaranai has been praised hugely for its hard-hitting story, outstanding performances, and smart editing. Interestingly, the film went on to bag three National­ awards at the 63rd National Film awards in India for Best Tamil Feature Film, Best Supporting Actor (Samuthirakani) and Best Editing (Kishore).
If you are a fan of thrillers inspired by real events and haven't watched Visaranai yet, then you have missed out on something brilliant.