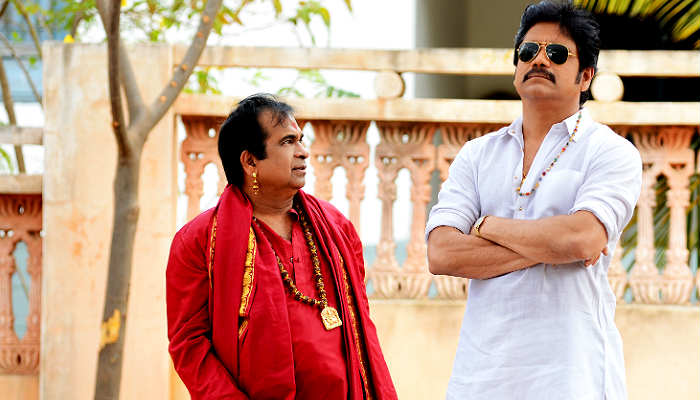 Actor Akkineni Nagarjuna says he's at a position in his career where he doesn't bother about stardom anymore. Instead, he says he would concentrate on doing good films, even if it means waiting for over a year for a release.
Nagarjuna's Soggade Chinni Nayana, which releases worldwide on Friday, is his first release since 2014 Telugu drama Manam.
"I don't think about stardom anymore. I'm way past that phase. The only thing that matters to me now is doing good films. I may not have had a release in 2015, but the wait has paid off with Soggade..., which has come out really well," Nagarjuna told IANS.
Directed by debutant Kalyan Krishna, the film also stars Ramya Krishnan and Lavanya Tripathi in important roles. Here's what he has to say
On his dual characters:
"I play the father and son. This is a fun film with a ghost angle. I also come as a ghost, but I won't be scaring anybody. This is not your regular horror film. It's a lovely story of a father returning as a soul to help his son".
On the delay in the film:
"Quite early on, Shruti Haasan walked out of the project for unknown reasons. We had to wait for three months until Tamannaah Bhatia came on board as her replacement. Though we completed shooting in September, we spent the last few months on post-production," he said.
"Once I finish shooting a film, I usually sit on it to see how we can make it better. This is something I've been doing for many years on all my projects," he said.
On the film:
"It's been a while since we had a film set completely in a village. Although villages are fast catching up with the cities, there's still something special about shooting there, like its serene environment. It was an amazing experience," he said.
On the film's clash with Nannaku Prematho, Dictator and Express Raja.
"I find this trend very unhealthy, because it will force us to share our success. I had announced the release date of my film nearly three months ago and had even paid advance to theatres and blocked screens. Since I had planned in advance, there was no way I was going to step out of the race," he added.
Nagarjuna also awaits the release of Telugu-Tamil bilingual Oopiri, which also features Tamil actor Karthi alongside him.
-- IANS