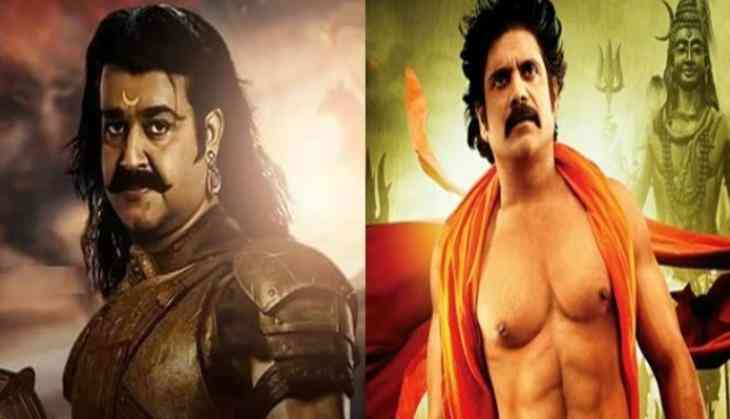 Pic: Mohanlal and Nagarjuna fan made poster
The pre-production works of Mohanlal's most ambitious project Randamoozham: The Mahabharata is currently progressing in Kerala. The film, an adaptation of popular Malayalam writer MT Vasudevan's award winning novel with same title, marks the directorial debut of ad-filmmaker VA Shrikumar Menon. Randamoozham: The Mahabharata will be based on the epic Mahabharatha and Mohanlal will portray the lead role of Bheemasena. The story will be told through the perspective of Bheemasena.
Earlier, there were reports that the makers of Randamoozham: The Mahabharata are planning to cast Telugu superstar Nagarjuna to portray the role of Karna in the film.
In a recent interview, Nagarjuna confirms talking with the makers of Randamoozham: The Mahabharata. He also added that he is ready to do the film if his role gets equal importance compared to Lalettan's role as well.
"My next film after RGG (Raju Gari Gadhi – 2), could be Mahabharata and I was asked by writer Vasudevan Nair to play Karna's role in the movie. Director Sukumaran had initiated the talks with me some time ago for Karna's role. But, nothing is finalized yet and I'm not too sure how long does it take for things to shape up. I'm aware of Shrikumar's efforts to make the movie for the past four years and I got this offer, two years ago. Recently, Vasudevan asked me once again for my dates. I told him I will be a part of the movie if my character is also given enough importance and the writer said, it will be a prominent role. I'm waiting for the project to shape up completely and then I can share more details about it", Nagarjuna said.
Randamoozham will be made in English, Malayalam, Tamil, Telugu and Hindi languages and will hit the screens in two parts in 2020.