Bollywood superstars often book festival dates months in advance to ensure a bumper opening for their movies. Salman Khan has long since claimed Eid while Shah Rukh Khan typically has his stamp on Diwali and Aamir Khan considers Christmas his lucky slot. While Bollywood films are often promoted as festival releases, the release date of a Rajinikanth film is a festival itself for his fans across the country, especially in Chennai and Bengaluru.
Don't believe us? Check this out: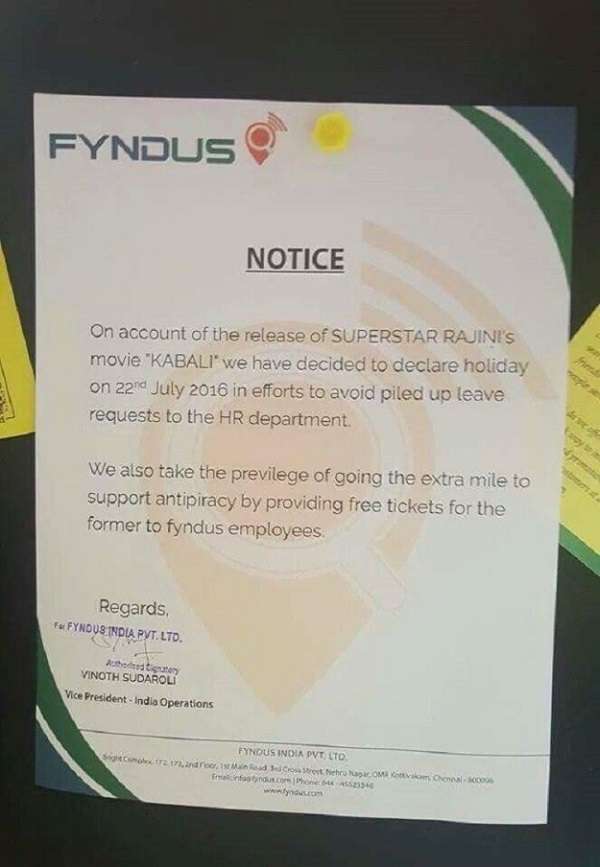 Twitter.com
Rajashekaran, the business development manager of Fyndus in Chennai, decided to declare 22 July 2016 a holiday for a simple reason; a Rajinikanth film will be releasing.
"We have a tie-up with PVR and after the leave applications, we decided to give the day off and get us all to go for the film on Friday," Rajashekaran told Buzz Feed.
A Rajinikanth film carries a certain amount of hype and expectations. Manoj Pushparaj from Opus Waterproofing in Chennai could sense the eagerness among his employees to watch Kabali on the first day and what he did next is something unexpected.
"This was an internal company circulation which was sent out on Sunday. I could feel the eagerness in my employees, so instead of dealing with mass bunks and mobile switch offs, I came up with the idea of declaring a holiday on July 22 and be a part of the celebration. It would also serve as a motivation to my employees. Like Diwali bonus, we treated them to Kabali bonus," Pushparaj told Hindustan Times.
Directed by Pa Ranjith, Kabali is set for a worldwide release this Friday.