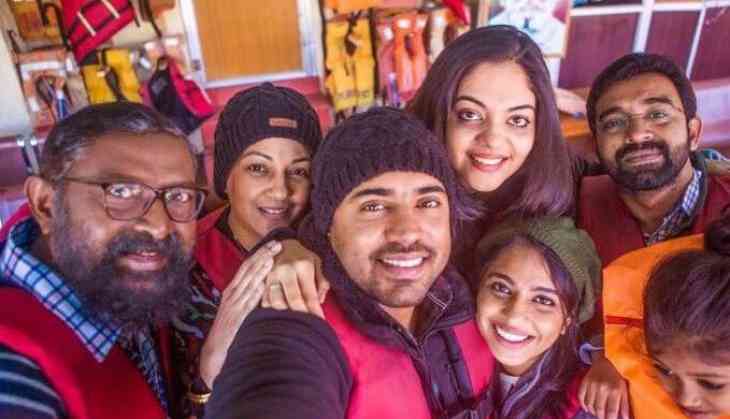 Pic: Njandukalude Nattil Oridavela poster
The much awaited Nivin Pauly starrer Njandukalude Nattil Oridavela is slated to release tomorrow. The film, which marks the second production venture of Nivin Pauly after Action Hero Biju, also marks the directorial debut of Premam and Sakhavu actor Althaf Salim. Jointly written by Althaf Salim and George Kora, Njandukalude Nattil Oridavela is tipped to be a realistic family entertainer.
Catch had previously stated that the makers of recent Malayalam hits Ezra and Godha, E4 Entertainment are distributing Njandukalude Nattil Oridavela with Studio 11 Release.
And now, it has been confirmed that Njandukalude Nattil Oridavela is all set to be the biggest non-Kerala release ever for a Malayalam film. Apart from the 120 screens in Kerala, the Nivin Pauly starrer will be getting released in non-Kerala markets like Hyderabad, Karnataka, Chennai, Chandigarh, Kolkata, Mumbai and Delhi as well. The film had the best chance to become the biggest all India release as well, but the makers had decided not to organise any fans shows, which is common for any superstar films these days.
Njandukalude Nattil Oridavela also marks the acting comeback of one of the most celebrated Malayalam actresses of 1980-1990's, Shanthi Krishna after a 22-long-year gap. The film will also see the acting debut of model Aishwarya Lekshmi and second outing of Ahaana Krishnakumar of Rajeev Ravi's Njan Steve Lopez fame. Njandukalude Nattil Oridavela also boasts of an ensemble cast including Lal, Srinda, Dileesh Pothan and the Premam actors Siju Wilson, Sharaf U Dheen and Krishna Shankar.