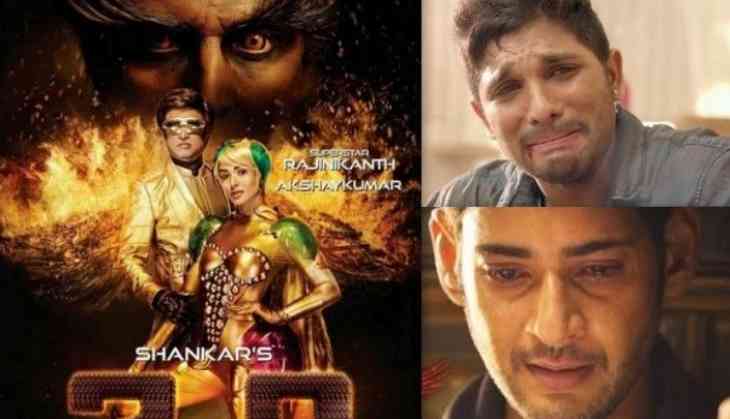 Pic: 2.0 poster, Allu Arjun and Mahesh Babu (file pic)
After a series of postponement over its release date, the makers of Rajinikanth, Akshay Kumar film 2.0 have finally announced the release timing of their film on Saturday. Raju Mahalingam, the Content Head at Lyca Productions, released a press release statement confirming that 2.0 will hit the screens in April 2018. However, he refused to mention the 'release date' of the Shankar film on his statement.
Though the makers have not announced the release date, most of the Tamil trade circle confirmed on social media that Lyca Productions are eying for April 27 2018 release for 2.0
However, the new release date change of 2.0 has landed in a new controversy as many South filmmakers have complained that the consecutive changes in the release date of the Thalaiavar - Khiladi film are making more troubles for many regional films.
Interestingly, both the Telugu superstars films, Mahesh Babu starrer Bharath Ane Nenu and Allu Arjun's Naa Peru Surya have already locked the release date of their respective films as April 27 2018.
On Sunday, Bunny Vas, the producer of the upcoming Allu Arjun starrer took to his Facebook page to express his disappointment over the new release date of 2.0. He also added that he is planning to approach the Producers Council to provide an immediate solution to avoid the clash.
Bunny Vas stated:
"Tollywood has always respected and embraced other language cinema. But a bigger project like Robo 2.0 changing their release dates has caused confusion among producers. All the Telugu movie producers who are releasing in the months of April and May are in discussions to avoid any competition among ourselves. However this sudden announcement by ROBO 2 team to release in the month of April has left all the Telugu releases to further confusion. At this juncture we request the trade bodies to take a conscious call and arrive at an amicable solution".