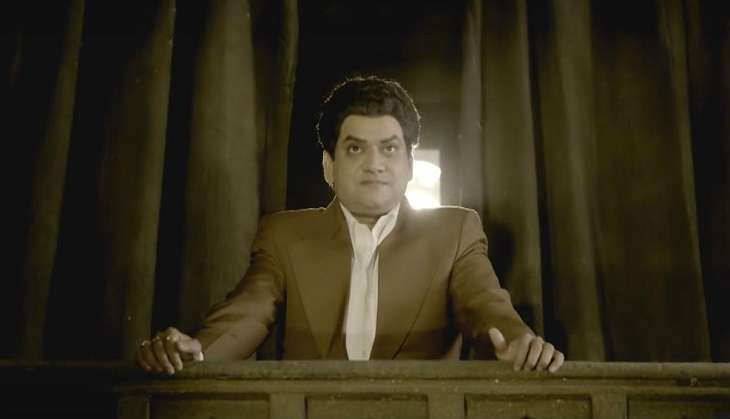 In 1951, actor-director Bhagwan Dada created a sensation with his blockbuster Albela, which was studded with perennial C Ramchandra musical gems like Shola jo bhadke, Shaam dhale khidki tale, and Bholi soorat dil ke khote.
After 66 years, director Shekhar Sartandel has crafted a Marathi biopic on Bhagwan Dada called Ekk Albela, which stars Mangesh Desai and has Vidya Balan in a cameo as Geeta Bali, Bhagwan's heroine in Albela. Mangesh talks about his transformation into the 1950s star.
What was your reaction when you were offered the opportunity to portray veteran actor Bhagwan Dada on screen in the biopic Ekk Albela?
He was a Marathi manus who went into Hindi cinema and made a name for himself, he became the badshah of Hindi cinema! I feel very privileged and lucky to have got the opportunity to portray him on screen. Very few people get chances like this. I have got this chance because of Shekhar saab. Ekk Albela traces the journey of Bhagwan Dada's film career as an actor and director. Bhagwan Dada faced a lot of obstacles while making the musical Albela, which had Geeta Bali in the lead.
Were you familiar with Bhagwan Dada's work before starting Ekk Albela? How did you do the research?
I hadn't seen any of his films as there isn't much online, barring a newspaper article which highlights his plight towards the end of his life. Yes, I did hear his famous songs such as Shola jo bhadke and Bholi soorat dil ke khote.
Will you try to reproduce his style of acting?
He (Bhagwan Dada) was a natural actor but there were some melodramatic elements in his performance, which I've tried to imitate.
File Photo
Bhagwan Dada was famous for his dance steps which were imitated for years. Will you be dancing in the film?
I didn't know dance at all but for this film I learnt dancing. I trained with a choreographer before going on the set as Bhagwan Dada had his own style of dancing.
We see you ageing in the film. Have you used prosthetics?
Nope. Veteran make-up artiste Vidyadhar Bhatte gave me several different looks with only one wig. According to me, my eyes and cheekbones are a lot like Bhagwan Dada's (smiles). For the scenes where I played the young Bhagwan Dada, I sucked in my stomach; and when the character aged I used body pads.
What was it like to have Vidya Balan portray Geeta Bali, the heroine of the original Albela?
The best part of this movie was having Vidyaji. Right up till the first day of the shoot I was sceptical about her being a part of this film. But my dream of working with her actually came true. When I started acting, I had watched Tezaab 13 times and I would feel that I have to work with Madhuri Dixit ... that didn't happen. After some years when I came to Mumbai there was a hoarding of Vidya Balan's just opposite where I stayed. I had seen Kahani and thought I should get the chance to work either with Vidya Balan or Madhuri. Now my prayers have been answered.
How was Vidya to interact with?
Vidya is a huge star in Bollywood. When she agreed to do this film, I was scared about how she would adjust with me. I was also scared that she would overpower the film. But now I realise why Vidya is such a big star ... It's because she is so grounded. The day she came to the set, she made it very clear, 'Don't promote this film as Vidya Balan's film. This is Mangesh's film.' Only an actor like Vidya will have the courage to give footage to another actor.
-- Anita Britto (Bollywood News Service)