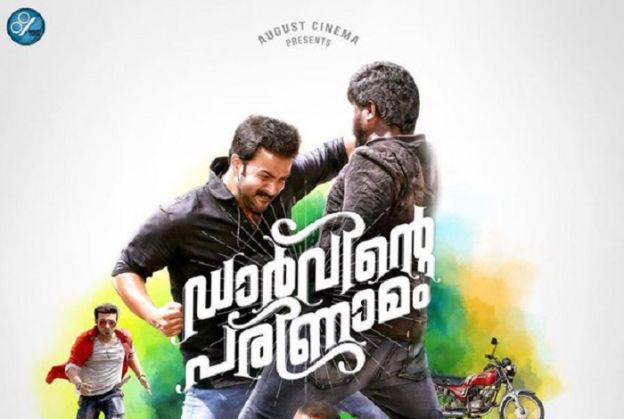 The official trailer of Prithviraj's upcoming film, Darwinte Parinamam is out. Directed by Jijo Antony, the film also stars Chandini Sreedharan of KL10 Pathu fame in the lead. The movie has been produced by August Cinema, a joint production of Prithviraj, Tamil actor Arya, director Santhosh Sivan, and producer Shaji Nadeshan. Sankar Sharma has composed the music for the film. The script of the film has been written by Manoj Nair and the cinematography is by Abinandhan Ramanujam.
Also Read: Karnan: Is the Prithviraj - RS Vimal venture the costliest Malayalam film?
The story of Darwinte Parinamam revolves around the life of an ordinary man and a local goon and how their lives get interchanged due to some unfortunate events. Prithviraj is essaying the role of the ordinary man, Anil Anto, and Chemban Vinod Jose will be seen in the role of local goon, Gorilla Darwin.
Also Read: Regional Cinema News
Prithviraj, who is riding high in Mollywood after delivering 2016's first super success with Paavada, will be looking for his fifth super hit in a row in 6 months. The actor has also won most of the best actor awards this year for his terrific performance in 2015 blockbuster Ennu Ninte Moideen.
Darwinte Parinamam is slated to release on 18 March, 2016.
-- Text By Sree Prasad Nair