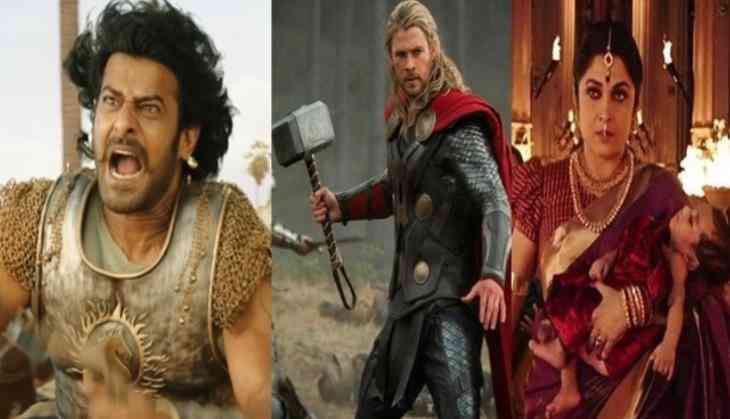 Pic: Stills from Baahubali 2, Thor: Ragnarok
According to Book My Show, Marvel's Hollywood superhero blockbuster Thor: Ragnarok emerged as the top grossing language film in 2017. The popular online ticketing platform, which had released the list on Thursday is based on the highest grossing amount by different language films released from the period 1 January till 8 December.
Prabhas - Anushka Shetty's Baahubali 2 dominate the list as the Hindi, Tamil, Telugu and Malayalam versions bag the second, third, fifth and sixth spots respectively.
The list also included Marathi film Ti Saddhya Kay Karte, Punjabi film Vekh Baraatan Challiyan and Kannada film Raajakumara as well.
Check out the top 10 grossing films by language:
1) Thor: Ragnarok - English
2) Baahubali 2 - Hindi
3) Baahubali 2 - Tamil
4) Ti Saddhya Kay Karte - Marathi
5) Baahubali 2 - Telugu
6) Baahubali 2 - Malayalam
7) Vekh Baraatan Challiyan - Punjabi
8) Raajakumara - Kannada
9) Posto - Bengali
10) Karsandas Pay - Gujarati and Satya - Bhojpuri