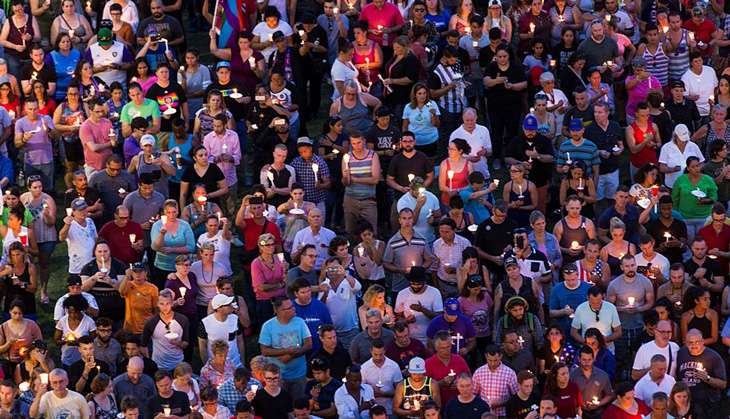 What and when
Shooting in Pulse night club at Orlando united the world on 12 June
People across the world spoke out against homophobia and hate
Jumping on the bandwagon
PM Narendra Modi added his two bit by tweeting his condolences
But the irony remains that homosexuality is criminal in India
More in the story
The Orlando mass shooting brings a discomfiting message for India which continues to criminalise gay sex.
This is the moment when the Indian political class must ponder about its own inaction - its persistent resistance against scrapping the retrogressive Section 377, outlawing gay sex.
Preaching homilies about peace and freedom of choice when the law of the land promotes a culture of persecuting people with a different sexual orientation, is nothing but hypocritical.
How can we justify our repeated and loud claims to being a vibrant and open democracy, when we - as a nation - have criminalised a community of people for nothing but their sexual orientation?
Also read: Why not call the Orlando Killings an LGBT massacre ?
The Orlando massacre has hammered home the fact that fundamentalism of any kind, whether to do with religion or with sexual identity, breeds violence. Both instincts feed on each other.
Going back in time
Rewind to December 2013, when a two-judge bench of the Supreme Court set aside an earlier Delhi High Court order de-criminalising gay sex on the grounds that Section 377 abrogated the Constitution's principles of non-discrimination and equality for all citizens.
In its verdict, the Supreme Court scrapped the legal protection to what it called a "minuscule fraction of the country's population" comprising of lesbians, gays, bisexuals and transgenders (LGBT).
"It ruled that Section 377 will continue making gay sex - 'irrespective of age and consent' - an offence, while adding that Section 377 did 'not suffer from any constitutional infirmity'," said a report in the Indian Express.
Also read: Guns, Islamophobia, gay pride: the talking points after Orlando
The apex court however left it to the Parliament "to consider the desirability and propriety of deleting Section 377 from the statute book or amend it."
The political class, predictably, didn't have either the will or the intention to undo the court order by removing Section 377 from the statute book.
Feeble attempts
The Congress MP Shashi Tharoor, in the last Budget session of Parliament, tried unsuccessfully to introduce a private member's Bill in the Lok Sabha to de-criminalise homosexuality.
However following objections from BJP MP Nishikant Dubey, Tharoor's motion was put to vote. It was defeated by 71 votes as against 24 in favour of the motion.
Since then, the Congress MP, has started a Change.org petition (which has received over 40,000 signatures), urging Prime Minister Narendra Modi to de-criminalise homosexuality.
On its part, the ruling BJP continues to be evasive on the issue with many within its ranks openly declaring homosexuality as "unnatural".
Voices of intolerance...
For instance, former BJP president and current Home Minister Rajnath Singh, who described homosexuality as 'unnatural', is in favour of retaining Section 377 in the statute books.
A report in the Economic Times in March this year, quoted BJP spokesperson Bizay Sonkar Shastri as saying: "Going against the nature is dangerous for human beings. This (homosexuality) is a criminal act. It must be stopped. For this purpose, we need Section 377 (of IPC that criminalises homosexuality)."
Shastri, however, added that this was his "personal view".
...and some voices of reason
Notwithstanding such homophobic statements from a section of BJP leaders, there are others in the party who have spoken out against criminalising homosexuality.
Finance Minister Arun Jaitley, for instance, had criticised the Supreme Court judgment for re-criminalising homosexuality.
The RSS has supported decriminalisation though with the rider that homosexuality should not be "glorified." Clearly there is confusion within the BJP ranks in the matter.
The bottom line - if the ruling party is unwilling to stick its neck out, so are the parties in opposition.
Unfortunately, Indian parliamentarians are yet to start a serious conversation on the issue of scrapping Section 377.
In the meanwhile, India continues to share the ignominy of being in the league of countries such as Sudan, Iran, Saudi Arabia, Yemen, Mauritius, Afghanistan, Pakistan, Qatar, UAE, where being gay is treated as a criminal offence.
No wonder then, that a report in the Washington Post described India's reaction to the Orlando shooting in these significant words: "Even Narendra Modi, who as prime minister of India leads a country that criminalises gay sex, tweeted condolences: 'Shocked at the shootout in Orlando, USA. My thoughts & prayers are with the bereaved families and the injured.'"
As the columnist Owen Jones wrote in the Guardian newspaper, Orlando was "both a terrorist attack and a homophobic attack on LGBT people": we must not forget an important fact in our zeal to prioritise terror over homophobia.
As India condemns the horrific violence in Orlando, it must also realise that by continuing to retain Section 377 in its statute book, it is allowing a destructive prejudice like homophobia a legitimate space in society.
Edited by Jhinuk Sen
Also read: Shock, horror, fear: LGBTQ Indians react to the Orlando mass shooting