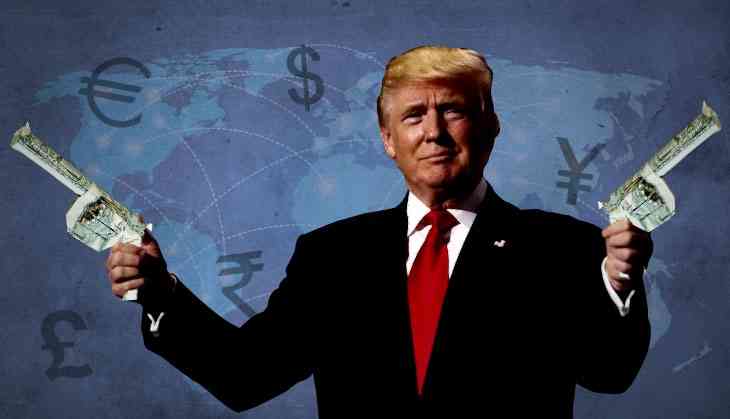 After targetting the services sector of the United States, President Donald trump now seems to have set his eyes on manufacturing. In a barrage of tweets over the last few days he has lamented how his country suffers from a wide trade deficit.
Not only that, the helmsman of the world's largest economy has threatened to raise tariff barriers and impose new taxes. In short, America has called for a trade war.
As expected, Trump's outburst has left the world economy nervous. Reacting to weak global cues, the India equities market has fallen to their lowest this year.
The BSE Sensex closed down 284 points, or 0.85 per cent, at 33,033 Wednesday, after sliding 430 points on Tuesday and 300 on Monday.
Now, India is immune to any direct impact of Trump's policies: The US Prez wants to curb imports of steel and aluminum with 25 per cent and 10 per cent duties respectively. But his moves are really targeted at China and the European Union.
The US accounts for only 2 per cent of India's steel and aluminium exports.
But the Big A can extend Section 232 of its Trade Expansion Act, 1962. It lets US investigate whether certain imports pose a threat to national security.
Indian exports to the States include gems and jewellery, textiles, automobile, food and leather products. It is a net gainer in a bilateral trade gap of $24 billion (more than Rs 1.5 lakh crore).
That's pittance to the total $800 billion trade deficit that Trump has been complaining about. But worries remain.
Sticky wicket
At the moment, India's commerce ministry may be anxiously watching a protectionist Trump. But it would do well to keep in mind that India has been in this game much before the US.
India last year imposed an anti-dumping duty on steel products from China, Japan South Korea, Russia, Brazil and Indonesia, for five years. A miffed Japan even dragged India to the World Trade Organisation.
Paradoxically, Prime Minister Narendra Modi called protectionism a major global problem, at the recently held World Economic Forum at Davos.
Well that's the irony: the practicers of protectionist policies don't realise others can do it too.
Finance Minister Arun Jaitley doubled customs duty to 15 per cent on specified parts/accessories of motor vehicles, motor cars and motor cycles in the 2018-19 Budget. Import duty on radial tyres for trucks and buses were also increased to the same level from 10 per cent. In total, 45 different product lines saw tariff hike, some by as much as 40 percentage points.
No surprise then that Trump recently alluded to India's high import duties on automobiles and motorbikes companies like Harley Davidson.
Benefits for none
According to a recent study of the world's top 60 economies, more than 7,000 protectionist trade measures have been introduced on a net basis since the global financial crisis with tariffs worth more than $400 billion.
The US and the EU introduced more than 1,000 restrictions followed by India that imposed over 400 measures to protect domestic industries, the research found.
A major problem post-2008 was the destruction of demand leading to underutilised capacities. Now that several economies started showing signs of an increasing demand, protectionism is unjustified as it harms domestic value-add industries the most.
No wonder India's small and medium enterprises have been crying foul ever since the Modi government started resorting to protectionist behaviour to promote 'Make in India'.
Such SMEs will face a double whammy if the US and others extend protectionism on finished products as well.
India and other leading economies must take a tactical call to shun protectionism. The sooner the better.