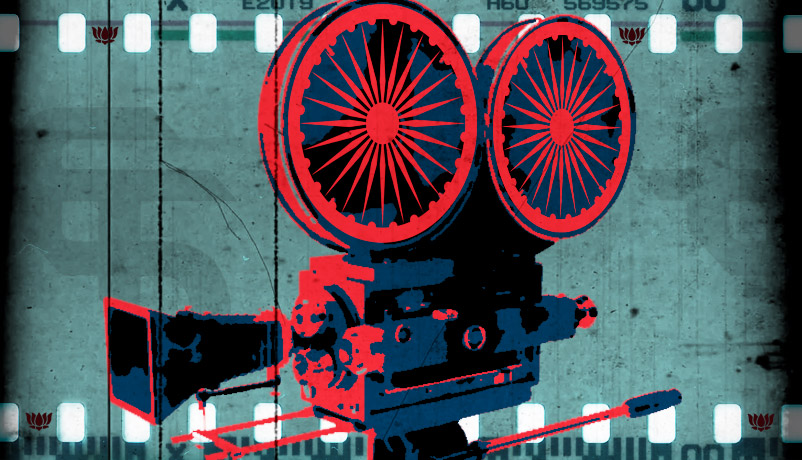 The issue
RSS-linked people have been appointed to run FTII, one of the country\'s premier film institutes.
They want to instill \'nationalism\' among film and art students.
The resistance
Their idea of nationalism is essentially Sangh Parivar\'s exclusionist Hindutva fantasy.
They want to produce artists who conform, not question authority as they must.
Their professional credentials don\'t inspire much confidence.
The first thing to note about Anagha Ghaisas, newly appointed under the Person of Eminence category to the Society of the Film and Television Institute of India, is that she takes nationalism very seriously.
Her body of work includes a film on the National Defence Academy called My Flag My Life; a biopic of Prime Minister Narendra Modi titled A Tale of Extraordinary Leadership; there is one, naturally, on the Ayodhya temple, Adaalat aur Aastha (Rejected title: There Used to be a Mosque Here).
Art of nationalism, Sangh-style
If you equate Indian nationalism with the ideology and imperatives of the Rashtriya Swayamsevak Sangh, you could well believe she's the most nationalistic Indian filmmaker of all time.
Happily, Ghaisas does not seem the kind of filmmaker to rest on her nationalist laurels. On Sunday she told Ardhra Nair of The Indian Express, in what seemed to me a pretty extreme act of patriotism, that she is simultaneously making not two or three but '26 films on the Northeast'.
On which aspects of the Northeast she does not make clear, though that brand of wide-angled inexactitude will serve her well if she hopes to find outpourings of nationalism there.
If you equate nationalism with the RSS ideology, Ghaisas is the most nationalistic Indian filmmaker ever
Ghaisas is certain that students of FTII so far have not been sufficiently patriotic. "A new thought process should start at FTII," she said. "Students should have nationalistic feelings."
Another Person of Eminence and new appointee, Narendra Pathak, former Maharashtra president of the RSS student wing Akhil Bharatiya Vidyarthi Parishad, inflects his patriotism with punitive vim: "If there are mischief-makers who work against the government, toh unko sabak sikhana zaroori hai."
They must be taught a lesson, it seems.
The question is: what lesson?
It's amusing to think of Ghaisas and Pathak force-feeding nationalism to the instinctual renegades that populate most film schools. At a pretty basic level, art is about questioning authority, challenging the manner of things.
But such a consideration will not stop a government that openly seeks to - and reminds us every chance it gets it has the mandate to-transform the national culture.
Eminent resumes? Hardly
The introduction of four people with longstanding ties to the RSS and no serious accomplishments in cinema into the FTII Society has been accompanied by the appointment of Gajendra Chauhan as chairman.
Chauhan's only significant contribution to contemporary culture came in his performance as Yudhishtir in Doordarshan's iconic televising of the Mahabharat. He has since acted in dubious films and soap operas.
It seems clear that this new position is his reward for how he spent much of the last decade, as a 'star campaigner' for the BJP in the Hindi heartland. Is it hypocritical to criticise the government for this?
Partisan patrons
Ghaisas argued to The Indian Express that "every government chooses people they believe will do the best work".
She is being only mildly disingenuous. What she means is, "every government chooses people they believe will do their work".
The NDA government made a similar defence of its heavily-criticised appointments to the Indian Council of Historical Research. And votaries of the BJP can point to appointments by past governments.
For instance, while she might be more palatable to the English-speaking elite, it's hard to argue that former FTII Person of Eminence Nafisa Ali - who has contested elections for the Congress multiple times - has made a larger contribution to Indian television and film than Chauhan.
Since its inception, RSS has confused its interests with those of India. This govt is beginning to do the same
Let us accept then that the government is within its right to make such appointments. Partisanship is a natural corollary to democratic turnover. Few institutions that allow political appointments are safe; just look at the US Supreme Court.
Furthermore, art has been used as a tool of tribe-, king- and nation-building since men first started to rule over each other.
Lesser evil?
This is where anxiety about the credentials of the appointees arises. A steady, even stellar record of contribution to a field, whether history or cinema, suggests that if push comes to shove, the person in question will consider the interests of the craft over the interests of powers-that-be.
Whether this is true or not is open to question, but it's the only metric we have.
To their credit, while the Congress might appoint partisans - there is little doubt, after his comments against Narendra Modi, that the prime minister viewed former FTII chairman UR Ananthamurthy as a political opponent - for the most part it chooses men and women with shining credentials.
The problem for the BJP is that its primary consideration is not the contribution the candidates have made to the national culture, but their contribution to the vast and nebulous ecosystem known as the Sangh Parivar.
Ghaisas says 'every govt chooses people they believe will do the best work'. She means 'will do their work'
It seems clear from the changes to the governing councils of ICHR and FTII that rewards will accrue to those who have spent decades in service of the Sangh Parivar, forwarding the interests of one of its great array of socio-political groups. The BJP is only one of these, of course.
Since its inception the RSS has confused its own interests with those of India. Maybe it was only a matter of time, but this government is beginning to do the same.
The RSS conflates Hindu nationalism with Indian nationalism. One of the key planks of its ideology is the primacy of both Hinduism and India.
When these new appointees to the FTII board speak of encouraging nationalism among the student body, they reference this narrowed definition of what it means to be a proud Indian.
By this logic, those who examine and unravel the unarguable problems in contemporary India are powered by a hatred for the country or the religion. They are being anti-Hindu and anti-national, they say. On the contrary, they are simply being artists.
The views expressed here are personal and do not reflect those of the organisation.