Betul in Madhya Pradesh hosts a "fair of ghosts" every year, and thousands of people gather to get their loved ones exorcised of what they believe are "spirits". RSS chief Mohan Bhagwat was also in Betul over the last two days and his visit to a famous landmark of the district has resurrected a spectre, although of a different kind.
Bhagwat was in Betul to attend a "Hindu Sammelan" and he later paid a visit to the Betul jail. The jail visit was to pay tributes to the second RSS chief MS Golwalkar, who had served time there in 1949. Golwalkar was jailed after the RSS was banned for its suspected involvement in Mahatma Gandhi's assassination. Bhagwat offered flowers to a garlanded portrait of Golwalkar that was put up in barrack number 1 of the jail. A lamp was also reportedly lit in front of his portrait and some pictures of Hindu deities kept alongside.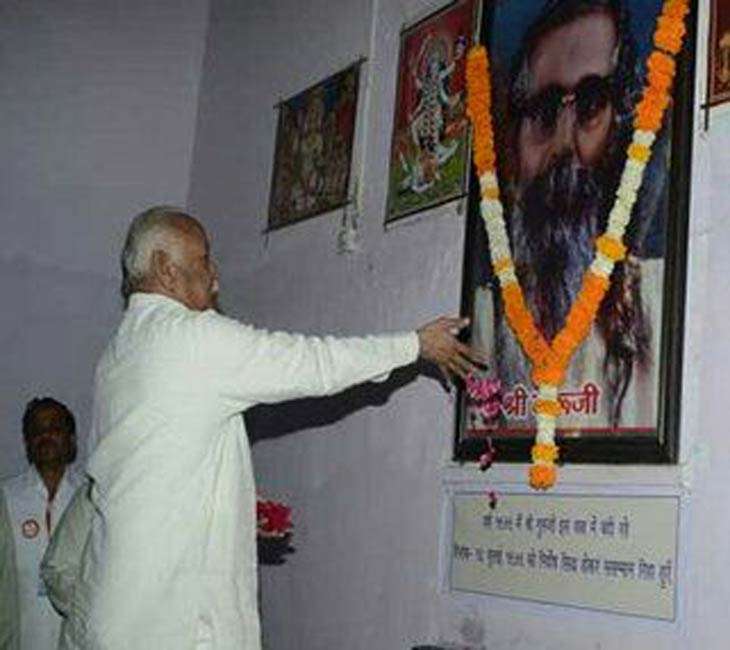 Images available on social media appear to suggest that a temporary installation carrying a quote was also put up on a wall inside the barrack, under Golwalkar's portrait.
RSS Sarasanghachalak Mohan Bhagwat offered floral tributes to Guruji Golwalkar at Betul Jail in MP where he was jailed for fake allegation. pic.twitter.com/qf6R4anMnG

— Rajesh Padmar (@rajeshpadmar) February 8, 2017
The presence of jail officials throughout the ceremony was evidence of the official sanction for the event.
RSS Sarasanghachalak Mohan Bhagwat visited Betul Jail in MP, where Guruji Golwalkar was jailed for false allegation of Mahatma Assassination pic.twitter.com/ziSnuc66Uu

— Rajesh Padmar (@rajeshpadmar) February 8, 2017
Sending a message
Golwalkar is not just an ordinary figure in the RSS pantheon. The Sangh owes much of its present form, structure and ideology to him. His writings, compiled in Bunch of Thoughts and We or Our Nationhood Defined make for highly controversial readings, but are instructive manuals for those who want to understand the real nature of the RSS and the thought it represents.
Also Read: Exclusive: RSS chief Golwalkar threatened to kill Gandhi - 1947 CID report
The RSS can't be expected to distance itself from Golwalkar and his views and its functionaries can not be prevented from celebrating him. However, there is a difference between honouring Golwalkar anywhere else and paying tributes to him in Betul jail. What Bhagwat has done amounts to converting the barrack where Golwalkar was jailed into a memorial, thus honouring the act he was imprisoned for. It is just like the memorial to VD Savarkar in Andaman's Cellular Jail that celebrates what his followers claim were his patriotic acts of defiance against British rule.
Savarkar's own controversial past aside, what Bhagwat has tried to do by honouring Golwalkar in Betul jail is not just to portray him as a hero, but also present his alleged crime as inspiring. The complete story of Gandhi's assassination continues to be an unsolved mystery, but there is ample evidence to suggest the large circle of conspirators included people linked with the Sangh. Bhagwat's act has resurrected the spectre of the assassination of Gandhi and the values he stood for.
Political Duality
It is ironic that the Betul visit came on a day when Prime Minister Narendra Modi was singing paeans to Gandhi during his speech in the Rajya Sabha. Is this duality deliberate that while one of RSS's most celebrated swayamsevaks glorifies the "Father of the Nation" in the country's Parliament, the Sangh's chief glorifies the man allegedly associated with his killer at another place? It indeed is, as the RSS moves towards perfecting its art of dual messaging - sending clear signals to the followers of its ideology while keeping up a facade for others.
Also Read: Yes, Golwalkar threatened to kill Gandhi. But don't forget Savarkar's role