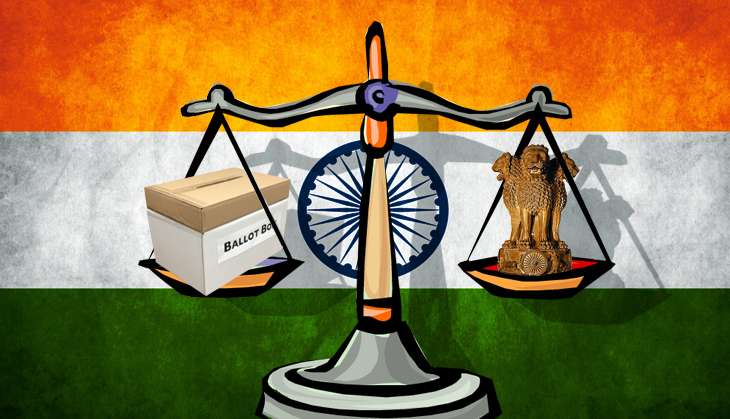 Analyses of electoral outcomes are often done in isolation - one election at a time. This amounts to counting the trees and missing the wood. But the recent polls to five state Assemblies provide us an opportunity to look at the woods.
And we get some sense from these excerpts from an analysis by Lokniti:
"But BJP's first ever success in Assam has come with a specific social configuration. In a state rich with its overlapping diversities of identity and ethnicity, one over-towering social cleavage seems to have emerged: Hindu vs. Muslim.
"Our survey suggests that the BJP has managed to attract sizable sections among Nairs, Ezhavas and SCs in the state. While this leaves the Congress with practically only the 'minority,' votes, the implications for the intercommunity balance are also enormous. Like Assam, here [in Kerala] too, the possibility of religious identity becoming the most salient one, looms large".
It is possible that these conclusions are wrong. But what if there is a chance, however slim, of them being correct? A question presents itself: Is religious consolidation for electoral arithmetic advisable?
The phenomenon of religious mobilisation and consolidation is not confined to any one party, religion, or region.
The Indian National Congress and the Samajwadi Party are mentioned most often for attempting to consolidate the Muslim vote. Of course, parties such as the All-India United Democratic Front and the All-India Majlis-e-Ittehad-ul Muslimeen are, rightly or wrongly, perceived to be Muslim-oriented.
The Shiromani Akali Dal is often perceived to be attempting to consolidate the Sikh vote. There even is a court case about this. The Shiv Sena, similarly, is often perceived to be a Hindu party.
How accurate are these perceptions can of course be debated and there seems to be no definitive pronouncement on that, as of now.
Notwithstanding the fact that this phenomenon may well be widespread, the question "is religious consolidation for electoral arithmetic advisable?" remains valid.
Another issue, arguably, more basic, pertains to mobilisation and consolidation. These activities are integral to the electoral and political processes.
Ideally and usually, this happens and is done around ideas and ideologies. But in India, other forms have taken root. One such is caste and community, and there are other such groupings. This phenomenon is too well known to need examples.
The key issue is whether mobilisation and consolidation around religion is, and should be, treated the same way as around other social and cultural markers, particularly in a country such as India?
It is perhaps advisable to look in to the founding document of the country: the Constitution. Its Preamble speaks of the solemn resolve of constituting the country into a sovereign socialist secular democratic republic.
"Secularism" is a tricky word and a lot has been written about it. One source to get some clarity on it is to see how it has been interpreted by the Supreme Court of India.
One landmark on this was the judgment in the case S.R. Bommai vs Union of India (1994 AIR 1919) delivered by a nine-judge Constitution Bench of the Supreme Court. Some excerpts:
"... whatever the attitude of the State towards the religions, religious sects and denominations, religion cannot be mixed with any secular activity of the State."
"The State's tolerance of religion or religions does not make it either a religious or a theocratic State."
"The freedom and tolerance of religion is only to the extent of permitting pursuit of spiritual life which is different from the secular life."
It also highlights Sub-section (3) of Section 123 of the Representation of the People Act, 1951 which prohibits an appeal by a candidate (or agent or anybody else) to vote or refrain from voting for any person on the ground of his religion, race, caste, community or language or the use of or appeal to religious symbols.
Subsection (3-A) of the same section prohibits the promotion or attempt to promote feelings of enmity and hatred between different classes on the grounds of religion, race, caste, community or language.
When one smart lawyer tried to argue that the section did not really prohibit a candidate from seeking vote in the name of a religion to which the candidate did not belong, the court said: "... it is clear that appealing to any religion or seeking votes in the name of any religion is prohibited ... To read otherwise is to subvert the intent and purpose of the said provisions.
"What is more, assuming that the interpretation placed by the learned counsel is correct, it cannot control the content of secularism which is accepted by and is implicit in our Constitution."
This should make it clear that mobilisation and consolidation of votes in the name of religion is unconstitutional unambiguously. This differentiates it from mobilisation and consolidation of votes in the name of other categories such as caste, economic groupings and so on.
It is for us, as a society and a nation, to decide whether we wish to continue to be a bunch of hypocrites and keep on violating the Constitution. Whether we want to bury our heads like ostriches or do we want to deal with the stalking the country at large.
We can take shelter behind legalese and keep putting the onus on the judiciary who does not really exist independent of society at large. It is a social issue and it is for the society to take a call on this. Else we can bid the nation, as we have known it, good bye.