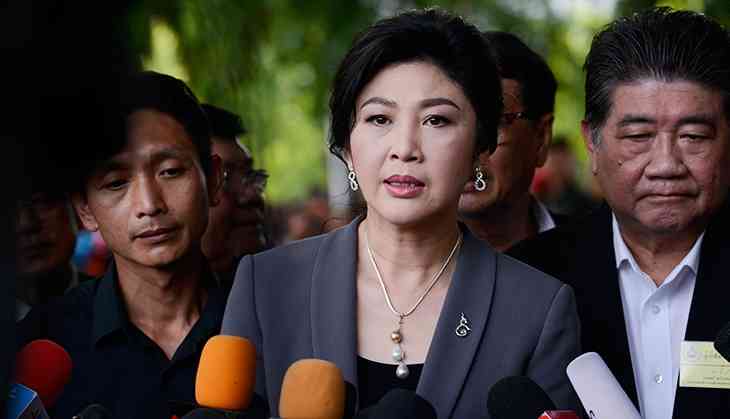 Thailand's politics is again entering a phase wherein history is poised to repeat itself. The country's Supreme Court has issued an arrest warrant for former prime minister Yingluck Shinawatra, following her failure to appear at the court's hearing to pronounce the verdict in a case of criminal negligence in a rice subsidy scheme when she headed the government.
Yingluck's lawyer pleaded her illness for failing to turn up and the court promptly ordered confiscation of her $1.3 million bail bond that she had posted. The court's hearing has been postponed to 27 September.
There are rumours that she has fled the country and taken refuge in Dubai, where her elder brother and former PM Thaksin Shinawatra lives in exile. Thaksin also fled Thailand after a corruption case was instituted by military rulers after he was ousted as PM in a military coup in 2006.
Though Thaksin fled, the cases against him continued and he was convicted in absentia in a telecom share transfer scandal. Yingluck, however, chose to stay in Thailand and fight the case against her; though she may also have chosen to flee, knowing that a guilty verdict is inevitable, given that the Supreme Court judges are also nominated by the military government.
Thailand's Deputy PM Prawit Wongsuwan acknowledged she might have left Thailand.
Yingluck Shinawatra was the first female PM of Thailand and her government was ousted in a military coup in 2014. A guilty verdict by the court will put her in jail for 10 years for misusing her powers as PM to buy huge quantities of paddy from farmers, paying them around 50% over the market price.
Rice farmers in the north and east of Thailand are solid supporters of the Puea Thai Party, which won a majority in the last election in 2011 leading to the formation of the government headed by Yingluck.
Thailand is the world's largest exporter of rice and the Yingluck government's decision led to a government stockpile of 18 million tonne paddy.
Two ministers in the government have been found guilty of corruption: Former Commerce Minister Boonsong Teriyapirom has been sentenced to 42 years in prison for a deal to sell stockpiled rice to China in 2013. His deputy Poom Sarapol has been sentenced to 36 years in jail for the same offence.
Even if found not guilty in the rice subsidy case, Yingluck still faces possible criminal charges in several other cases of reported financial irregularities and mismanagement.
When Yingluck became PM in 2011, it was presumed she was a proxy for Thaksin. Her government's coddling of rice farmers with the subsidy scheme angered Bangkok's middle class and the elite who have been unable to reconcile to the loss of power to the Puea Thai Party whose support base is rural.
Large scale protests crippled Bangkok and paved the way for the military takeover. Military coups in Thailand have occurred with a remarkable regularity that is unmatched by any other country and they have been encouraged by the Royal Family and support of the business elite.
This nexus continues to dominate and takes recourse to so-called legal measures to hound out successful politicians who manage to win elections in Thailand. The military nominated its supporters in a new National Assembly which impeached Yingluck and banned her from politics for five years.
Her popularity has not dimmed and her supporters continued to flock to her rallies in Thailand's countryside. The military government has not been able to find an answer to counter her popularity and has used all kinds of methods to hound her out of politics.
The military government's unease is apparent as it has mobilised thousands of security personnel in anticipation of violent demonstrations by supporters in case the Supreme Court hands down a guilty verdict.
Yingluck had advised supporters to stay home, fearing a confrontation and a violent crackdown by the government. Thousands of supporters had massed outside the country's Supreme Court Friday morning for the verdict that was postponed.
The enduring political divide in Thailand that leads to regular coups persists and shows no sign of abating.
One of Thailand's leading political and strategic thinkers, Dr Thitinan Pongsudhirak, director of the Institute of Security and International Studies at the Chulalongkorn University said: "The Yingluck case serves as another reminder of Thailand's two-decade-old political malaise". This started with Thaksin, a billionaire businessman who pushed aside the traditional political elite by garnering rural vote with promises of reducing income disparity, universal healthcare and more equitable development, he pointed out.
Thaksin's political strategy resonated with the rural masses in a society marked by huge inequalities. He had many powerful critics who lambasted him for corrupt business practices and abuse of power. The irony is that his political party managed to win every election for the last two decades.
Thailand continues to be ruled by a military government despite promises of elections that could be held next year. Any political party that wins will find itself hemmed in by the new Constitution, drafted by the military government. It gives such powers to the military that are unknown in any democracy.
Under the military government thousands of Thai citizens have been forced to attend alleged "attitude adjustment". Many have been charged with violating restrictions on public gatherings or a lese majeste laws that criminalises criticism of the Royal Family and its members.
The military government may not have the option of seeing Yingluck languishing in jail, if reports that she has slipped out of Thailand, most probably through the land border with Cambodia. The military's credibility is also at stake. A guilty verdict will lend justification to the military for toppling Yingluck's democratically elected government. Hence, many believe that a guilty verdict is a foregone conclusion by a compromised judiciary.
Thailand has a new King and the political transition has generated uncertainty among the elite, comprising Royal Family members, business families and the military. This group, which has been the traditional arbiters of power, has felt threatened by the Shinawatras who are not one of them.
Under the highly respected late King Bhumibol Adulyadej, the traditional power brokers in Thailand were more secure but with the new King Vajiralongkorn that element of certainty no longer holds.
The Shinawatras managed to challenge this entrenched power structure and may again make a comeback when elections are held. Both Thaksin and Yingluck may have to remain in exile and wait it out. Thailand's history of military coups has scarred its political landscape many times in its history, ever since absolute monarchy was abolished in 1932. Democracy has failed to take root despite clear aspirations expressed by the people through periodic elections.
The writer is a Distinguished Fellow at the Observer Research Foundation, Delhi and a former Indian Ambassador to Thailand
Edited by Joyjeet Das