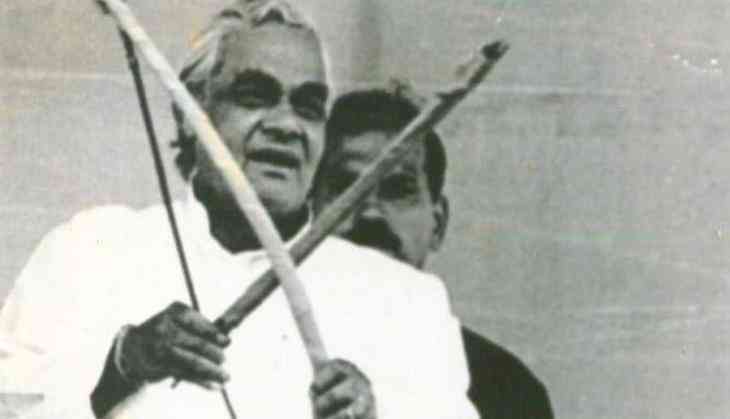 Former Prime Minister and Bharatiya Janata Party (BJP) stalwart is no more and, going with the times, most media outlets are leaving no stone unturned to to make a God of him. Undoubtedly, he was a leader of tall stature, the like of whom does not exist among the current lot. His contributions to the nation can be left to the history and the people to judge. But while writing his obituary it needs to be kept in mind how people and communities looked at him.
This reporter will try to bring out this aspect from some of the areas he covered as he tried to gather insights into Vajpayee's personality.
Let's start with hilly Himachal Pradesh, the state the deceased PM referred to as his "second home". His annual sojourns at Prini village near Manali in Kullu district are fondly remembered by the people of the state. After all, he belonged to that rare breed of politicians who, while holding the top office, would agree to be a chief guest at the annual day of a primary school in a neighbouring village.
The chief guests at such functions are normally Tehsildars and village Pradhans. Vajpayee had obliged those present at the function by reciting a couple of his poems: While humbly saying, "Main shayar nahin hun (I am not a poet)." He had instead laid stress on regaling them with anecdotes from his past.
"What stood out was the fact that the children and the common people present saw him more as a prominent tall personality than a man holding the powerful post of the prime minister," said a senior journalist who covered three of Vajpayee's Prini sojourns.
"The people felt at ease with him and even transgressed the lines to ask him personal questions. He would not disappoint them. Once someone asked him whether he would return as the Prime Minister after 2004 Lok Sabha elections and he had replied with humour that the question was as hypothetical as his getting married," he narrated.
He recalls how Vajpayee had used his trade mark style to confess that Gujarat riots had been a major cause for BJP's defeat in the 2004 polls. "We had asked him about the impact of Gujarat on results and he replied in his trademark style 'Bas itna asar hua ki hum chunaav haar gaye' (The only impact was that we lost he polls)," he said.
On one occasion Vajpayee gave a story to the Press by taking his family for a meal at an Italian restaurant at Manali specialising in pizzas. It was a time when most leaders of his party were ranting about the Italian origins of the then-Congress President Sonia Gandhi.
People of Himachal and Uttarakhand will always remember Vajpayee for the special economic package that saw arrival of industry on a large scale thus providing them both with revenue as well as employment opportunities.
Uttarakhand was carved out as a new state, along with Jharkhand and Chhattisgarh, under his regime. People remember him for helping them realise their dream of a hill state; although it is a different matter that successive governments and bureaucrats have made a complete mess of things there.
Another unique gift that he gave to the hill state was restoration of the Naini Lake in Nainital that is the economic life line of the local community. The gift was unique in a way that it involved pumping of oxygen under water so that the aqua life could survive. It was only after the intervention of the Supreme Court that the Lake Development Authority (LDA) had started taking pro active measures to conserve the fragile ecology of the town.
But there are communities that have their reservations about Vajpayee while not denying that he was a towering leader. In Punjab, organisations like Dal Khalsa have "bitter" memories of his attitude and role towards Sikhs.
"The moment his name comes in our mind, it reminds us how he led BJP protesters on 3 May, 1984 in Delhi, pressing the then central government to send the Indian army to 'liberate the Golden Temple from anti-national people' as claimed and written by his closest colleague LK Advani in his book," Dal Khalsa leader Kanwarpal Singh said.
"Vajpayee's name also reminds us that after the Army attack in June 1984, when he visited Amritsar that August, he justified the assault and rubbed salt on our wounds by saying 'this attack should have happened six months ago'," Singh added.
According to him: "In 1999, during the tercentenary celebrations of Khalsa Panth, as Prime Minister, he released Rs 100 crore to the RSS to penetrate into Sikh rank and file under the pretext of the celebrations. With that huge amount at its disposal, the RSS unleashed cultural terrorism against Sikhs through various means and ways."
He was also critical of Vajpayee's role in the context of the anti-Muslim pogrom in Gujarat.
At the same time, few remember that Vajpayee reportedly made a last-ditch effort to save former Prime Minister Indira Gandhi's assassin Kehar Singh from the gallows.
Gujarat is another state where the Muslim community – the victim of the 2002 riots following the Godhra carnage – along with social activists and people believing in diversity and pluralism have their reservations about him.
The sentiment among these communities is that despite the 'Raj Dharma' rebuke at the then CM Modi on the handling of situation after the Godhra train burning episode, Vajpayee did not ensure that the 'Raj Dharma' was demonstrated on the ground. A social media post that is being circulated about Vajpayee's role says, "He came, he saw, he concurred."
When Vajpayee inaugurated the Ahmedabad Vadodara Express Highway, the first stretch of the ambitious Golden Quadrilateral Project at Narol in January 2003, he had said the-then American President George Bush was not going in the right direction as America prepared for the Iraq invasion. The local Muslim population had smirked, saying that while he could not get his own party chief minister to prevent the killings in Gujarat, he was asking American President not to invade Iraq.
This reporter recalls how on 13 January, 2004, Vajpayee in a late-evening address at the GMDC Grounds in Ahmedabd had again used his trade mark style to woo the Muslim community ahead of the Lok Sabha polls. Having talked of various things he suddenly came up with his trademark pause before saying what had happened was wrong and after another pause 'Maaf kar dena chahiye' (They should forgive).
In his ambiguous trademark style he had sought an apology from the victim community. He had then gone on to inaugurate a state-of-the-art hospital in Bhuj that was built with funds from his his office after the Bhuj earthquake of 2001. At this event in Bhuj, Modi had broken down while underlining how much Vajpayee had meant for him.