With Nitish at the helm, JD(U) becomes another person-centric regional party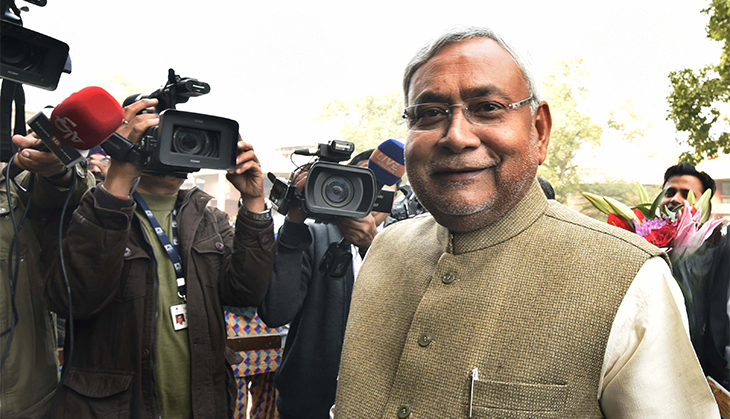 JD(U) today bid farewell to a unique quality that had so far made the party different from several other regional players. Unlike SP, BSP, DMK, AIADMK, BJD, AITC, JMM and many others, JD(U) was a rare regional party that had more than one leaders of national stature who were not related to each other and held different positions of power within the party.
With Sharad Yadav stepping down as party president and Bihar Chief Minister Nitish Kumar replacing him, that shred of distinction is effectively gone.
Read: Congratulations Nitish Kumar! But here's what we'll be watching you for.
At a meeting of the party's National Executive in New Delhi today, Yadav formally resigned from the position and proposed Kumar's name. The party accepted the proposal unanimously, after which Kumar said he accepted the responsibility and was humbled by the trust reposed in him.
Humbled by party's trust in me. Will try my best to carry @SharadYadavMP 's legacy forward as I accept the new role as president of JD(U)

— Nitish Kumar (@NitishKumar) April 10, 2016
Allies Congress and RJD as well as rivals like Lok Janshakti Party reportedly congratulated Kumar. RJD's national spokesperson Manoj Jha told Catch that Sharad Yadav gave JD(U) an all-India character and the party will continue to do well under Kumar too. We wish JD(U) all the best, he added.
Total control
In his new role as a three-time chief minister and party president, Kumar will now be in total control of party affairs. It will effectively translate into unbridled authority to decide on crucial party matters like policies and alliances. It becomes significance in light of the party trying to reach out to large number of small players in several states to stitch up a front that may have small numbers inside but will look like a huge tent from outside.
Kumar was always a prominent face in the many political formations that he has been a part of and which were precursors to the JD(U) – the Janata Party, Samata Party and the Janata Dal. However, he was never party president, which makes this position a first for him. Catch spoke to several observers to understand the implications of this development.
Also read: JD(U) makes its ambitions clear: its mission is "Nitish Kumar 2019"
Political analyst Mahendra Suman says this is Kumar's clear stepping in a national role because it comes at a time when there is a buzz about parties like RLD and JVM(P) merging with JD(U). Suman said as it is Kumar's is the final word in all party decisions and with expansion on the cards, he needed full authority. However, Suman identified a major flip-side too. He said that JD(U) has become just like its ally RJD in terms of party structure and that from now on JD(U) and Nitish Kumar will become synonymous just as RJD and its supremo Lalu Prasad are.
National ambitions
Senior journalist Urmilesh doesn't agree with the "national role" theory as he feels Nitish has enough mettle to demonstrate his national ambitions even without taking the presidentship. What this development really means, he noted, is further centralisation of the party around Kumar, who was always a central figure in JD(U)'s entire history, including that of its precursors, but with 3-4 other leaders around.
According to political analyst Vinod Anupam, this was a much required move for the JD(U) as the party now needed to push its development face in its attempt to cobble up a front to challenge the NDA. This is a clear indication, he said, of the party's national ambitions.
Patna-based senior journalist Gyaneshwar sees twin objectives behind this development – the party's expansion and Nitish's unchallenged authority over party affairs. He said it must be noted that this was in keeping with Kumar's political advisor Prashant Kishor's plans for him.
Read more: Narendra Modi makes Nitish Kumar look like a statesman, says Arun Shourie 
JD(U)'s national council will meet in Patna on April 23-24, where Kumar's new role will be ratified. After that, all eyes will be on the announcement of the details of the proposed merger too. Kumar has never made effort to refute interpretations that his endeavour is to emerge as the prime challenger to Prime Minister Narendra Modi at the centre. His taking of the party's top job appears to be a step in that direction too.
However, what may eventually emerge as a tricky situation for Kumar is that he has competition in that race. At least two leaders that are by his side right now, Congress scion Rahul Gandhi and AAP supremo Arvind Kejriwal, are fashioning themselves in a way that will end up making them his future competitors.
Edited by Aditya Menon
More in Catch:
Assam's invisible money trail: how hawala is driving the election campaign
IIMC again: student accuses lecturer of sexual harassment
Farmers threatening to quit the business completely. Is Vidarbha the tip of the iceberg?
The Jungle Book Box-Office: Phenomenal start for Mowgli and gang in India