Will you resign? Opposition asks for PM's scalp as 50-day deadline nears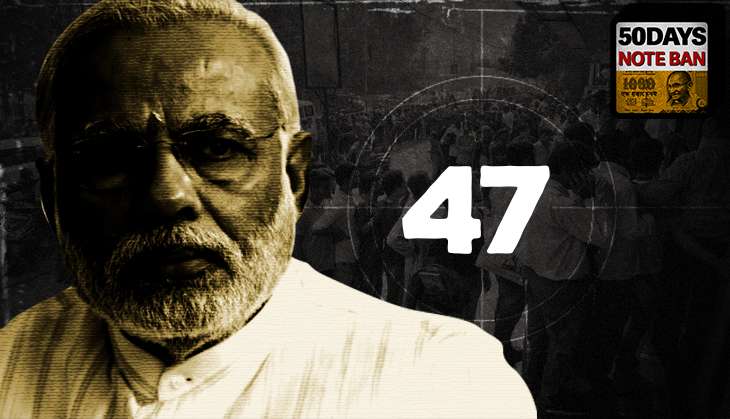 Prime Minister Narendra Modi's 50 day deadline for setting right the negative effects of his demonetisation, is about to come to an end.
As the note ban continues to wreak havoc with various sectors of the economy, Opposition parties demanded on Tuesday that Modi must tender his resignation.
Led by the Congress, eight opposition parties came together at New Delhi's Constitution Club and slammed demonetisation as a failure and a scam. Their message for Prime Minister Narendra Modi was - now that common man's problems have not ended even as his self-imposed 50-day deadline was drawing to an end - he should resign.
Even though a few important Opposition parties gave the press conference a miss, the leaders present - particularly West Bengal Chief Minister Mamata Banerjee and Congress Vice-President Rahul Gandhi - spared no effort in hauling the government over the coals.
The other leaders who attended the press conderence included Congress leaders Ghulam Nabi Azad and Mallikarjun Kharge, DMK MP Tiruchi Siva, RJD MP Jay Prakash Narayan Yadav, AIUDF chief Badruddin Ajmal and representatives of JD(S), JMM, and IUML. Left Parties, SP, BSP and JD(U) stayed away.
Rahul was the first one to speak and said that 30 December - the day the PM's deadline ends - was approaching and the situation is just as it was when demonetisation was announced. He asserted that the stated objectives of demonetisation had failed and common people were only left with huge problems.
He also repeated his allegation of personal corruption against Modi, mentioning the papers recovered from a raid on the Sahara group.
'Gabbar Singh aa jayega!'
Rahul was the one who took the lead in speaking, but it was Mamata who sparkled with her no-holds barred attack on Modi. Calling demonetisation a scam, she said Modi had looted the country in the name of 'Achhe Din'.
"Cashless has become baseless," she said, adding that the country has suffered such a huge economic setback and that it has gone 20 years back in time. She also alleged that Modi had shunned constitutional principles by taking this unilateral decision and imposing it on the people.
Mamata reminded Modi that parties will go out of power but the country will always be governed by the Constitution, which should not be violated. She also took a dig at the absence of effective protests against the government's policies, saying that everybody says these days, "Kuchh mat bolo, Gabbar Singh aa jayega. (Don't say anything or Gabbar will come)".
If the government keeps scaring people about Gabbar Singh from morning till evening, it will lose the people's support, she said.
The Bengal CM also mocked Union minister Nirmala Sitharaman's description of demonetisation as a detergent that will clean black money from the country. "Which 'digital soap' did Modi use to clean BJP white?" Banerjee asked.
She also announced that the Opposition will frame a common programme on demonetisation and hold protests throughout the country. She warned that after the initial 107 deaths, starvation deaths will take place now and the government will be responsible for them.
Modi trapped between resignation & favourite 'chauraha'
Mamata's question to the PM - will he resign now taking moral responsibility - echoed RJD Chief Lalu Prasad's statement that had come a day earlier.
Lalu had sought to remind Modi in a tweet that PM should chose his favourite square where he could be punished now that the 50-day deadline was over.
PM shd chose his favourite 'चौराहा' whr ppl cud punish him for creating a chaotic condition in name of demonetisation to fight black money

— Lalu Prasad Yadav (@laluprasadrjd) December 26, 2016
The reference was to Modi's emotional statement delivered in Goa on 13 November that - "If after 30 December, there are shortcomings in my work or there are mistakes or if bad intentions are found in my work, I will be prepared for the punishment that the country decides for me."
The synergy in statements shows Opposition unity at a significant level, notwithstanding the absence of the Left parties, JD(U), SP and BSP.
JD(U), in any case, has maintained an ambiguous stand on the issue so far, with its chief Nitish Kumar repeatedly issuing statements supporting demonetisation. As for the Left parties, CPI(M) General Secretary Sitaram Yechury has already indicated that Opposition unity will continue in Parliament.
BSP is also opposing demonetisation unequivocally with its chief Mayawati repeatedly slamming Modi and BJP Chief Amit Shah in her speeches.
What these developments are indicative of, is that the absence of prominent parties from Tuesday's meet has not really jeopardised Opposition unity as much it is being portrayed.
In fact, the protests have only begun and the Opposition is gearing up for a long-drawn battle as it believes that the medium-term impact of demonetisation will unfold over at least the next six months.
Every damage that becomes evident will give the Opposition new ammunition, gradually increasing the cumulative weight of its protests.