Why is Kerala CM Pinarayi following Mamata's Singur example?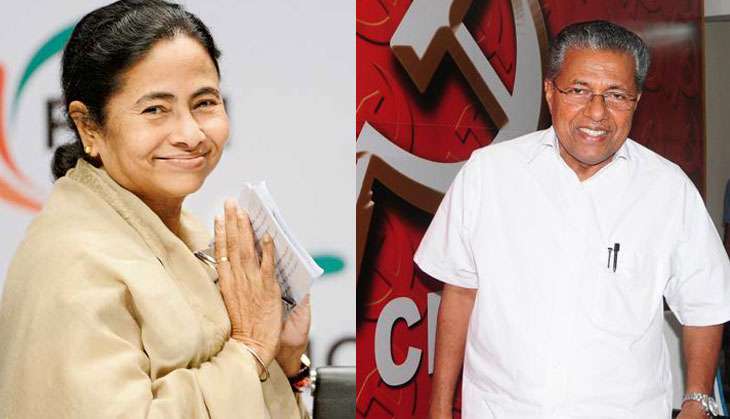 Two days before Kerala celebrated its 60th birthday on 1 November, Marxist Chief Minister Pinarayi Vijayan took a leaf out of West Bengal Chief Minister Mamata Banerjee's book when he did a repeat of the Singur model in Aranmula in central Kerala.
He ordered that cultivation be restarted on paddy fields which were part of 700 hectares that had been acquired for a privately-funded greenfield airport project by KGS Aranmula International Airport Ltd (KGS).
Also read - Singur verdict: the Didi-fication of Bengal is now complete
The copycat move
While closing down what would have been Kerala's fifth airport by sowing paddy seeds on a site where paddy was last cultivated 20 years ago, Vijayan was also copying the political script of his party's arch enemy Mamata Banerjee, who recently managed to formally give back land to the farmers of Singur whose land had been acquired by the earlier Left government for Tata's Nano project.
She expedited the procedure and managed to complete the return in record time after the Supreme Court had ruled that the state could not acquire land for a private party.
A secret undertaking
Officials of the Arnamula airport project told Catch they have no comment to make on closure of the off-on project which was first announced around 10 years ago.
The project had got clearances from the Airport Authority of India (AAI) and the environment ministry, but was struck down by the National Green Tribunal (NGT) two years ago. Even so, the project was never closed down completely till now.
There are many ironical elements to the whole situation. When it was launched, the government, state or the Centre didn't make any announcement. Neither did KGS, which is now left holding a dead baby.
The land for the entire project in central Kerala was bought out by creeping acquisition. Due to the secrecy surrounding the project, there was no mass upsurge all these years. But over the last five years, there have been local protests, but neither the Congress nor the CPI(M) was willing to back protests and that too in a land where protests are always welcome.
Even when the UPA government gave the project the required clearances there were no large-scale protests - possibly because of the number of people who head abroad from Kerala for work. In fact, the state has the largest remittance economy in India.
Kerala's fascination for airports, inspired by the huge success of the Kochi airport (a public-private project), is in contrast to its bus terminals, most of which are in pathetic shape as are bus stands. But then the average Keralite has set his sights far away to the Dubai and Chicago. By latest estimates, Kerala's diaspora numbers 35 lakh - one out of 10 of Kerala's 3.5 crore population.
Naturally, airports are a major concern.
Brownie points?
Vijayan would have likely been enthused by the news of Banerjee giving back land to Singur's farmers last month. He was also in a hurry to score some brownie points since his Left government had done truly momentous over the past six months.
Giving land back to the farmer is also an act worthy of political high-fives, so this was probably an opportunity Vijayan would not want to waste.
If it had been built, this would have been Kerala's fifth airport - a density not seen anywhere else in the country.
Without mentioning why the previous Left governments had given the intial clearances to the project, Vijayan citied environmental reasons. "We only said the airport cannot be allowed here as it will mean destroying nature and environment," he said after sowing the rice seeds.
He also did not want to be seen as anti-airport so had in the previous month announced the opening of the Kannur airport in the northern tip of the state, sandwiched between the Kozhhikode and Mangalore airports.
Shrouded in secrecy
But how did the secret KGS Arnamula airport project get so far?
One reason is the interest of Reliance, which has a 15 % stake. But some sources say Reliance has more interest in it than any real stake.
The airport would have also been ideal landing ground for the Ambani brothers, mainly because of Anil Ambani's annual visit to Sabarimala temple. Also, at some stage it would surely have become a Reliance airport and could then have taken on the hugely successful Kochi airport, which lies 150 km away.
Subtle ironies
Apart from all this, the larger irony is that the CPI(M), which could have been held responsible for destroying industry and agriculture in Kerala like in Bengal, has now reappeared as a saviour of the environment.
Like in Bengal, no big industrialists have invested in manufacturing in Kerala, while its neighbour Tamil Nadu is an industrial powerhouse.
There is no reason to believe that paddy will sprout in Arnamula where Boeings were expected to land. Most educated Keralites loath manual labour, which is why 3. 5 million migrants from Bengal and Assam now toil in fields in the state.
Edited by Aleesha Matharu
More in Catch - Singur verdict just the beginning. A Pandora's box awaits Mamata
Pinarayi Vijayan: From handloom weaver to Kerala's Chief Minister-elect