West Bengal by-polls: nervous state BJP tussles with electoral officer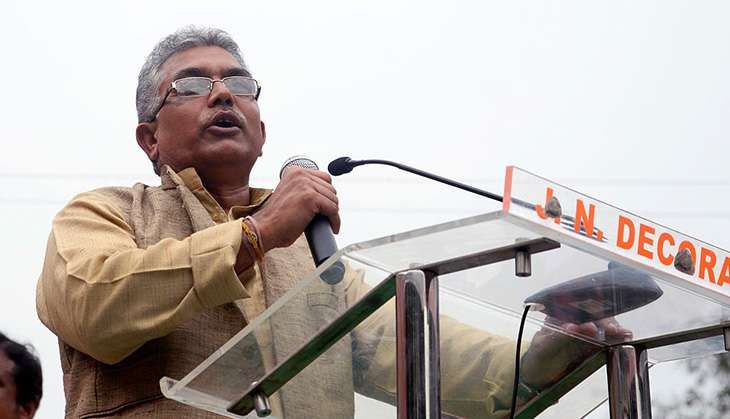 There's a tug of war currently going on between the West Bengal BJP and the state's Chief Electoral Officer (CEO). The war came to the fore after the CEO decided to deploy central forces only at 'sensitive' booths in three upcoming by-elections - the Tamluk Lok Sabha constituency, the Cooch Behar Lok Sabha constituency and the Monteshwar Assembly constituency. The polls are to be held on 19 November .
While the state BJP wanted the office of the CEO to deploy central forces at 4,300 polling booths, the CEO office claimed that the Election Commission of India was sending 29 companies of central forces for the by-polls, and they would be posted at around 2,000 'sensitive' polling booths.
According to the state BJP, there is a need to deploy central forces at all the booths, as it feels that after demonetisation, the ruling Trinamool Congress will flex its muscle power to gain considerable votes.
BJP spokesperson Jay Prakash Majumdar said party leaders had met CEO Sunil Gupta on Tuesday, and urged him to deploy central forces at all polling booths. The state BJP had also submitted a memorandum about this matter, as it felt that the law-and-order situation in West Bengal wasn't very good.
On his part, CEO Gupta said: "We have already received a letter from the state BJP regarding deployment of central forces, and we have intimated the matter to the Election Commission of India."
At the CEO's recent video conference with the Election Commission of India, it was decided that apart from deploying central forces at sensitive polling booths, CCTV surveillance will be conducted, and camera-fitted vehicles will patrol different booths during the polls.
Significance of the by-polls
The by-elections assume significance as it's the first piece of electoral business in the country after the Centre's decision to demonetise the Rs 500 and Rs 1000 currency notes. The TMC has put up hoardings and banners across the state protesting against the move, to the effect that the BJP seems to be its main Opposition in these by-polls.
Political analysts agree that the by-election will help gauge how far the BJP has succeeded in selling demonetisation and its negative consequences as a 'necessary evil' to the common public. An increased vote share would mean the move is being seen in a positive light.
Political analyst Prof. Amol Mukherjee said: "The BJP is already fearing trouble, and that's why it wants central forces deployed at all polling booths. It needs to be seen whether the TMC can still retain its vote bank."
Edited by Shreyas Sharma
More in Catch
Bengal BJP chief Dilip Ghosh heads to US, set to highlight 'plight' of Hindus
Roopa Ganguly's Rajya Sabha nomination exposes Bengal BJP's internal feud
Bengal BJP tries to woo Muslims, holds rally in Murshidabad