Was Vadra real owner of arms dealer Bhandari's London mansion?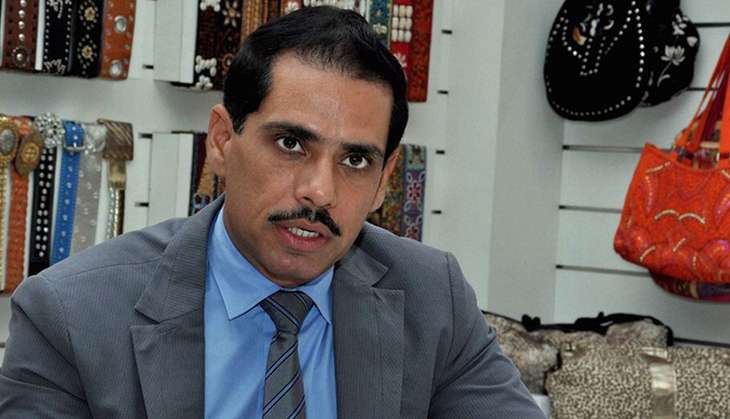 Robert Vadra, has yet again found himself in the middle of an investigation. While Congress President Sonia Gandhi termed is a conspiracy, the Income Tax and Enforcement Directorate sleuths suspect that a posh mansion bought in 2009 and sold in 2010 by Sanjay Bhandari, a defence middleman under the arc of a probe, was a benami transaction for Vadra.
Investigators from the Income Tax Department and the Enforcement Directorate had raided 18 premises connected to Bhandari last month. NDTV, on
Monday
, said that the investigating agencies' reports contain emails sent by Vadra and Manoj Arora, his assistant about the renovation of the property in the middle of the controversy. The property - a mansion, 12 Ellerton House, Bryanston Square - was reportedly bought for Rs 19 crore in
October 2009
and sold in
June 2010
. The sleuths are also reportedly probing another property bought by Bhandari in Dubai.
The trail
Vadra and his assistant exchanged emails with one Sumit Chadha, said to be a relative of Bhandari. Catch could not independently verify the authenticity of the emails. However, the reports say that in the emails, Chadha is telling Vadra about the progress of renovation and repair and asking for reimbursement.
Vadra, according to reports, told Chadha that Arora will be in touch. Thereafter, Arora kept in touch with Chadha through another email account. Reportedly, while Bhandari has not denied that Vadra was the beneficiary of the property and took recourse to the alibi that he needs to see the sale deed with his lawyer in London, Vadra, in a statement, has denied any links with Bhandari or the property. Reports attributed to intelligence agencies say Vadra was in touch with Bhandari.
Meanwhile, Chadha, a British national, is listed as a director of OIS Europe, a company registered at 118, Picadilly London. While OIS Europe was set-up in 2010, Bhandari had setup OIS in India in 2008 with a paid up capital of just Rs 1 lakh. Bhandari's meteoric rise-one of his companies, OIS-Advanced Technology Private Ltd, has even ventured into manufacturing military radars - had flummoxed the intelligence agencies. And they had submitted a report raising suspicion on the working of his companies after the 2014 Lok Sabha elections.
According to a report, Bhandari received Rs 69.38 crore from 35 shell companies between 2009 and 2014. The same investigative report had found that OIS, had received one million Swiss franc (CHF) from Pilatus Flugzeugwerke AG- SPA., two years after the Government of India sealed a Rs 4,000 crore deal with Pilatus for 75 trainer aircrafts. Reports suggest that after Agusta, the government is also probing the Pilatus deal. Bhandari, according to another report published by a France based website, was also involved in the 1997 Sukhoi deal.
Interestingly, Vadra may not be the only who is suspected to be linked to the controversial businessman. Reports say that Bhandari was also in touch with leaders from the NDA, including Civil Aviation Minister Ashok Gajapathy Raju and another leader Siddharth Nath Singh, apart from Congress leaders like Sheila Dikshit.
Meanwhile, the Defence Ministry has also launched an inquiry into the leaking of some confidential documents related to major defence projects which were seized during the raids on Bhandari. The Home Ministry had forwarded the documents to the Defence Ministry asking it to inquire about their nature so that the ministry can decide if the stringent Official Secrets Act could be slapped on the businessman for possession of those sensitive documents.
The Congress, unsurprisingly, has come out in Vadra's defence. Sonia Gandhi called it a conspiracy towards a Congress Mukt Bharat, while Randeep Surjewala, said "Robert Vadra has been systematically persecuted and hounded by Congress' opponents".
Edited by Aditya Menon
More in Catch:
Robert Vadra denies all links with Sanjay Bhandari-benami London mansion row
BJP's own Robert Vadra? Anandiben's daughter Anar caught in land row