Una effect: Dalit rage forces Modi to take Gau Rakshaks by their horns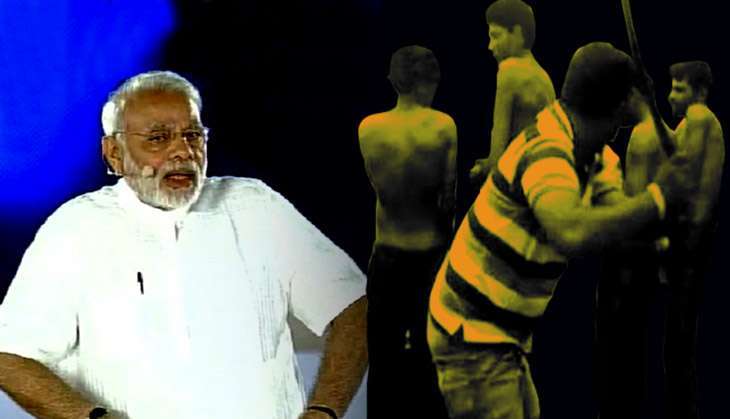 The comment
PM Modi hit out at Gau Rakshaks during his town hall address on Saturday
He said: They are anti-social elements in the garb of Gau Rakshaks
The reason seems to be fear of losing Dalit votes, after the Una incident
More in the story
What did Modi say?
How did the Opposition react to his comments?
Should he be taken seriously?
There can be no doubt about it. It is the political pressure of the Una incident that forced Prime Minister Narendra Modi to finally speak against cow vigilante gangs, during his town hall address on Saturday. The Una wildfire has singed even the most powerful man in India.
"I get so angry at those who have started this Gau Rakshak business. A Gau Bhakt (cow devotee) is different, Gau Seva (cow protection) is different...Prepare a dossier of these people. Many of these are anti-social elements wearing the garb of Gau Raksha," Modi said, answering a question at the interactive session to mark two years of his MyGov initiative.
Also read - Modi government's clean chit to gau rakshaks: why BJP must watch its actions
Since becoming the Prime Minister, Modi has gained notoriety for not speaking on issues where the Hindu right is heavily invested. For instance he neither spoke on the lynching of Mohammad Akhlaq in Dadri even though media across the world was commenting on it, nor did he react to his own ministers who were calling for killing more Muslims for eating beef.
Or on the subsequent debates that followed Akhlaq's murder - on tolerance versus intolerance, nationalism versus anti-nationalism. He didn't saying anything on the repeated attacks on churches. Nothing when communal riots broke out in Jharkhand last year just before the Bihar elections. And there has been not one word from Modi on Kashmir, where 54 people have been killed and hundreds blinded for life.
Even on the issue of cow-vigilantism the Prime Minister, who is especially active on Twitter, had nothing to Tweet when there was a huge outrage in the country over gau-rakshaks force feeding cow dung and urine to two Muslim men.
Earlier this week The Indian Express compiled a list of 15 incidents of violence carried out by cow vigilante gangs across India. The incidents were reported from six states - Punjab, Gujarat, Haryana, Jharkhand, Madhya Pradesh and Rajasthan. Five out of the six are governed by BJP. And in one case, Punjab, BJP is part of the government led by its ally, the Shiromani Akali Dal.
All this while BJP's top leadership, specifically its party president Amit Shah and PM Modi, remained quiet while excesses were being committed in the name of cow protection. Now after the incident in Una, the narrative has clearly gone out of BJP's control. And a crucial time when elections in seven states, including the big UP polls, are due.
The issue of atrocities against Dalits, and Muslims, threatens to undermine the party and the RSS, in Uttar Pradesh, Gujarat and Punjab which go to the polls next year.
In Modi's own state of Gujarat, BJP's popularity is perhaps at its lowest since they lost civic elections in 2001. The state has perhaps the last four decades witnessed no movement like the ongoing Dalit agitation.
All other opposition parties have gained from the incident, in varying degrees, at BJP's expense. The incident and the subsequent insult to her has only consolidated Mayawati's position before the UP elections. Congress has also milked the atrocity to its advantage. And SP has been uncharacteristically active in dealing with Dalit atrocity cases in its own state.
By asking all the states to "prepare a dossier" on cow vigilante gangs and by claiming that he was "sometimes very angry" at people "who indulge in anti-social activities in the night and become cow protectors during the day", Modi has only shown the sort of pressure that he's facing right now.
Which is not to say that one shouldn't appreciate this message, which was long overdue. Him saying that cows don't die because of violence but because of eating plastic, may help cool the tempers of cow protectors for sometime.
The town hall address
To celebrate the second anniversary of his MyGov app, Modi chose an Obama-style town hall template. However, there was nothing Obama-like about him. Modi did not allow impromptu questions from the 2000 strong crowd gathered around him, and chose to answer instead questions recorded, and perhaps vetted by his team.
One could call it a televised 'Mann ki Baat'.
Modi threw about some old phrases such as 'health assurance instead of health insurance' and talked about banking on our 'great heritage'.
When a person asked him about how farmers could deal with an increasingly randomising weather pattern, in context of two years of successive droughts in Bundelkhand followed by rains this year, Modi answered it by asking farmers to concentrate on 'agro infrastructure'.
"Farmers often forget about modern farming," he said in a tone in which one usually reminds neighbours to switch off gas before leaving for long vacations.
"Farmers should spend one third time on sowing seeds, one third on farming timber along the boundary, and one third on tertiary activities like bee-keeping and maintaining fisheries," Modi added. Farmers across India, who are committing suicide by the thousands every year, are unlikely to be amused.
Would a more bold, more appreciable manner of reaching out to public, be to face the press as his predecessor Manmohan Singh did?
"PM is a demagogue who has controlled, orchestrated and calibrated events. Today's town hall was no different. Press conferences are the stuff of democrats," senior Congress leader Manish Tiwari said.
His colleague Randeep Surjewala's reaction was no different. "Scripted, stage managed showmanship is not what India needs! Modiji, Dalits & poor facing violence don't neeḍ 'Anger' but 'Action'..Rising inflation, joblessness, corruption, communal tensions, failed foreign policy, farmer suicides; any answers, Prime Minister?' he tweeted late evening on Saturday.
Responding to the tough words on cow vigilantism that Modi used in his speech on Saturday, Congress spokesperson Priyanka Chaturvedi said, "The only tough words that he used and was followed up diligently by his followers was on action par reaction in 2002."
More in Catch - Mandsaur: was the attack on Muslim women a plot to stoke communal riots?
[EXCLUSIVE] Latehar hangings: Chilling confessions of gau rakshaks