The 'outsider' is back, and how! Mulayam makes Amar Singh SP's gen secy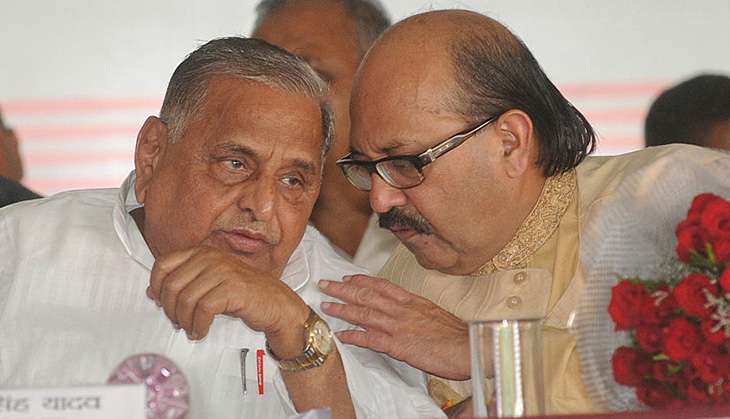 The label of 'outsider' that was being applied to Amar Singh in the Samajwadi Party's latest internal strife in Uttar Pradesh is no longer valid. Courtesy a hand-written letter from Mulayam Singh Yadav, Amar is now back to being an 'insider', having been appointed the party's general secretary.
The letter is addressed to Amar, but no copies have been marked, not even to the other general secretary - Ram Gopal Yadav. Interestingly, the letter has been issued on Mulayam's parliamentary party letter-head, and not on the national president's.
In a family-run political party, however, these lacunae are trivial, and unlikely to be challenged.
The letter that Mulayam wrote to Amar Singh. (Photo: Catch News)
Who gets sidelined?
The letter issued on Tuesday indicates that Mulayam's son and UP Chief Minister Akhilesh Yadav and Rajya Sabha MP Ram Gopal Yadav, Mulayam's cousin, stand sidelined. Azam Khan, the urban development minister of UP and a founder member of the Samajwadi Party must also be squirming after this development.
While Azam's animosity towards Amar, another Rajya Sabha MP, is too well known, Ram Gopal had recently said in Lucknow that Amar did not have the Samajwadi Party's interests at heart, and took advantage of Mulayam's simplicity. That is why, he said, he preferred to call himself a 'Mulayamwadi' and not a 'Samajwadi'.
Akhilesh had blamed 'outsiders' for the party's troubles, to which Amar had said that the UP CM had not named him in his accusation.
This gave Azam Khan an opportunity to take a dig at Amar. He said in a statement that Amar was clarifying his position because he had a guilty conscience ("chor ki daadhi mein tinka").
Akhilesh was categorical when he told a TV channel that he and Netaji (Mulayam) were in agreement on keeping the 'outsiders' out of the party. "Under no circumstances will they be allowed to interfere in the party's affairs," he had said.
Although Ram Gopal and Akhilesh were calling Amar an outsider who had no role to play in the party, Mulayam brother Shivpal was playing a different tune. "There is no outsider in the party," he told the channel where Akhilesh's statement a couple of hours earlier appeared to have sealed Amar's fate.
With the gulf among the family members widening, Shivpal said that to strengthen the party, everyone needed to be carried along.
Through thick and thin
On Sunday, Mulayam had already foreshadowed Tuesday's development, when he told Akhilesh's supporters that Amar had stood by him through thick and thin, and admonished them for questioning his importance.
The CM's silence after the latest development is being attributed to a half-hour meeting he had with uncle Shivpal. The meeting was significant, as it came after Akhilesh had refused to congratulate his uncle by name on his being retained as the party's state unit chief. "I congratulate the new president and assure him full co-operation," is what he had said.
That still leaves Ram Gopal in a vulnerable position as Amar had expressed his unhappiness at being made to sit behind Mulayam's cousin in the Rajya Sabha. He is made to sit behind another SP leader, Naresh Agarwal.
Could his anointment on Tuesday lead to changes in the seating arrangement in the Rajya Sabha? The possibility cannot be ruled out, as it was rumoured that a prominent industrialist had backed Amar's case.
What happens now?
The infighting in Mulayam's family is now passé. At least that is the impression that Akhilesh gave as he spoke to the media in Lucknow after a cabinet meeting.
Akhilesh told the media that there was no discord in the family or the party, and that they were geared up to launch the party's election campaign. Shivpal stood by the CM's side as he made the statement.
That was before Amar, the networker, emphatically forced his way back into the Samajwadi Party.
Even if they are upset, Ram Gopal, Akhilesh and Azam are not giving vent to their angst. If their anger is simmering at this huge setback in the family feud, it won't remain bottled up for long - unless they are incredibly good actors.
Edited by Shreyas Sharma
More in Catch
The 9 lives of Amar Singh: Why has Mulayam taken him back into SP?
Is Amar Singh trying to oust Akhilesh and bring back Mulayam?
Azam Khan blames Amar Singh for Samajwadi Party feud
Samajwadi family tiff: Ram Gopal Yadav 'blames' Amar Singh for damaging party