The Modi twist to 'Jai Jawan, Jai Kisan'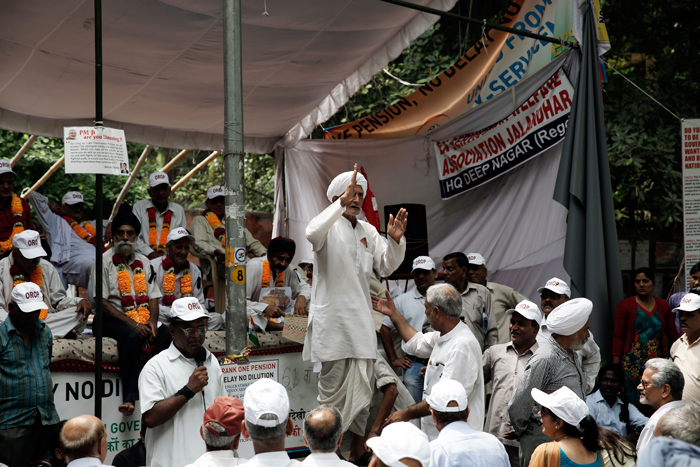 15 September 2013
Narendra Modi addresses a rally in Rewari, Haryana. It is just two days after he is declared the Bharatiya Janata Party's Prime Ministerial candidate.
Modi chooses Rewari to be his first battlefield, and ex-servicemen as his first cohorts. He receives a very warm welcome, and promises to do all that should be done for their betterment.
He promises 'One Rank, One Pension', and says his stand on the OROP would not be like the UPA. He promises to make it his top priority.
15 August 2014
Modi gives first speech from the ramparts of the Red Fort. He repeats that the makers of independent India are not the leaders, the politicians or the government. He gives credit to servicemen, farmers and labourers.
He also repeats the slogan given by the second Prime Minister of India, Lal Bahadur Shastri - Jai Jawan, Jai Kisan.
14 August 2015
Ex-servicemen are still agitating about the OROP at Jantar Mantar, New Delhi. The city has a heavy deployment of police, paramilitary forces and serving army jawans, in order to keep Independence Day incident-free.
Barely a few hours before the supreme commander of the armed forces, President Pranab Mukherjee, addresses the nation, the Delhi Police asks the ex-servicemen to vacate the spot.
The supreme irony: the men who fought to protect the Union of India are told they need to go because of 'security reasons'.
When they refuse to move, the police tries to do it forcibly. The old men struggle to save themselves from the "brutality of the government and the police".
The ex-servicemen, most over 70 years of age, are lathicharged, pulled and pushed, misbehaved with and humiliated. Their clothes are torn, their posters and tent damaged.
Farmers, too, were protesting at Jantar Mantar. They had come to the capital to try and make themselves heard during the Monsoon Session of Parliament. There were families of farmers who had committed suicide. They were demanding a better agriculture policy, compensation, relief from debt.
The farmers, too, were badly beaten up by the police. They were detained and forced to leave the national capital.The pain is unbearably high. Hopes are taking a nose-dive.
In the land of Gandhi, it is only natural that the demand for justice will take the route of protests. That's all the ex-servicemen and farmers were doing.
But the treatment meted out to them by the establishment on the eve of a celebration of freedom has left them broken - in body and mind.
Their placards had a common slogan - kya hua tera waada (what became of your promise)?
The question in their minds has now changed. Now all they want to know is, is this what Modi meant by Jai Jawan Jai Kisan?