Sukhbir woos China with a Cycle Valley in Punjab. Locals cry foul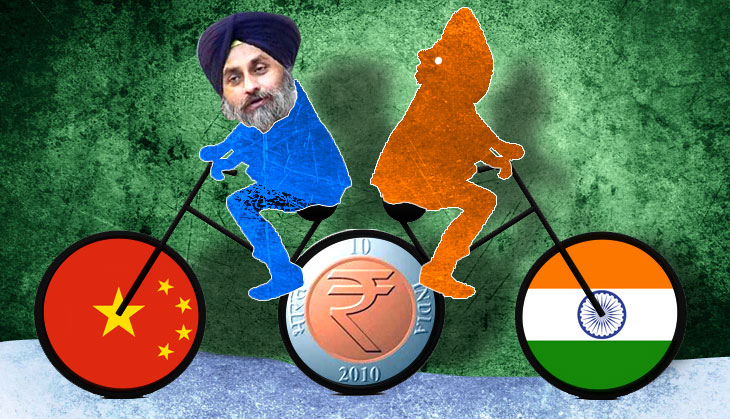 In the poll year, Punjab's deputy chief minister Sukhbir Badal is trying to sell his state as an investment destination. During his China visit, Sukhbir shared his plan to develop a 'Cycle Valley' in Ludhiana which will primarily be developed as an e-cycle manufacturing hub and its foundation stone is proposed to be laid in August.
While the bigger cycle manufacturers who accompanied him to China are elated at his plans, the smaller players have expressed their skepticism saying that they want technology from China not its industry as it would spell their doom. Sukhbir's trip has also come in for criticism from his political opponents.
After visiting an e-cycle manufacturer in China, Sukhbir said, "I have studied the entire ecosystem necessary to come up with affordable electric cycles and I am confident this can be implemented at the Cycle Valley in Ludhiana. The Punjab government will fast-track permissions as well as allot land to all the five promoters who have decided to set up manufacturing facilities including four Chinese and one Taiwanese company. The time is ripe for e-cycles to make an entry into India and pioneering companies will benefit the most".
He has claimed that the Shiromani Akali Dal (SAD) led Punjab government would promote the E-Cycle Valley as a world cycle hub spread over 300 acres. "Efforts are on to facilitate manufacture of 15 lakh cycles per year besides creating 1.5 lakh jobs," he told investors.
Chairman of Hero Cycles, a prominent manufacturer in Punjab, Pankaj Munjal said there is a huge gap between the cycle and motor cycle segment with consumers paying Rs 4,000 on an average for a cycle and Rs 50,000 for a motor cycle. He said there was a huge potential for competitively priced e-cycles costing Rs 10,000 and even premium ones costing up to Rs 25,000.
Several companies said they were looking at investments between five to ten million dollars in the initial stages in the proposed hub.
Munjal said his company is in the process of tying up with Chinese manufacturers of high end cycles for different segments and pointed there is an immense demand for lifestyle cycles including mountain cycles. "We in Hero have increased production of mountain cycles from zero to two lakh in two years," he said.
President of Federation of Indian Exports Organisation SC Ralhan said at an investment meet in China that due to increasing labour costs, profit margins have gone down drastically in China. He said India and Punjab particularly is a good option for Chinese investors because of the tax concessions being given by the state government as well as availability of skilled manpower.
Indigenous manufacturers protest
However, back home the medium and small industrialists are not happy with the invitation to the Chinese companies to set shop here. "It is a suggestion to the government to secure the interests of the existing industry here. Where will the people who have been running the small units for the last 50 years go? We are just lacking in technology. We have the talent, the muscle power and brains. Give us skill development along with the research and development centres instead of importing industry," said Avtar Singh, president of Chamber of Industrial and Commercial Undertakings (CICU).
He told Catch,"Both the Punjab and Indian governments have failed to give us cheap technology and machinery. Over the last five years our exports have fallen from Rs 1200 crore to Rs 500 crore while our imports from China have gone up from Rs 100 crore to Rs 1000 crore. I am a supporter of this government but when it comes to policies, I am an industrialist first".
The industrialists are apprehensive that the proposed Cycle Valley that will reportedly come up at Dhanansu focal point would see the land reserved for local industry being handed over to the foreign investors. They also ask that if the government can give land at concessional rates to foreign investors, why can't it do the same for local ones?.
While attacking Sukhbir's publicised China sojourn, Punjab Congress president Captain Amarinder Singh said that the only thing everyone in Punjab is certain about is that Sukhbir has gone to explore his personal investment opportunities there.
Challenging Sukhbir to show a single penny worth of investment that he can claim to have brought to Punjab after the visit or during the last nine years in power, Amarinder said, "Any wise person in his place would stop the domestic industry from moving out rather than selling false dreams of bringing in industry from outside and that too from a country like China."
He pointed out how the manufacturing sector, particularly the bicycle industry, was moving out to states like Jharkhand and about 20,000 big and small industrial units had already shut down in Punjab.
Taking a jibe at Sukhbir's announcement about setting up the "Cycle Valley" in Ludhiana, Amarinder said, it is not for the first time that catchy phrases are being coined in an apparent bid to fool people. "What happened to the textile park in Ludhiana? Or maybe you plan to set up the 'Cycle Valley' on the rooftop of the textile park," he said.
Even the Aam Aadmi Party (AAP) has said that Sukhbir is wasting the hard earned money of public on his foreign tours to discuss unreal plans which can never materialise.
AAP leader and Sangrur MP Bhagwant Mann said,"In the past as well, Sukhbir had planned to start some unreal and unnecessary projects like water buses and making roads that last for decades but the reality is known to every Punjabi. A few years back as well he went to China with an army of his officers to learn how to use wheat straw to produce electricity but the fact is that a mill owner near Khamano was already producing electricity out of wheat straw. Moreover, even Google or YouTube can teach you this technique then what is the need of this showoff?"
He further said,"The actual thing is that none of the Akali leaders including Sukhbir can go to countries like Canada and America as the Punjabi community residing there doesn't even want to see them. So Sukhbir satisfies himself by going to Korea, China and Japan." Mann has accused Sukhbir of ruining Punjab's industry for his personal gains.
Edited by Aditya Menon