SP crisis: 3 tricks BJP is using to capitalise on Yadav family feud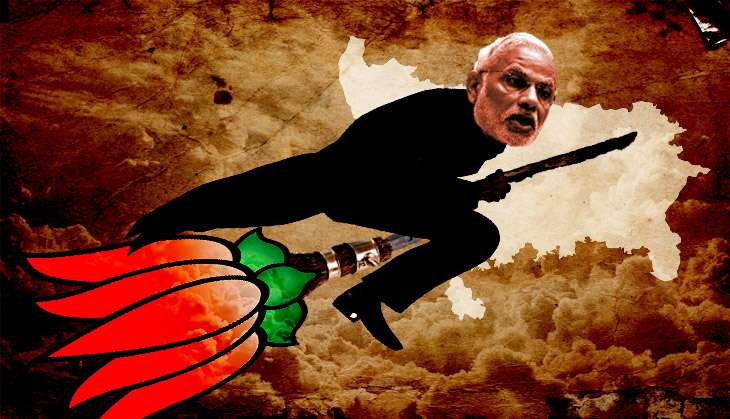 BJP has spotted its biggest opportunity in Samajwadi Party's worst crisis. Sources in BJP say that since the last one week, as the crisis in SP has worsened, the saffron party has escalated its UP campaign tremendously.
In view of the worsening fortunes of SP, BJP leadership has come up with three new ideas for UP - using Modi and Shah more often, marketing surgical strikes among army families in Western UP and holding more rallies in the strongholds of other parties, especially SP.
Party president Amit Shah's rally in Etawah on Thursday was a part of this new phase of campaigning. More rallies are planned in Congress strongholds Rae Bareli and Amethi and SP bastion Kannauj and BSP strongholds like Ambedkar Nagar and the Bundelkhand region. One could say that the party campaign has accelerated into the second gear.
Taking the attack to the Opposition
Just when the ruling party is busy fighting it out in Lucknow, Amit Shah sneaked into SP citadel - Etawah - and staked claim over Uttar Pradesh.
Shah's rally in Etawah was not planned. According to party sources, the decision to hold the 'Mahasankalp Rally' in SP stronghold was taken just a day or two before. Amit Shah had landed in Gujarat on 25 October and was to spend his time there till Diwali, reviewing poll preparations in the state.
But with Akhilesh and Shivpal attacking each other in the open, Mulayam Singh Yadav holding a joint press conference with Shivpal, Shivpal himself calling for a pre-poll understanding among 'Lohiaite parties' amid strong rumours of a split, the BJP decided to attack right in the SP citadel.
It must be remembered that Mulayam's clan hails from Saifai, which is in Etawah district.
In the rally, Shah didn't say anything new, apart from evoking the memories of the native martyrs, lauding army's valour, talking about SP's goons and BSP's corruption. Interestingly he pitted Narendra Modi against CM candidates of the other three parties - Akhilesh Yadav of SP, Mayawati of BSP and Sheila Dikshit of the Congress.
With this Shah confirmed what state party president Keshav Prasad Maurya had said three days ago - that the party will go without a CM face in the polls.
According to sources in BJP, by holding a rally in Etawah, Shah was casting a wider net on, and egging his supporters to work harder in, nearly areas like Barthana, Jaswantnagar, Auraiya, Dibiyapur, Bidhuna, Sikandara, Mainpuri, Karhal and Sirsaganj all of which are in the Doab belt.
All of them except Sikandara, where a BSP MLA is in power, are held by SP MLAs.
A senior party functionary in Uttar Pradesh said, "Etawah is not the end of our attack. For us all other parties are equally bad for the job. Which is why our leader Smriti Irani is regularly campaigning in Amethi, and several other leaders are busy leading marches in Kannauj. We will also attack them through Parivartan Yatras [BJP's big poll campaign that will start from 5 November]."