Smriti Irani vs Javadekar: how has HRD Ministry changed in a month?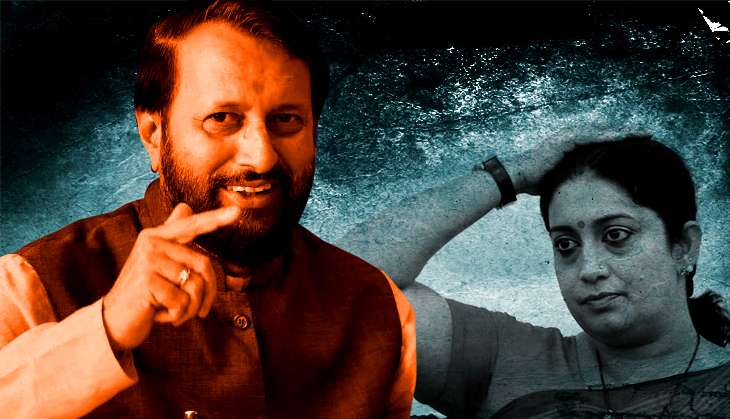 The Cabinet reshuffle on 4 July brought in 18 new ministers. But the move that grabbed the most headlines was the replacement of Smriti Irani by Prakash Javadekar as the Minister of Human Resource Development (HRD).
This one move overshadowed all other changes, and there was much speculation about Prime Minister Narendra Modi's decision to dispense with Irani as HRD Minister. A large number of students, teachers, scientists and even some bureaucrats celebrated her departure, as they were said to be unimpressed with her rude and 'despotic' manner.
Irani's infamy
Irani had become infamous in the power circles for her acerbic comments. Eminent historian Ramachandra Guha tells the story of how Irani once lambasted a director of an IIT during a high-level meeting, for questioning her.
"Are you a TV anchor to ask me such questions?" Irani had reportedly said.
The media was frequently at the receiving end of Irani's fury. She had almost banned the entry of journalists into her ministry. In the absence of credible news, there was a lot of speculation about Irani's style of functioning.
Her reported proximity to the Prime Minister was one such myth. One journalist even claimed that Irani had promised to arrange Modi's interview for him, though it did not finally materialise.
Irani's reputation was further dented by her apparent lack of sensitivity in dealing with the JNU controversy and Rohith Vemula's suicide in Hyderabad.
In her two years in charge, she turned the HRD Ministry into a fort, from which only diktats were issued; there was hardly any scope for a dialogue.
Javadekar's efforts
Now, Javadekar is trying to reverse this trend.
"Prakash Javadekar has tried to reinitiate the process of dialogue in the ministry. His first statement (after taking charge) had enough hints to suggest that he will adopt a diametrically opposite stance to Irani," said a senior political observer.
Javadekar had stated: "I am a product of the student agitation, so we will always talk with everybody. With dialogues in place, there will be no necessity of agitation."
Later, he went a step further by exhorting the students to 'rebel' against the status quo.
"Innovation is a process of rebellion, essentially. Unless you rebel, unless you challenge the status quo, how can you innovate anything?" he was quoted as saying.
Compare that to his predecessor, who always looked upon such tendencies among the students with disdain.
One senior HRD official said on the condition of anonymity: "The top bureaucrats of the ministry have heaved a sigh of relief. Irani used repudiation as a weapon against officials. Several officers were insulted during meetings, when they failed to meet her expectations."
Two secretaries, additional secretaries, half-a-dozen joint secretaries, and even Irani's private secretary were transferred during her tenure. This is a clear illustration of Irani's failure as a team leader.
"Javadekar has so far conducted five meetings. He was courteous in all of them," said the HRD official.
Even Guha believes "Javadekar is suave and respectful towards intellectuals".
Opening up compartments
So, how much has the HRD Ministry changed in the past month?
Dr Gaurav Vallabh, a professor at one of India's top management institutes, XLRI, said: "No country can have a quality higher education until the institutes of higher learning are autonomous. Such institutions should be like an open compartment to allow the free flow of thoughts. Not all of them might be agreeable, though."
Vallabh believes Javadekar has managed to open this 'compartment' to some extent. Fresh ideas have now started to come and they are being discussed openly.
These commendations notwithstanding, Javadekar has still not succeeded in completely placating the student groups alienated by Irani's attitude.
"We don't see much difference between Irani and Javadekar. Both represent the RSS ideology and nourish it. Their policies are inimical to the deprived segments," said Arpita Jaya, an activist of the Joint Action For Social Justice, a group that has been agitating over Vemula's suicide.
Certainly, one month is not enough to judge any minister's performance. It takes time to make a lasting change. Irani's legacy is largely that of negativity in this respect, whereas Javadekar is still to prove himself. The signals emanating from the HRD Ministry, though, have been positive over the past month.
Javadekar has, at least, succeeded in changing the perception about his ministry. How he is judged hereafter would depend upon what he does, and not what he says.
Translated by Deepak Sharma, edited by Shreyas Sharma
More in Catch
#ByeByeSmriti: Twitter loves Smriti Irani. Her exit, more so
Cabinet reshuffle: Smriti Irani loses HRD, but is it really a demotion?
6 times Smriti Irani scored an A+ in controversy as HRD head