Sheila chali sasural: 'Bahu' Dikshit to be Congress's face in Uttar Pradesh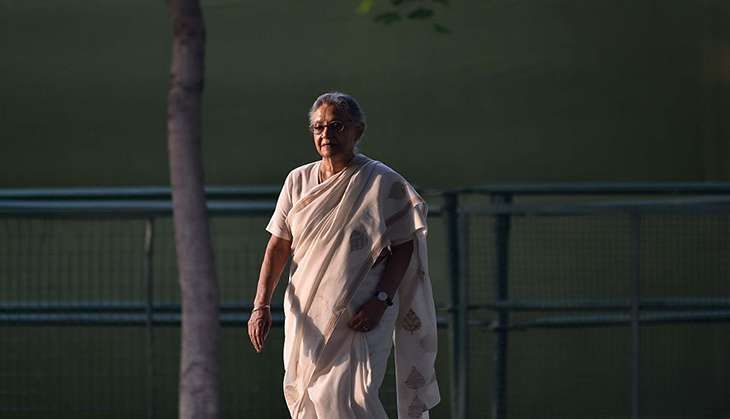 The choice
Congress has picked Sheila Dikshit as its CM candidate in UP
Besides being a 3 term CM of Delhi with a good track record, she is a bahu of UP
Strategist Prashant Kishor gets what he wanted: a Brahmin CM candidate and a brand worth selling
More in the story
What turned it in Sheila\'s favour?
Who is in her team
Nudged out of retirement, the Congress on Thursday announced Sheila Dikshit as its chief ministerial candidate for next year's Uttar Pradesh assembly elections. "Sheila has been selected for her experience and good work," said Congress general secretary Janardan Dwivedi. In addition to her candidature, the party also declared names of members of the campaign and coordination committee which includes all political heavyweights from the state.
Soon after the announcement, the party tweeted from its official handle, "She transformed Delhi, now it's UP's turn."
15 साल के अनुभवी नेतृत्व के बाद श्रीमती शीला दीक्षित के साथ मिलकर उत्तर प्रदेश के विकास के लिए एकजुट होगें pic.twitter.com/Klc3C90N9R

— INC India (@INCIndia) July 14, 2016
Having led the Congress to three consecutive victories in Delhi, 78-year-old Dikshit will yet again make electoral foray in Uttar Pradesh after a hiatus of almost 30 years. Daughter in law of senior Congress leader and former West Bengal governor Uma Shankar Dikshit, the former Delhi chief minister had won the Kannauj assembly seat in 1984. After her tenure ended, she moved base to Delhi.
Dikshit's name as the party's face in Uttar Pradesh had been a point of discussion for quite some time and even she had not ruled out the possibility of her leading the Congress's UP campaign. When questioned about her credential to lead the UP campaign, Dikshit had earlier said, "I am a UP bahu and that credential is good enough."
Ever since Congress roped in star poll strategist Prashant Kishor to devise a winnable election campaign in Uttar Pradesh, he had been pushing for a Brahmin face to lead the party's campaign. Having shifted their allegiance to other political parties post Mandir-Mandal politics, Kishor wanted to woo this particular vote-bank constituting 12% of the state population. Keeping this crucial vote bank in mind, Kishor proposed Dikshit's name forcing the party high command to assuage the sulking former Delhi chief minister.
In fact, Dikshit had been vocal about the treatment meted out to her during the 2015 Delhi assembly polls where she was completely marginalised by the state and central leadership. Insiders claim of Dikshit initially refusing to accept the offer, but was later convinced to lead the party's campaign in the most populous state in the country.
Sources say Dikshit's makeover of Delhi during her chief ministerial stint could help the party raise the development card in the neighbouring UP. "People often talk about how she changed Delhi and if this side of her is promoted aggressively, it could help party stage some sort of a comeback," said a Congress leader from the state.
Prashant Kishor factor
Interestingly, it is for the first time Congress has announced a chief ministerial candidate much before the elections have been announced. The only exception in the recent past has been when Captain Amrinder Singh's name was announced as the chief minister candidate just three days before the polls in 2012. When questioned about Congress abandoning its strategy of not announcing a chief ministerial candidate, party general secretary and state in-charge Ghulam Nabi Azad said, "There are rules but there are also exceptions. This time around we have made an exception."
It seems Kishor forced the Congress to abandon its tried and tested formula of not announcing a chief ministerial face before elections. Insiders say Kishor wanted Congress to go all guns blazing during these elections which are likely to set the tone for the 2019 general elections. Even her strong track record in governance can give Congress an outside chance of staging a revival.
Dikshit's candidature also implies that the back door talks with Mayawati for a pre-poll alliance have not materialised which led to Congress biting the bullet. Sources had earlier claimed senior party leadership's efforts of trying to reach out to Mayawati to strike a deal for some sort of alliance to take on the Samajwadi Party and the BJP.
While there is generally a positive feedback on Dikshit's appointment, it is only the corruption charges against her that could be exploited by Congress's political rivals. In fact, one the day of the announcement, Dikshit had been summoned by the Anti Corruption Bureau in connection with Rs 400 crore Delhi Jal Board scam. Even allegations of corruption during the Commonwealth Games would be raised in the run up to the elections.
However, Azad dismissed all these allegations and said that the central and Delhi government are trying to be "revengeful" against her. "It is just to divert the attention. So, to divert that attention, both Centre and the state government will definitely join hands against us but we don't care for that."
The team
The announcement comes two days after the party appointed actor turned politician Raj Babbar as the president of the state unit while four vice presidents - Rajaram Pal, Rajesh Mishra, Bhagwati Prasad Chaudhary and Imran Masood. The party later announced RPN Singh as the fifth vice-president. On Thursday, party also announced names of members of campaign committee - Sanjay Sinh, Zafar Ali Naqvi, Jitin Prasad, Abdul Mannan Ansari, Gayadin Anuragi and Chaudhury Birendra Singh
The party also included veterans in the Coordination Committee led by Pramod Tiwari. Those named in the committee include Mohsina Kidwai, Salman Khurshid, Sriprakash Jaiswal, Rajiv Shukla, Rita Bahuguna, Salim Sherwani, Pradeep Jain, PL Punia, Nirmal Khatri and Pradeep Mathur.
With these announcements, Congress has ensured every community with stakes in the state is well represented. With Dikshit, a Brahmin, as their CM candidate, Congress has appointed Raj Babbar, an OBC married to a Muslim, as party state president and Thakur, Sanjay Sinh as head of the campaign committee. Those made vice-president include an SC, a Brahmin, a Muslim and 2 OBCs. The party's experiment with social engineering seem to be working for now.
If Congress does gets voted to power, Dikshit could well be the second chief minister after ND Tiwari to become chief ministers of two states. Tiwari was chief minister of Uttarakhand and Uttar Pradesh. However, it seems unlikely considering Congress has no presence at the grassroots level and has more leaders than workers.
Edited by Aditya Menon
More in Catch
5 reasons why Sheila Dikshit adds to Congress's losers' line-up in UP
Phata poster nikla hero: Raj Babbar made UP Congress chief
Congress CM face in UP : Sheila throws her hat in the ring