Secularists never let India remain in peace: Chandra Prakash on DU spat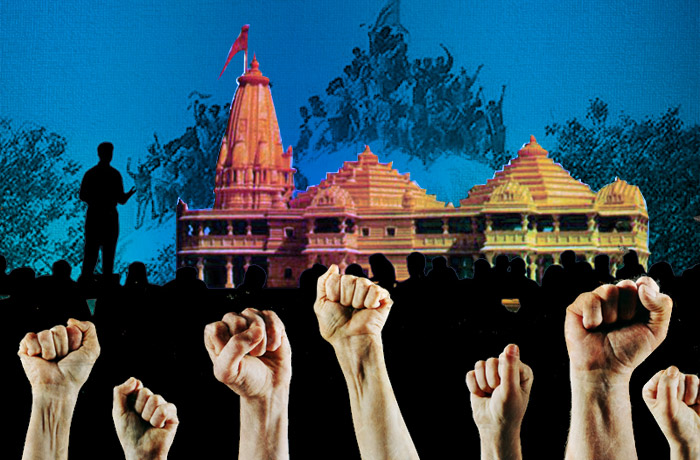 The event
The Arundhati Vashishtha Anusandhan Peeth is organising a two-day seminar at Arts Faculty, DU
The seminar is to \'mobilise public opinion for the Ram Janmabhoomi temple
The tussle
Left-wing organisations say this is likely to cause communal tensions in the university campus
They\'ve met university authorities and the police, and are planning a counter-mobilisation
More in the story
What AVAP convenor Dr Chandra Prakash has to say about the idea behind the seminar
Is there any real threat of violence owing to it?
The Delhi University will play host to an ideological tug of war between the Right and the Left this week.
The Arundhati Vashishtha Anusandhan Peeth (AVAP) is organising a two-day seminar 'to mobilise public opinion for the Ram Janmabhoomi temple' on 9 and 10 January at the Faculty of Arts, North Campus.
AVAP draws inspiration from Devi Arundhati, a disciple of goddess Savitri and the sage Vashishtha, who conceived and shaped 'Ram Rajya' into reality. The collective describes its core purpose as: "Emulating their example, intellectuals, researchers and academicians etc should play a vital role in policy formation and their implementation, to restore Ram Rajya in this country."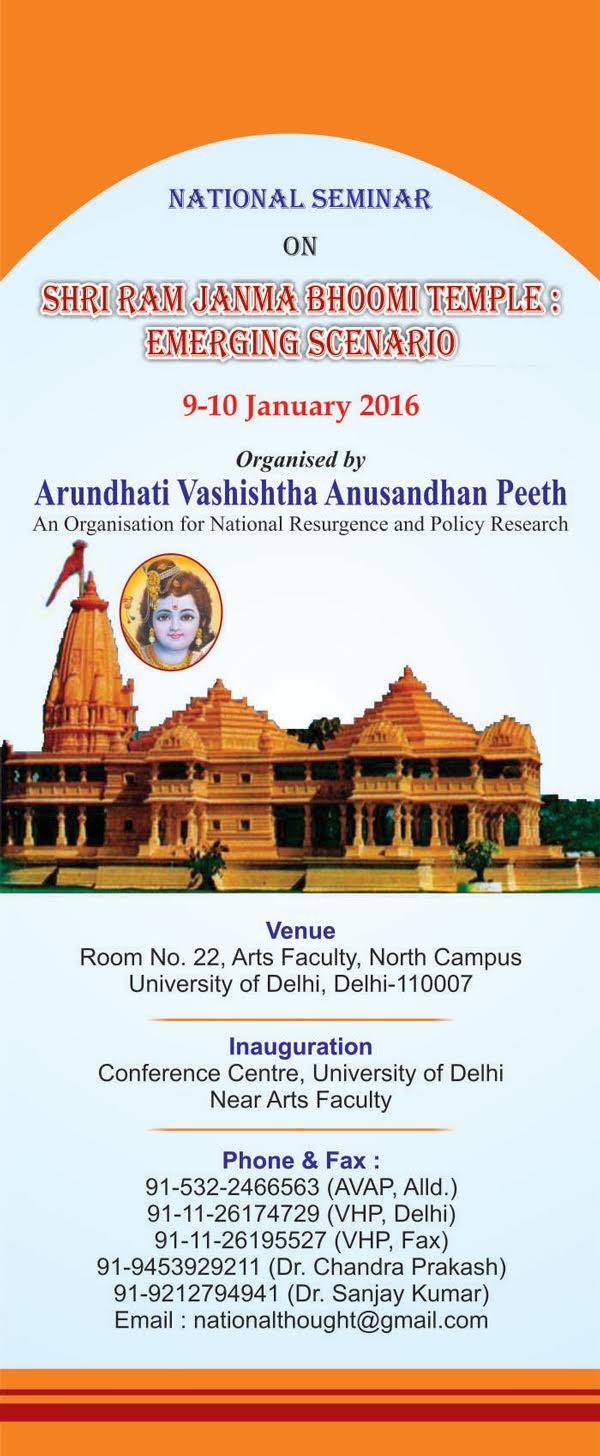 Naturally, Left-wing organisations are actively setting up their own counter-mobilisation. On 6 January, a delegation of 'Save DU' activists and staff from the Delhi University Students Union met the university's proctor, demanding an immediate cancellation of the booking.
Their argument was that while the booking was taken in the name of DP Singh, member of the DU's Academic Council, but is now being used for a seminar on the Ram Janmabhoomi, with the intent being to create a divide and communal tension within the university campus.
The delegation also met the police to express concern that this kind of seminar could spread communal tension in the campus, and cause a law-and-order problem.
"Even then, if the university gives a go-ahead to the seminar, we will stage a large-scale demonstration against it. Saffronisation of the campus will be resisted," said Sucheta De, national president of Left-wing student political party AISA.
Also read: #RamMandir2.0: Why the bricks are flowing in again into Ayodhya
Catch spoke to Dr Chandra Prakash, convenor of AVAP, to get a sense of what the seminar seeks to achieve. Excerpts.
SS: Why did you choose the Delhi University as the venue for the Ram Janmabhoomi seminar?
CP: We chose it for obvious reasons. DU is one of our leading academic institutions, and ours is a purely academic seminar.
SS: Are you affiliated with any particular person or institute within the university?
CP: We're an independent research body dealing with research in culture, and so, we have all the right to host a seminar in the university. Our people are present in Delhi University; we have gone through their medium
SS: What is the purpose of the seminar? Is your intention to debate and initiate a dialogue with opposing viewpoints, or is it going to be more like a dictum?
CP: Taking cues from the Allahabad High Court judgement, we will discuss at length the various aspects related to the Ram Janmabhoomi issue. These would cover the history, excavation and legality of the case.
Even five years after that historic judgement, the response of the State has so far been very lacklustre; and this is why despite an overwhelming wish of the people and a favourable judicial verdict, the construction of the Ram Temple at Shri Ram Janmabhoomi in Ayodhya is still a dream.
Also read: VHP to relaunch Ram Mandir movement
It is in this backdrop that the seminar is going to be held, to discuss possible ways and means available to the State for realising this dream.
The seminar is set to deliberate over the following issues:
Universalism, fraternity and inclusivism in the character of Shri Ram.

Shri Ram: The leader who led by example.

Shri Ram: The ideals and contemporary socio-political rejuvenation.

Shri Ram: The Imam-e-Hind.

Shri Ram Temple: Whether reconciliation is possible.

Shri Ram Temple: Legal issues.

Shri Ram Temple: The objectivity of historicism.

Shri Ram Temple Movement and socio-religious revivalism.

Shri Ram Temple Movement: Perception and prospects.

Construction of Shri Ram Temple at Shri Ram Janmabhoomi, Ayodhya.

Shri Ram's life and national integration.

Shri Ram Janmabhoomi temple and national pride
SS: Will you open the session for questions and counter-views?
CP: Yes. We will have four sessions for that.
The first one is 'Shri Ram: Character and Ideas: essence in Indian culture'. The second session will entail discussion on the authenticity of the Shri Ram Janmabhoomi Temple'. The third session will be on 'Shri Ramjanmabhoomi Temple: Excavation and Archaeological Evidences', whereas the fourth session will cover the topic of 'Making of the Ram Temple: The Legal Issues'.
Also read: How Modi 'admirer' Ashok Singhal has gone soft on Ram Mandir
SS: Who are the main speakers invited to address these sessions?
CP: The keynote address will be presented by Dr Subramanian Swamy, who is also the chairman. We have also invited well-known historian Dr Satish Mittal, ex-professor of medieval history at Kurukshetra University.
Another speaker is Dr Vishan Bahadur Singh, ex-HoD, History, Varshney College, University of Agra, and Sardar Rajendra Singh - a reputed historian of Sikh history.
Also read: Where has the money collected for Ram Mandir gone?, Congress asks BJP
Then there are archeaological experts - Dr Arun Kumar Sharma, archeology advisor to the Chhattisgarh government and retired superintendent of Archaeological Survey of India (ASI), Dr CN Dixit, former additional director of ASI, Dr RD Trivedi, retired director of ASI, Subhash Kumar Singh, archeological adviser to the Chhattisgarh government.
There will be legal experts too - KN Bhatt, senior advocate in Supreme Court, Vikramjeet Banerjee, Advocate-General of Nagaland & Supreme Court advocate, G Rajagopalan, Additional Solicitor General of India, Ashok Mehta, Additional Solicitor General of India, Dr Harivansh Dixit, senior columnist and Dr Amarpal Singh, senior professor, Guru Gobind Singh Indraprastha University, Delhi.
SS: The atmosphere on the DU campus is heating up over this seminar. Could you not have chosen some other venue?
The people who are raising such controversies are the ones who talk about intolerance. However, they are themselves intolerant about the viewpoints of others. If a professor of Delhi University can present evidence in favour of the Ramjanmabhoomi Temple in court, why can't we talk about the same evidence? You should inquire, who were the professors deposing in court?
CP: But what about the chances of violence in the campus over this issue?
We are not afraid of such threats. We are determined to go ahead as per schedule. Violence is in their nature. Secularists have never let India remain in peace. Is it not intolerance that they are not ready to hear what we have to say? Are we not intellectuals like them?
Also read: At Ashok Singhal's condolence meet, RSS chief pushes for construction of Ram temple
SS: How did you get permission for the event?
CP: We have followed due procedure to take permission. Even the university administration is acknowledging this fact. We have paid them money for organising this event.
SS: How much money you have paid?
CP: We have paid Rs 16,500 per day. They charge Rs 15,000 as fee. We deposited the money on Saturday. They charged Rs 1,500 extra.
SS: Will this seminar be open to all?
CP: It is not open for laymen. But our doors are open for all intellectuals. It is not a political event.
SS: What kind of turnout do you expect at the seminar?
CP: The event will be organised at the conference centre in the arts faculty, which has a capacity of 450.
SS: Can you ensure there will be no violence during the seminar?
CP: This is the responsibility of the administration. We live in a democratic country. It is the duty of the police to give us protection. We will not resort to violence, but we are not afraid of anybody. "Ladenge nahin, par darenge nahin."
Also read: RSS chief Mohan Bhagwat pushes for construction of Ram Mandir