Sasikala finally lands in prison. Will she rule by proxy now?
S Murari
| Updated on: 15 February 2017, 11:38 IST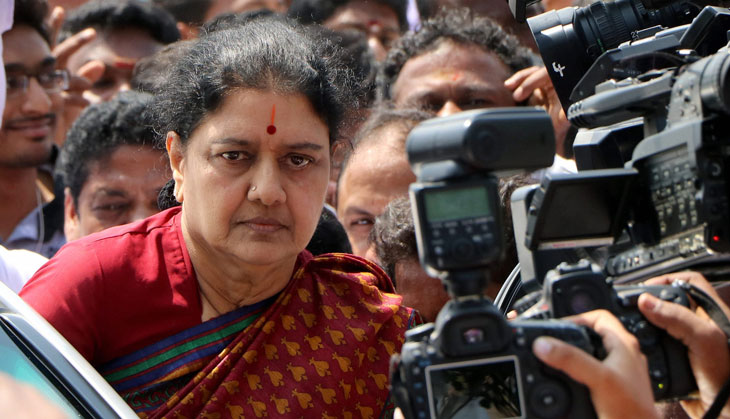 The AIADMK general secretary VK Sasikala today surrendered before a special court in Bengaluru following her conviction in the disproportionate assets case. She was taken to a jail in the city where she will spend the next four years.
Her sister-in-law Ilavarasi also surrendered before Special Judge Aswath Narayanaya and was immediately taken to jail. Another accused in the case, VN Sudhakaran, surrendered a little later after the special judge rejected his plea for time.
The trio were sentenced, along with the late chief minister J Jayalalithaa, to four years in prison by Special Judge Michael Cunha in September 2014. All four were lodged in the Parapana Agrahara jail, situated in the court complex, and spent 24 days inside before being let out on bail.
Also Read: Carrying letter of support from MLAs, Sasikala loyalist stakes claim to form govt. Game over for Panneerselvam?
This time, it will be a longer stretch for the three convicts. Since Jaya is no more the case against her has abated, but the Supreme Court, while upholding the trial court verdict, has held that Jaya was equally guilt of corruption as she allowed Sasikala and her kin to stay in her residence "not out of any altruistic urge" but to help them float shell companies to launder her ill-gotten wealth.
The surrender of Sasi and others followed the rejection of their request for time by the Supreme Court.
Immediately, Sasi left by road for Bengaluru and reached the designated court shortly before 5.30 pm, when the court rises for the day.
After a routine medical checkup, Sasi and the others were taken to prison before sunset, marking the end of her political career as she is disqualified from contesting election for six years after completing her jail term of four years.
Since Sasikala has spent a little over a month in jail, first in Chennai after her arrest and later in Parpapana Agrahara jail after her conviction in 2014, this period will be set off against her total prision term. However, she can apply for parole after six months from Wednesday.
There was commotion outside the prison, on the outskirts of Bengaluru, as Sasikala's motorcade arrived and a few cars, including the one carrying her dresses, were attacked by miscreants.
The police resorted to a mild lathicharge to disperse the crowds, which included curious local residents.
In an emotional farewell speech to over 100 legislators holed up in a beach resort near Chennai and to her supporters at Jaya's Poes Garden residence last night, Sasikala said, "Courts may put me in jail, but no one can separate me from you." It was a signal that she intends to rule by proxy. Indeed, before leaving for Bengaluru, Sasikala appointed her nephew TTV Dinakaran, who runsJaya TV and has a case under the Foreign Exchange Management Act penidng against him, as deputy general secretary of the party.
Immediately after she left for Bengaluru, the police clamped prohibitory orders in Kuvathur, where the resort is situated, and ordered the MLAs to move out. They refused, however, saying they were staying of their own free will.
Also Read: Formal titles or not, Sasikala is the power behind the throne in Tamil Nadu
Speaking to the media outside the resort in the evening, AIADMK's legal wing head and MP N Naveenathakrishnan said the party's MPs have sought an appointment with Governor C Vidyasagar Roa, who is yet to take a call on the newly appointed AIADMK Legislature Party leader Edapadi Palanisamy's claim to form the government. Navaneethakrishna said Palanisamy had submitted to the governor a resolution electing him the legislature party leader in place of Sasikala, along with letters of support from a majority of the MLAs.
To prove majority in the 234-member Tamil Nadu assembly, where Jaya's seat has fallen vacant, the claimant should have the support of 117 MLAs. So far, only about 10 MLAs have given support to the caretaker chief minister O Panneerselvam while one, former state police chief N Nataraj, has announced he would stay neutral.
Saravanan, an MLA who claims to have escaped from the resort to join the Panneerselvam camp has lodged a police complaint of abduction and wrongful restraint against Sasikala and others.
As the situation is still in a state of flux, the governor is expected to take at least a day more to decide on calling Palanisamy to form the government and face a floor test in the assembly.
Legal experts, including Mukul Rohatgi and P Chidambaram, have suggested a composite floor test, as was done in Uttar Pradesh to decide whether Jagadambika Pal or Kalyan Singh had the majority.
This parallel does not hold for Tamil Nadu, though. In UP, Kalyan Singh had been sacked as chief minister by the governor Romesh Bhandari and Pal was appointed in his place. When he refused to resign even after the Allahabad High Court reinstated Kalyan Singh, the Supreme Court, in order to avoid a confrontation between the legislature and the judiciary, directed a composite test that Kalyan Singh won.
In Tamil Nadu, there is no chief minister after the death of J Jayalalithaa.
Panneerselvam, sworn in after her demise, has resigned and is continuing as the caretaker. Now that Sasikala is out of the race after her conviction, the only claimant is Palanisamy, who, however, is propped by Sasikala so she could rule by proxy from prison.
Also Read: 'Mannargudi mafia': Meet the family likely to rule post-Jaya Tamil Nadu